I'm not sure where to put this, but since PB folks are smart, here is what's happening.
I have a scheduled maintenance program that runs every night.
It's a small PBCC program called towerEmails.exe.
I've always started with a batch file in my c:\batch folder
Here is what the batch file looks like:
Code:
c:
cd\bas_src\cc\dataFlex
towerEmails.exe
exit /B 0
If I run the batch file from the c:\batch folder, it crashes after it lists 5 records.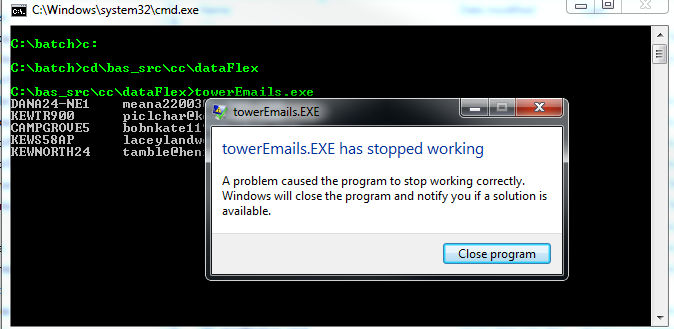 If I run the EXE from the c:\bas_src\cc\dataFlex folder, it will crash about 1/2 the time.
If I open the IDE and compile and run it, it will run 100% of the time.
I don't know how to start troubleshooting this. It's been running for months and suddenly won't work right.
here is the program if it helps:
Code:
#Include "sqlt3.inc"
#Include "SQLT3ProDLL.INC"  

%ticketsDB=1             
%nbsDB=2
$writePath="\\hahn\websites\nbson\Data\"              
$sq="'"

Function PBMain()
    Local sql As String   
    Local errmsg As String         
    Local userName As String      
    Local wTower,wEmail As String

    On Error GoTo errout

  ' open and ititialize sql tools
    openDatabase()                     

  ' remove all old records
    sql="delete from tblTowerEmails where ID is not null"
    SQL_Statement(%ticketsDB,1,%SQL_STMT_IMMEDIATE, sql)
    errmsg = SQL_ErrorQuickAll
    If errmsg <> "" Then GoTo errout   

    sql="select"+$CrLf
    sql+="    WIRELESS.TOWER,"+$CrLf
    sql+="    CMASTER.EMAIL"+$CrLf
    sql+="from WIRELESS"+$CrLf
    sql+="left join CMASTER on WIRELESS.CUSTID=CMASTER.CUSTID"+$CrLf
    sql+="where CMASTER.EMAIL is not null"+$CrLf
    sql+="and CMASTER.EMAIL <> "+$Sq+$Sq+$CrLf        

    SQL_Statement(%nbsDB,1,%SQL_STMT_IMMEDIATE, sql)
    errmsg = SQL_ErrorQuickAll
    If errmsg <> "" Then GoTo errout    

    Do
      SQL_FetchResult(%nbsDB,1,%NEXT_ROW)
      If Not SQL_EndOfData(%nbsDB,1) Then    
        wTower=sql_resultColumnString(%nbsDB,1,1)
        wEmail=sql_resultColumnString(%nbsDB,1,2)   

        Print wTower,wEmail  

        ' insert
        sql="insert into tblTowerEmails (tower,email) values("+sqlPad(wTower)+","+sqlpad(wEmail)+")"
        SQL_Statement(%ticketsDB,1,%SQL_STMT_IMMEDIATE, sql)
        errmsg = SQL_ErrorQuickAll
        If errmsg <> "" Then GoTo errout   
      Else
        Exit Do
      End If
    Loop  

    Print ""
    Color 12,0
    Print "done... quitting in 5 seconds"
    Sleep 5000

    sql_Shutdown        

    Exit Function
errOut:
  Print "error: "+errMsg        
  Print ""
  Color 12,0
  Print "press any key to exit"

  sql_Shutdown          
  waitkey$    

End Function                     



'---------------------------------------------------------------------------
'      sub name: openDatabase
'   description: opens sql database
'       returns: empty string (OK) or error
Function openDatabase() As String         
     Local cString As String 

  ' open and ititialize sql tools
    SQL_Authorize $mySQLkey
    SQL_Initialize 3,3,50,3,3,0,0,0                 

    cString="Driver={Microsoft Access Driver (*.mdb, *.accdb)};DBQ=n:\nbson\data\tickets.mdb;Uid=Admin;Pwd=;"   
    sql_openDatabase(%ticketsDB,cString,%PROMPT_TYPE_NOPROMPT)      
    If SQL_ErrorQuickAll<>"" Then          
      Function = SQL_ErrorQuickAll     
      Exit Function
    End If         

    cString="DRIVER=CONNX32;DSN=CNX_06142014;dd=F:\NBS\DF32\usr\cnxnbs3.cdd;Dbq=F:\NBS\DF32\usr\cMaster.dat;Uid=foo;pwd=foo;"
    sql_openDatabase(%nbsDB,cString,%PROMPT_TYPE_NOPROMPT)                                                     
    If SQL_ErrorQuickAll<>"" Then          
      Function = SQL_ErrorQuickAll     
      Exit Function
    End If     

    Function=""

End Function         



'---------------------------------------------------------------------------
'      sub name: sqlPad ()
'   description: pads variable to ready it for sql statement submission
'         input: string to format
'       outputs: formatted string
Function sqlPad(s As String) As String      

  s=Trim$(s)      
  If s="undefined" Then s=""
  If UCase$(Trim$(s))="NULL" Then s=""

  If Trim$(s) = "" Then
    Function = "NULL"
  Else    
    'REPLACE $sq WITH $sq+$sq IN s
    Replace $sq With "`" In s
    Replace $Dq With "`" In s
    Function = $sq+s+$sq     
  End If    
End Function