I'm working on re-writing the virtual table to use a series of interfaces instead. If you'd like to see it you can download the current version
here
. Once it stablizes a bit, I'll put it in the source code forum.
Edit: Files were giving me grief uploading. Get the resources
here
, and the EXE
here
.
It has a few unique features: It extends by implementing one or more iExtend interfaces. New "views" can be created by implementing the view as an iExtend. You can get the idea with the table view. I'll be working on a Form view before long. Also each part of the control is drawn using an iRender. Several are already written and you can write additional ones and apply them to a particular drawing part and state. Data is provided by implementing an iDataSource, you simply return an appropriate value for a row and column. A DataTable DataSource is in the demo using the datatable I wrote previously.
One last work about the demo. The top listbox will activate what you click on. The middle listbox simply selects the next renderer you will apply. The bottom listbox applies the renderer from the middle list box to the item you click on. Usage of the bottom two listboxes goes like this:
Select an entry in the middle, click on the entry in the bottom to apply that. Repeat.
Note that Cell Text will probabbly only make sense if you use the Text renders at the bottom of the middle list. Also using a Text renderer for any other part of the grid probabbly won't make sense either.
Executables in the zip file. You can recompile by compliing Test.bas.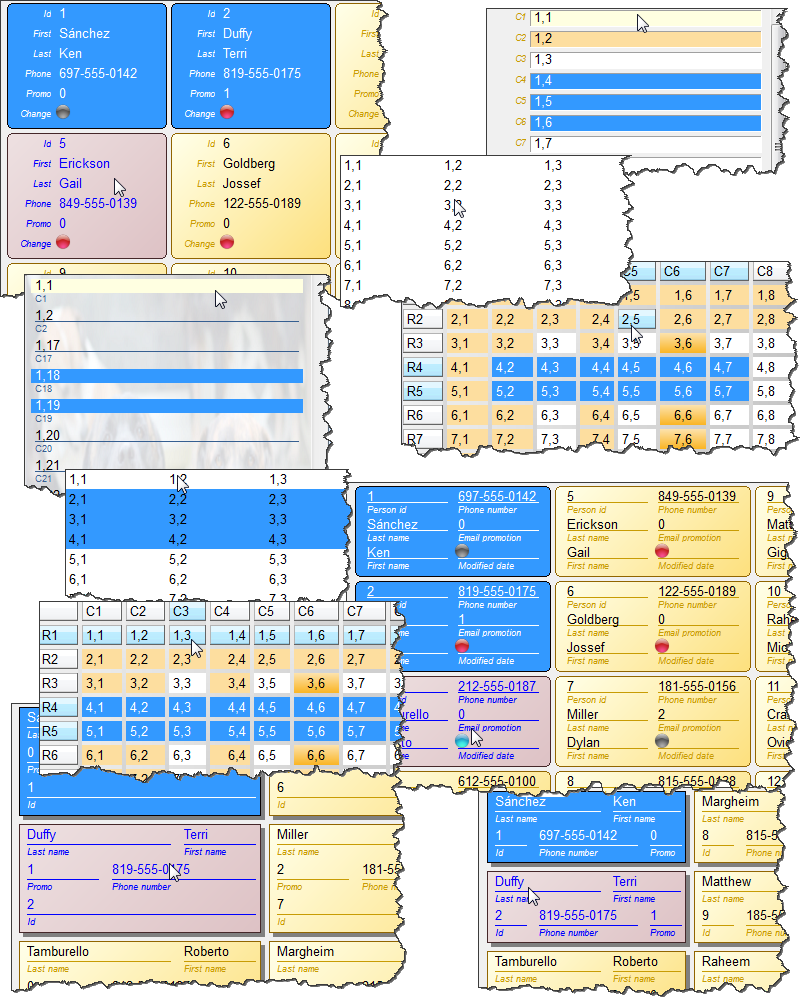 Edit: Added Row and Content background renderers. In general it renders like this:
Table/Control background - full area
Column headers
Row headers
Content background - data area
Row backgrounds - Background of rows
Cell Backgrounds - background of cells
Row selectors - row background overlays / decorations
Cell selectors - cell background overlays / decorations
Cell focus
Cell foreground - Cell contents
Row focus
Vertical grid
Horizontal grid
If you want a row background renderer to display somthing, set the cell background to none, and so on.
Also added a few more renderers (Raised/Sunken frames)
Next up: Icons, Bitmaps, Checkboxes, Option buttons, and friends.