I downloaded some PNG images recently and ran across several which gave odd results when loading them into a graphic control.
In IrfanView (image viewer) and MSPaint, all of the images display as 128x128, with the image content centered and fully covering the image boundaries.
But when I run the code below, loading the images with GDI+ code I've for some from Jose, all of the images report the 128x128 size, but display as shown in this composite image. Some are small, some smaller, and some are offset.
Most images I downloaded worked exactly as expected. But these few displayed incorrectly.
Other than by looking at the result,
is there a way that I might have detected whether these images would load incorrectly
using the GDI+ code? And why IrfanView/MSPaint might show the image "correctly"?
Just wondering ...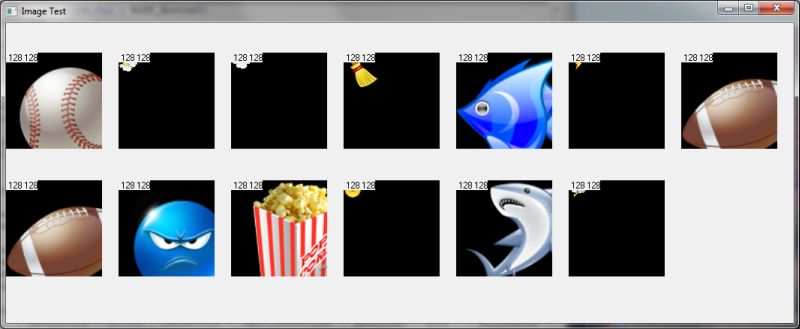 Here's the compilable code. (download code plus images
here
)
Code:
'Compilable Example:
#Compiler PBWin 10
#Compile Exe
#Dim All
%Unicode = 1
#Include "cwindow.inc"
#Include "cgdiplus.inc"

Enum Equates Singular
   IDC_Button
   IDC_Graphic
End Enum

Global hDlg As Dword

Function PBMain() As Long
   Dialog New Pixels, 0, "Image Test",300,300,1050,400, %WS_OverlappedWindow To hDlg
   Dialog Show Modal hDlg Call DlgProc
End Function

CallBack Function DlgProc() As Long
   Local hBMP As Dword, i,w,h,x,y As Long, temp$
   Select Case Cb.Msg
      Case %WM_InitDialog
         i = -1
         temp$ = Dir$("*.png")
         While Len(temp$)
            Incr i
            x = IIf(i>6,(i-7)*150,i*150)
            y = IIf(i>6,210,40)
            Control Add Graphic, hDlg, %IDC_Graphic+i, "", x,y,150,150
            LoadImageToMemoryBitmap(temp$, hBMP, w,h)
            Graphic Attach hDlg, %IDC_Graphic+i
            Graphic Clear
            Graphic Copy hBMP, 0
            Graphic Set Pos (0,0)
            Graphic Print Str$(w) + Str$(h)
            Graphic Attach hBMP, 0
            Graphic Bitmap End
            temp$ = Dir$
         Wend
   End Select
End Function

Sub LoadImageToMemoryBitmap (ImgName As String, hWin As Dword, w As Long, h As Long)
   Local pGraphics,pImage,hDC,token As Dword, StartupInput As GdiplusStartupInput
   'initialize GDI
   StartupInput.GdiplusVersion = 1                    'initialize GDIPlus
   GdiplusStartup(token, StartupInput, ByVal %NULL)   'initialize GDIPlus

   GdipLoadImageFromFile((ImgName), pImage)           'load image
   GdipGetImageWidth(pImage,w)                        'get width
   GdipGetImageHeight(pImage, h)                      'get height

   Graphic Bitmap New w,h To hWin
   Graphic Attach hWin, 0
   Graphic Get DC To hDC

   GdipCreateFromHDC(hDC, pGraphics)                  ' Create the Graphic object
   GdipDrawImage(pGraphics, pImage, 0, 0)             ' Draw the image

   'shutdown GDI
   If pImage Then GdipDisposeImage(pImage)            'cleanup
   If pGraphics Then GdipDeleteGraphics(pGraphics)    'cleanup
   GdiplusShutdown token                              'shutdown GDI+
End Sub