This page is for discussion of my latest
posted
application,
gbChartMaster
, which generates a variety of charts - bar charts (2D and 3D), stacked bar charts, line charts, multi-line charts, points/symbols only and a hi-lo bar chart. Control over all aspects of the graph elements - position, color, fonts, margins, grid, and more - is provided. Images for background and for annotation stamps are also supported.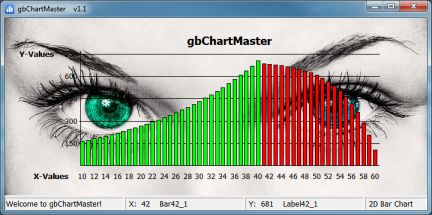 While chart data is typically provided point by point by the user,
gbChartMaster
also allows the user to supply an equation which can be used to automatically generate the graph data.
The chart source code is written so that it can be easily inserted into PowerBASIC applications, so that other programmers can add the graphing capabilities to their own applications. The
gbChartMaster
application is essentially a demonstration of how to use the include source code in a PowerBASIC application, including how to use all 100+ available settings!
As always, comments and suggestions are welcome!