This thread is for discussion of
gbWordWrap
, which I've released into the Source Code forum.
I wrote gbWordWrap as a test bed to test out, and improve the speed, of code that addresses four aspects of wordwrapping that interest me.
Prepare text for paragraph wrapping (pointer approach to editing the number of $CRLF delimiters)
WordWrap (that Pierre and I worked on – takes a string with $CRLF and returns a string with only $CR)
Locate delimiter positions for quickly locating text of lines (something based on recent comments by Eros)
Maintaining the top position in the text while changing font properties and ListView size.
The code I released covers #1-#3 but doesn't address #4.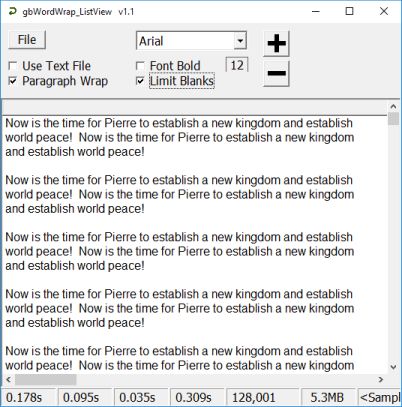 Features include:
Use +/- to change font size
Dropdown combobox to select font
Toggle bold
Toggle between line and paragraph wrapping
Select a text file whose content will be displayed in the ListView
Toggle between 10MB of test data or the user-selected file
Timing for each of the 1-2-3 items above, plus total time, plus line count of the wrapped text (statusbar)
Restore text to the top line from the last session
Re-wrap after resizing the dialog (not during a resize)
Save settings between sessions, including dialog size/location
As always, comments and suggestions are welcome.