Here's my latest application,
gbChartMaster v2.0
which generates a variety of charts - bar charts (2D and 3D), stacked bar charts, line charts, multi-line charts, points/symbols only, a hi-lo bar chart, and pie charts with up to 3 datasets displayed at one time. Control over all aspects of the graph elements - position, color, fonts, margins, grid, and more - is provided. Images for background and for annotation stamps are also supported.
While chart data is typically provided point by point by the user,
gbChartMaster
also allows the user to supply an equation which can be used to automatically generate the graph data.
The chart source code is written so that it can be easily inserted into PowerBASIC applications, so that other programmers can add the graphing capabilities to their own applications. The
gbChartMaster
application is essentially a demonstration of how to use the include source code in a PowerBASIC application, including how to use all 100+ available settings!
Discussion is
here
.
Online Help is
here
.
Download the EXE, source code and images
here
.
Here's a typical image of
gbChartMaster
- bar charts with an image in the background.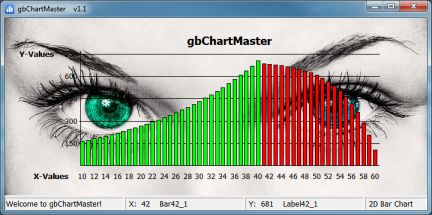 Here's a few images of the types of charts that are provided: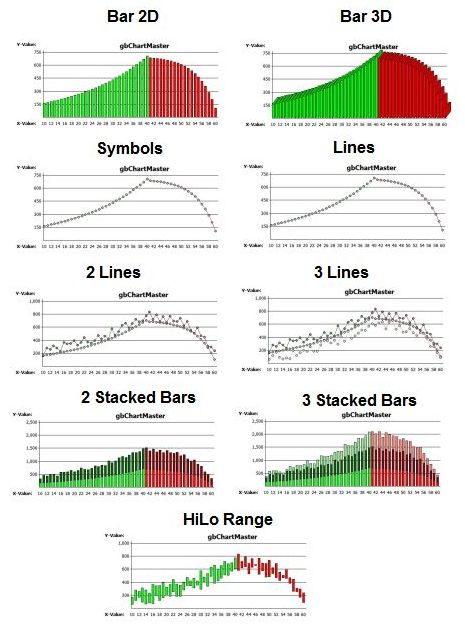 And here are some of the gradient styles supported:
Several kinds of graphics features are supported:
Pie charts are supported, with up to 3 datasets drawn at one time:
And, finally, you can use provide the chart data via an equation which
gbChartMaster
can plot.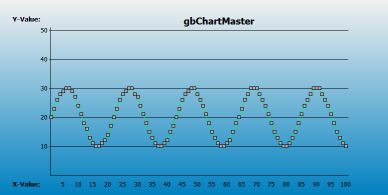 gbChartMaster
offers the following features:
Data Sets
3 Independent Data Sets
Limit Graph to a Range of Data Points in Each Data Set
Charts
Bar and Pie Charts
12 Chart Types
Over 100 Chart Settings
Bar Charts (2D and 3D)
Pie Charts (2D and 3D)
Line and Point Charts
Multi-Line Charts (2-Lines and 3-Lines)
Stacked Bar Charts (2-Stacks and 3-Stacks)
Hi-Lo Bar Charts (Bar, Beam, Beam+Symbol)
Pie Charts (2D and 3D, 1-3 DataSetes)
Multiple Line Symbols (Point, Square, Rectangle, Circle)
Real-Time Graph Updates as Application is Resized
Real-Time Graph Updates as Settings Are Changed
Optional Display of All Graph Elements
Independent Margins for All Sides of the Charts
Selection of Individual Bars Via Mouse
Display of Bar/Point Data As Mouse Moves Over Graph Elements
Main Title positions (Left, Center, Right)
X-Axis title positions (InlineLeft, Left, Center, Right, InlineRight)
Y-Axis title positions (Top, Center, Bottom)
Margins automatically position to accommodate title font changes
Anti-Aliasing of line charts
Smoothing of line charts
Line styles (dash-dot combinations)
Control over which of 3 data types are used for labelling charts
Rounded Bars (variable amount of rounding)
Horizontal and Vertical Grid
Bar labels positions adjust to match symbol size
Current chart type displayed on StatusBar
Rotation of pie charts
Hide unselected pie chart sections
Adjust pie chart size with available area
Gradient pie charts (light center to full color perimeter)
Legends for all pie charts
Explosion of pie chart sections
User control of pie chart explosion distances
Fixed circle or ellipse pie charts shapes

Text/Colors/Font
Graph Title, Axis Titles, Data Values and Data Set Labels
Font/Color Control of All Graph Elements
Data Labels (Displayed Above Points/Bars)
Alternate Text for the X-Axis
Graph/Axis Title Positioning
Vertical/Horizontal Titles (Y-Axis and Bar Labels)
Pivot Point for Alternating Chart Colors
Multiple Gradient Options (Background and Bars)
Color Fading
Automatic X-Axis Value Display to Avoid Overlap of Bar Labels or X Axis Values
Automatic Generation of Y-Axis Value Divisions (Optional)
Line and Border Thickness/Color Control
Select Grid Color and Line Style
Images
Background Image Support
Annotation - Images
Annotation - Free-Style Drawing
Fit Graph to Background Image
Capture Chart Image to Clipboard
Export Chart Image to JPG/GIF/PNG/BMP
Save JPG Chart Image to Chart File Location
File Functions
Automatically Save Session
Save Chart to File
Open Existing Chart Files
Save Settings to File
Open Existing Settings Files
Other
Automatic Generation of Data from User Equations
Onscreen instructions for mouse actions
Speed test to determine draw time
Online Help
The
gbChartMaster
application source code is here:
Code:
'Compilable Example:
#Compiler PBWin 10
#Compile Exe  "gbchartmaster.exe"
#Dim All

#Debug Display On
#Debug Error On

%Unicode = 1
#Include "Win32API.inc"
#Include "cgdiplus.inc"
#Include "gbchartmaster.inc"

#Resource Icon logo "icons\gbchartmaster.ico"
#Resource Icon xsettings "icons\settings.ico"
#Resource Icon xhelp "icons\help.ico"
#Resource Wave, xcamera, "icons\camera.wav"

$SessionFile = "tempfiles\session.gbc"
$Ver         = "2.0"

Type CustomColors
   c(15) As Long
End Type

Enum Equates Singular
   IDC_Graphic
   IDC_StatusBar

   IDC_Label
   IDC_Frame
   IDC_LM
   IDC_RM
   IDC_TM
   IDC_BM
   IDC_UseAltColors
   IDC_UseAltXText
   IDC_GradientBG
   IDC_FadeBG
   IDC_ColorUnder
   IDC_cGrid
   IDC_cBG
   IDC_cTitle
   IDC_cAxisLines
   IDC_cAxisValues

   IDC_cPreBars1
   IDC_cPostBars1
   IDC_cSymbols1
   IDC_cPreBars2
   IDC_cPostBars2
   IDC_cSymbols2
   IDC_cPreBars3
   IDC_cPostBars3
   IDC_cSymbols3

   IDC_Title
   IDC_XTitle
   IDC_YTitle
   IDC_MainTitleLoc
   IDC_XTitleLoc
   IDC_YTitleLoc
   IDC_DataSet1Title
   IDC_DataSet2Title
   IDC_DataSet3Title
   IDC_TitleFont
   IDC_axisTitleFont
   IDC_axisValueFont
   IDC_LabelFont

   IDC_MainTitleFontSize
   IDC_AxisTitleFontSize
   IDC_ValuesFontSize
   IDC_LabelFontSize


   IDC_AllBars
   IDC_ShowHGrid
   IDC_ShowVGrid
   IDC_ShowMargins
   IDC_SpeedTest
   IDC_Instructions
   IDC_ShowMainTitle
   IDC_DotGrid
   IDC_ShowAxisTitles
   IDC_ShowAxisValues
   IDC_UseAntiAliasing
   IDC_UserData
   IDC_GraphType
   IDC_BarGradientType
   IDC_ThreeDX
   IDC_ThreeDY

   IDC_PieRadius
   IDC_PieCircle
   IDC_PieExplode
   IDC_PieExplodeDistance
   IDC_PieEject
   IDC_PiePerCent
   IDC_PieDonut
   IDC_PieDonutCaption
   IDC_PieLegend
   IDC_PieRotate
   IDC_Pie3D
   IDC_PieGradient
   IDC_PieGradientValue
   IDC_PieHideUnSelected
   IDC_PieHighlightSelected

   IDC_Coverage
   IDC_Pivot
   IDC_ApplyAll
   IDC_Fade
   IDC_XMax
   IDC_XMin
   IDC_DivYCount
   IDC_UseFixedYValue
   IDC_FixedYValue
   IDC_SaveAs
   IDC_Open
   IDC_Reset
   IDC_Resize
   IDC_RandomColors
   IDC_Copy
   IDC_Print
   IDC_Export
   IDC_EraseAllStamps
   IDC_EraseLastStamp
   IDC_ApplyDataFile
   IDC_ApplyAltXText
   IDC_ApplyBarLabels
   IDC_ApplyColors
   IDC_AltXText
   IDC_BarLabels
   IDC_BarColors

   IDC_BarBorder
   IDC_ShowBarLabel
   IDC_VertBarLabels
   IDC_ValueBarLabels
   IDC_VertYTitle
   IDC_LargeStamp
   IDC_RoundedBar
   IDC_RoundValue
   IDC_AutoXCount
   IDC_ExportFormat
   IDC_Equation
   IDC_EvalEquation
   IDC_TransferData
   IDC_EquationAnimation
   IDC_Stamp
   IDC_StampPreview
   IDC_BGImagePreview
   IDC_ShowBGImage
   IDC_BGImage
   IDC_BGImageFit
   IDC_Annotation
   IDC_LineSymbol
   IDC_HiLoSymbol
   IDC_LineThickness
   IDC_SymbolSize
   IDC_ShowDataSetTitles
   IDC_OnLineHelp
   IDC_SaveSettings
   IDC_OpenSettings

   IDC_GridOnTop
   IDC_SmoothLines
   IDC_LineStyle
   IDC_LabelType

   IDC_ShowV1
   IDC_ShowV2
   IDC_ShowV3

   IDM_Cut
   IDM_Copy
   IDM_Paste
   IDM_Delete
   IDM_Escape
   IDM_GraphType
   IDM_AutoXCount
   IDM_CopyImage
   IDM_ExportToGBC
   IDM_Export
   IDM_EraseLastStamp
   IDM_NextBGImage
   IDM_NextChart
   IDM_BarGradient
   IDM_Image
   IDM_Open
   IDM_SaveAs
   IDM_BarLabels
   IDM_SpeedTest
   IDM_Instructions
   IDM_ShowMargins
   IDM_Radar
   IDM_Reset
   IDM_Settings
   IDM_Help
   IDM_UnSelectBars
   IDM_Test
End Enum

Global hDlg,hGraphic,hSet,OldGraphicProc,hContext,OldEditProc As Dword, CFN, CFNS As WStringZ * %Max_Path
Global D() As ChartData, B As ChartSettings, LastX, LastY As Long
Global CustomColorList As CustomColors, ghHook As Dword, SettingsVisible As Long
Global SettingsX, SettingsY As Long

Function PBMain() As Long
   Dialog Default Font "Tahoma", 10, 0
   Dialog New Pixels, 0, "gbChartMaster    v" + $Ver,300,300,1100,350, %WS_OverlappedWindow To hDlg
   Dialog Set Icon hDlg, "logo"
   Control Add Graphic, hDlg, %IDC_Graphic,"Push", 0,0,300,200, %SS_Notify
   Control Add Statusbar, hDlg, %IDC_StatusBar,"Welcome to gbChartMaster!",0,0,0,0
   Statusbar Set Parts hDlg, %IDC_StatusBar, 200,200,300,9999
   Control Handle hDlg, %IDC_Graphic To hGraphic
   OldGraphicProc = SetWindowLong(hGraphic, %GWL_WndProc, CodePtr(NewGraphicProc))  'subclass
   Graphic Attach hDlg, %IDC_Graphic, ReDraw
   Dialog Show Modal hDlg Call DlgProc
End Function

CallBack Function DlgProc() As Long
   Local i,j,w,h,x,y, Flag As Long, MM As MinMaxInfo Ptr, pt As Point, temp$, rc As Rect
   Select Case Cb.Msg
      Case %WM_InitDialog
         Randomize Timer
         If IsFolder (Exe.Path$ + "settings") = %False Then MkDir Exe.Path$ + "settings"
         If IsFolder (Exe.Path$ + "charts") = %False Then MkDir Exe.Path$ + "charts"
         If IsFolder (Exe.Path$ + "stamps") = %False Then MkDir Exe.Path$ + "stamps"
         If IsFolder (Exe.Path$ + "bgimages") = %False Then MkDir Exe.Path$ + "bgimages"
         If IsFolder (Exe.Path$ + "tempfiles") = %False Then MkDir Exe.Path$ + "tempfiles"
         BuildAcceleratorTable
         CreateContextMenu
         LastX = -1
         Settings_INI "get"
         If IsFile(Exe.Path$ + $SessionFile) Then
            OpenChartFile Exe.Path$ + $SessionFile
            Dialog Set Text hDlg, "gbChartMaster    v" + $Ver + "    " + CFN
         Else
            CreateFakeData
            InitializeChart hDlg, %IDC_Graphic
            B.Xmax = 60 : B.Xmin = 10 : B.Pivot = 40
         End If
         Statusbar Set Text hDlg, %IDC_StatusBar, 2, 0, " Right-click to show Settings"
         Statusbar Set Text hDlg, %IDC_StatusBar, 4, 0, Choose$(B.GraphType," 2D Bar", " 3D Bar", " Symbols", " Line", " 2-Line", " 3-Line", " 2-Bar Stacked", " 3-Bar Stacked", " Bar Group", " Pie", " 2-Pie", " 3-Pie", " HiLo") + " Chart"

      Case %WM_Destroy
         Settings_INI "save"
         SaveChartFile Exe.Path$ + $SessionFile

      Case %WM_GetMinMaxInfo
         MM=Cb.LParam
         @MM.ptMinTrackSize.x=350  '<-- Min X size of your window
         @MM.ptMinTrackSize.y=300  '<-- Min Y size of your window

      Case %WM_ContextMenu
         GetCursorPos(pt)
         ScreenToClient(hGraphic,pt)
         Select Case B.GraphType
            Case %Chart_2D, %Chart_3D
               For i = B.XMin To B.XMax
                  SetRC(rc,i)
                  If PtInRect(rc,pt) Then
                     D(i).Selected(B.DataSet) Xor= 1
                     Flag = 1
                  End If
               Next i
               If Flag Then DrawChart D(), B, %True: DisplayStampList
            Case %Chart_2stack
               For i = B.XMin To B.XMax
                  SetRC(rc,i)
                  If PtInRect(rc,pt) Then
                     D(i).Selected(1) Xor= 1
                     D(i).Selected(2) Xor= 1
                     Flag = 1
                  End If
               Next i
               If Flag Then DrawChart D(), B, %True : DisplayStampList
            Case %Chart_3stack
               For i = B.XMin To B.XMax
                  SetRC(rc,i)
                  If PtInRect(rc,pt) Then
                     D(i).Selected(1) Xor= 1
                     D(i).Selected(2) Xor= 1
                     D(i).Selected(3) Xor= 1
                     Flag = 1
                  End If
               Next i
               If Flag Then DrawChart D(), B, %True : DisplayStampList
            Case %Chart_HiLo
               For i = B.XMin To B.XMax
                  SetRC(rc,i)
                  If PtInRect(rc,pt) Then
                     D(i).Selected(B.DataSet) Xor= 1
                     Flag = 1
                  End If
               Next i
               If Flag Then DrawChart D(), B, %True : DisplayStampList
            Case %Chart_Pie
               For i = B.XMin To B.XMax
                  If PtInEllipse(D(i).rc(B.DataSet), pt, D(i).arcStart(B.DataSet), D(i).arcEnd(B.DataSet)) Then
                     D(i).Selected(B.DataSet) Xor= 1
                     Flag = 1
                  End If
               Next i
               If Flag Then DrawChart D(), B, %True : DisplayStampList
            Case %Chart_2Pie
               For j = 1 To 2
                  For i = B.XMin To B.XMax
                     If PtInEllipse(D(i).rc(j), pt, D(i).arcStart(j), D(i).arcEnd(j)) Then
                        D(i).Selected(j) Xor= 1
                        Flag = 1
                     End If
                  Next i
               Next j
               If Flag Then DrawChart D(), B, IIf(j=1,%True,%False) : DisplayStampList
            Case %Chart_3Pie
               For j = 1 To 3
                  For i = B.XMin To B.XMax
                     If PtInEllipse(D(i).rc(j), pt, D(i).arcStart(j), D(i).arcEnd(j)) Then
                        D(i).Selected(j) Xor= 1
                        Flag = 1
                     End If
                  Next i
               Next j
               'If Flag Then DrawChart D(), B, IIf(j=1,%True,%False) : DisplayStampList
               If Flag Then DrawChart D(), B, %True : DisplayStampList
         End Select
         If Flag = 0 And SettingsVisible = 0 Then ShowSettingsDialog

      Case %WM_LButtonDown
         SetCapture hDlg

      Case %WM_SetCursor
         If B.HoverTips And Cb.WParam = hGraphic Then
            GetCursorPos(pt)
            ScreenToClient(hGraphic,pt)
            For i = B.XMin To B.XMax
               Select Case B.GraphType
                  Case %Chart_Pie
                     If PtInEllipse(D(i).rc(B.DataSet), pt, D(i).arcStart(B.DataSet), D(i).arcEnd(B.DataSet)) Then
                        Statusbar Set Text hDlg, %IDC_StatusBar, 2, 0, " X: " + Str$(i) + "    " + D(i).altXText(B.DataSet) + "  Theta: " + Format$(D(i).arcStart(B.DataSet),"##0.0") + "  " + Format$(D(i).arcEnd(B.DataSet),"##0.0")
                        Statusbar Set Text hDlg, %IDC_StatusBar, 3, 0, " Y: " + Str$(D(i).v(B.DataSet)) + "    " + D(i).label(B.DataSet)
                     End If
                  Case %Chart_2Pie
                     For j = 1 To 2
                        If PtInEllipse(D(i).rc(j), pt, D(i).arcStart(j), D(i).arcEnd(j)) Then
                           Statusbar Set Text hDlg, %IDC_StatusBar, 2, 0, " X: " + Str$(i) + "    " + D(i).altXText(j) + "  Theta: " + Format$(D(i).arcStart(j),"##0.0") + "  " + Format$(D(i).arcEnd(j),"##0.0")
                           Statusbar Set Text hDlg, %IDC_StatusBar, 3, 0, " Y: " + Str$(D(i).v(j)) + "    " + D(i).label(j)
                        End If
                     Next j
                  Case %Chart_3Pie
                     For j = 1 To 3
                        If PtInEllipse(D(i).rc(j), pt, D(i).arcStart(j), D(i).arcEnd(j)) Then
                           Statusbar Set Text hDlg, %IDC_StatusBar, 1, 0, " X: " + Str$(i) + "    " + D(i).altXText(j) + "  Theta: " + Format$(D(i).arcStart(j),"##0.0") + "  " + Format$(D(i).arcEnd(j),"##0.0")
                           Statusbar Set Text hDlg, %IDC_StatusBar, 2, 0, " X: " + Str$(i) + "    " + D(i).altXText(j) + "  Theta: " + Format$(D(i).arcStart(j),"##0.0") + "  " + Format$(D(i).arcEnd(j),"##0.0")
                           Statusbar Set Text hDlg, %IDC_StatusBar, 3, 0, " Y: " + Str$(D(i).v(j)) + "    " + D(i).label(j)
                        End If
                     Next j
                  Case %Chart_HiLo
                     SetRC(rc,i)
                     If PtInRect(RC,pt) Then
                        Statusbar Set Text hDlg, %IDC_StatusBar, 2, 0, " X: " + Str$(i) + "    " + D(i).altXText(3) + "  " + D(i).altXText(2)
                        Statusbar Set Text hDlg, %IDC_StatusBar, 3, 0, " Y: " + Str$(D(i).v(3)) + "    " + D(i).label(3) + Str$(D(i).v(2)) + "    " + D(i).label(2)
                     End If
                  Case Else
                     If PtInRect(D(i).rc(B.DataSet),pt) Then
                        Statusbar Set Text hDlg, %IDC_StatusBar, 2, 0, " X: " + Str$(i) + "    " + D(i).altXText(B.DataSet)
                        Statusbar Set Text hDlg, %IDC_StatusBar, 3, 0, " Y: " + Str$(D(i).v(B.DataSet)) + "    " + D(i).label(B.DataSet)
                     End If
               End Select
            Next i
         End If

      Case %WM_Command
         Select Case Cb.Ctl
            Case %IDM_Cut   : SendMessage GetFocus, %WM_CUT, 0, 0
            Case %IDM_Copy  : SendMessage GetFocus, %WM_COPY, 0, 0
            Case %IDM_Paste : SendMessage GetFocus, %WM_PASTE, 0, 0
            Case %IDM_Delete: SendMessage GetFocus, %WM_CLEAR, 0, 0

            Case %IDC_Graphic
               Select Case Cb.CtlMsg
                  Case %STN_DblClk
                     Graphic Get Canvas To w,h
                     GetCursorPos(pt)
                     ScreenToClient(B.hGraphic,pt)
                     If pt.x < 40 And pt.y < 40 Then
                        B.StampList = ""
                        DrawChart D(), B, %True : DisplayStampList
                     ElseIf pt.x > w-40 And pt.y < 40 Then
                        For i = 1 To UBound(D) : D(i).Selected(1) = 0 : D(i).Selected(2) = 0 : D(i).Selected(3) = 0 : Next i
                     ElseIf pt.x > w-40 And pt.y > h-40 Then
                        If SettingsVisible = 0 Then ShowSettingsDialog
                     ElseIf pt.x < 40 And pt.y > h-40 Then
                        If SettingsVisible = 0 Then ShowSettingsDialog
                        Dialog Set Loc hSet, 200,200
                     Else
                        B.StampList += ";;;" + Str$(pt.x) +  "," + Str$(pt.y) + "," + B.stamp + "," + IIf$(B.LargeStamp,"1","2")
                        DisplayStampList
                     End If
                     DrawChart D(), B, %True : DisplayStampList

                  Case %STN_Clicked
                     GetCursorPos(pt)
                     ScreenToClient(B.hGraphic,pt)
                     If pt.x < 40 And pt.y < 40 Then EraseLastStamp
               End Select

            Case %IDM_NextBGImage
               B.BGImage = NextFile((B.BGImage),"*.*")
               LoadBGImage ((B.BGImage), B.hBGImage)  'Graphic Bitmap Load B.BGimage, 0, 0 To B.hBGImage
               DrawChart D(), B, %True : DisplayStampList
               If SettingsVisible Then Dialog End hSet : ShowSettingsDialog

            Case %IDM_NextChart
               CFN = NextFile((CFN),"*.gbc")
                Dialog Set Text hDlg, "gbChartMaster    v" + $Ver + "    " + CFN
                OpenChartFile((CFN))
                DrawChart D(), B, %True : DisplayStampList
                If SettingsVisible Then Dialog End hSet : ShowSettingsDialog

            Case %IDM_EraseLastStamp  : EraseLastStamp
            Case %IDM_Escape          : Dialog End hSet
            Case %IDM_SaveAs          : SaveChartAs
            Case %IDM_Open            : SelectChartToOpen
            Case %IDM_AutoXCount      : B.AutoXCount Xor= 1

            Case %IDM_ExportToGBC
               GDIPlus_SaveImage B.hGraphicDC, "jpg", Left$(CFN, Len(CFN)-3) + "jpg"
               temp$ = PathName$(Path,CFN)
               i = ShellExecute(hDlg, "Open", (temp$), $Nul, $Nul, %SW_ShowNormal)
               Sleep 500
               SetForeGroundWindow hDlg

            Case %IDM_CopyImage
               Clipboard Reset : Clipboard Set Bitmap B.hGraphic
               sndPlaySound("xcamera", %SND_Async Or %SND_Resource)

            Case %IDM_UnSelectBars
               For i = 1 To UBound(D) : D(i).selected(B.DataSet) = 0 : Next i
               DrawChart D(), B, %True : DisplayStampList

            Case %IDM_GraphType
               Incr B.GraphType
               If B.GraphType > %Chart_3Pie Then B.GraphType = %Chart_2D : SetFontButtonText
               DrawChart D(), B, %True : DisplayStampList
               If SettingsVisible Then ComboBox Select hSet, %IDC_GraphType, B.GraphType
               Statusbar Set Text hDlg, %IDC_StatusBar, 4, 0, Choose$(B.GraphType," 2D Bar", " 3D Bar", " Symbols", " Line", " 2-Line", " 3-Line", " 2-Bar Stacked", " 3-Bar Stacked", " Bar Group", " Pie", " 2-Pie", " 3-Pie", " HiLo") + " Chart"

            Case %IDM_Export
               GDIPlus_SaveImage B.hGraphicDC, Choose$(B.ExportFormat,"bmp","jpg","gif","png"), Exe.Path$ + "tempfiles\gbchartmaster." + Choose$(B.ExportFormat,"bmp","jpg","gif","png")
               i = ShellExecute(hDlg, "Open", (Exe.Path$ + "tempfiles"), $Nul, $Nul, %SW_ShowNormal)

            Case %IDM_BarGradient
               Incr B.BarGradientType
               If B.BarGradientType > %Gradient_ColorCenterToBlackSide Then B.BarGradientType = %Gradient_None
               DrawChart D(), B, %True : DisplayStampList
               If SettingsVisible Then ComboBox Select hSet, %IDC_BarGradientType, B.BarGradientType

            Case %IDM_Image
               B.ShowBGImage Xor=1
               DrawChart D(), B, %True : DisplayStampList
               If SettingsVisible Then Dialog End hSet : ShowSettingsDialog

            Case %IDM_BarLabels
               B.ShowBarLabel Xor= 1
               DrawChart D(), B, %True : DisplayStampList
               If SettingsVisible Then Dialog End hSet : ShowSettingsDialog

            Case %IDM_SpeedTest
               B.SpeedTest Xor= 1
               DrawChart D(), B, %True : DisplayStampList
               If B.SpeedTest = 0 Then Dialog Set Text hDlg, "gbChartMaster    v" + $Ver + "    " + CFN

            Case %IDM_Instructions
               B.Instructions Xor= 1
               DrawChart D(), B, %True : DisplayStampList
               If SettingsVisible Then Dialog End hSet : ShowSettingsDialog

            Case %IDM_ShowMargins
               B.ShowMargins Xor= 1
               DrawChart D(), B, %True : DisplayStampList
               If SettingsVisible Then Dialog End hSet : ShowSettingsDialog

            Case %IDM_Radar
               If SettingsVisible = 0 Then ShowSettingsDialog
               Dialog Set Loc hSet, 200,200

            Case %IDM_Reset
               CreateFakeData
               InitializeChart hDlg, %IDC_Graphic
               B.Xmax = 60 : B.Xmin = 10 : B.Pivot = 40
               DrawChart D(), B, %True : DisplayStampList
               Statusbar Set Text hDlg, %IDC_StatusBar, 2, 0, ""
               Statusbar Set Text hDlg, %IDC_StatusBar, 3, 0, ""

            Case %IDM_Help
               i = ShellExecute(hDlg, "Open", ("http://www.garybeene.com/sw/gbchartmaster.htm"), $Nul, $Nul, %SW_ShowNormal)

            Case %IDM_Settings
               If SettingsVisible = 0 Then ShowSettingsDialog

            Case %IDM_Test
'               For i = 1 to 5 : D(i).selected(1) = 0 : next i
               ? Str$(D(1).selected(1)) + Str$(D(2).selected(1)) + Str$(D(3).selected(1)) + Str$(D(4).selected(1)) + Str$(D(5).selected(1))


         End Select
      Case %WM_Size
         Dialog Get Client hDlg To w,h
         Control Set Client hDlg, %IDC_Graphic, w,h-25
         DrawChart D(), B, %True : DisplayStampList
   End Select
End Function

Sub BuildAcceleratorTable
   Local c As Long, ac() As ACCELAPI, hAccelerator As Dword  ' for keyboard accelator table values
   Dim ac(22)
   ac(c).fvirt = %FVIRTKEY              : ac(c).key   = %VK_F1 : ac(c).cmd  = %IDM_Help           : Incr c
   ac(c).fvirt = %FVIRTKEY              : ac(c).key   = %VK_Escape : ac(c).cmd   = %IDM_Escape    : Incr c
   ac(c).fvirt = %FVIRTKEY Or %FCONTROL : ac(c).key   = %VK_A : ac(c).cmd   = %IDM_Instructions   : Incr c
   ac(c).fvirt = %FVIRTKEY Or %FCONTROL : ac(c).key   = %VK_B : ac(c).cmd   = %IDM_NextBGImage    : Incr c
   ac(c).fvirt = %FVIRTKEY Or %FCONTROL : ac(c).key   = %VK_D : ac(c).cmd   = %IDM_Settings       : Incr c
   ac(c).fvirt = %FVIRTKEY Or %FCONTROL : ac(c).key   = %VK_E : ac(c).cmd   = %IDM_EraseLastStamp : Incr c
   ac(c).fvirt = %FVIRTKEY Or %FCONTROL : ac(c).key   = %VK_F : ac(c).cmd   = %IDM_GraphType      : Incr c
   ac(c).fvirt = %FVIRTKEY Or %FCONTROL : ac(c).key   = %VK_G : ac(c).cmd   = %IDM_BarGradient    : Incr c
   ac(c).fvirt = %FVIRTKEY Or %FCONTROL : ac(c).key   = %VK_H : ac(c).cmd   = %IDM_Help           : Incr c
   ac(c).fvirt = %FVIRTKEY Or %FCONTROL : ac(c).key   = %VK_I : ac(c).cmd   = %IDM_Image          : Incr c
   ac(c).fvirt = %FVIRTKEY Or %FCONTROL : ac(c).key   = %VK_J : ac(c).cmd   = %IDM_AutoXCount     : Incr c
   ac(c).fvirt = %FVIRTKEY Or %FCONTROL : ac(c).key   = %VK_K : ac(c).cmd   = %IDM_SpeedTest      : Incr c
   ac(c).fvirt = %FVIRTKEY Or %FCONTROL : ac(c).key   = %VK_L : ac(c).cmd   = %IDM_BarLabels      : Incr c
   ac(c).fvirt = %FVIRTKEY Or %FCONTROL : ac(c).key   = %VK_M : ac(c).cmd   = %IDM_ShowMargins    : Incr c
   ac(c).fvirt = %FVIRTKEY Or %FCONTROL : ac(c).key   = %VK_N : ac(c).cmd   = %IDM_Reset          : Incr c
   ac(c).fvirt = %FVIRTKEY Or %FCONTROL : ac(c).key   = %VK_O : ac(c).cmd   = %IDM_Open           : Incr c
   ac(c).fvirt = %FVIRTKEY Or %FCONTROL : ac(c).key   = %VK_Q : ac(c).cmd   = %IDM_NextChart      : Incr c
   ac(c).fvirt = %FVIRTKEY Or %FCONTROL : ac(c).key   = %VK_R : ac(c).cmd   = %IDM_Radar          : Incr c
   ac(c).fvirt = %FVIRTKEY Or %FCONTROL : ac(c).key   = %VK_S : ac(c).cmd   = %IDM_SaveAs         : Incr c
   ac(c).fvirt = %FVIRTKEY Or %FCONTROL : ac(c).key   = %VK_T : ac(c).cmd   = %IDM_Test           : Incr c
   ac(c).fvirt = %FVIRTKEY Or %FCONTROL : ac(c).key   = %VK_U : ac(c).cmd   = %IDM_UnSelectBars   : Incr c
   ac(c).fvirt = %FVIRTKEY Or %FCONTROL : ac(c).key   = %VK_W : ac(c).cmd   = %IDM_ExportToGBC    : Incr c
   ac(c).fvirt = %FVIRTKEY Or %FCONTROL : ac(c).key   = %VK_Y : ac(c).cmd   = %IDM_CopyImage      : Incr c
   Accel Attach hDlg, AC() To hAccelerator
End Sub

Sub CreateFakeData         'this is a user function
   Local i As Long
   ReDim D(1 To 100)
   For i = 1 To 40  : D(i).v(1) = 100 * (1.05)^i : Next i
   For i = 41 To 60 : D(i).v(1) = D(40).v(1) - 600 * (1.2)^(i-60)  : Next i
   For i = 1 To 60
      D(i).altColor(1) = %Gray : D(i).altColor(2) = %Gray : D(i).altColor(3) = %Gray

      D(i).v(2) = D(i).v(1) - 150 * Rnd
      D(i).v(3) = D(i).v(1) + 150 * Rnd

      D(i).altXText(1)  = "AltX" + LTrim$(Str$(i)) + "_1"  'Chr$(Rnd(97,122)) + Chr$(Rnd(97,122)) + Chr$(Rnd(97,122)) + Chr$(Rnd(97,122)) + Chr$(Rnd(97,122))
      D(i).altXText(2)  = "AltX" + LTrim$(Str$(i)) + "_2"  'Chr$(Rnd(97,122)) + Chr$(Rnd(97,122)) + Chr$(Rnd(97,122)) + Chr$(Rnd(97,122)) + Chr$(Rnd(97,122))
      D(i).altXText(3)  = "AltX" + LTrim$(Str$(i)) + "_3"  'Chr$(Rnd(97,122)) + Chr$(Rnd(97,122)) + Chr$(Rnd(97,122)) + Chr$(Rnd(97,122)) + Chr$(Rnd(97,122))

      D(i).label(1) = "Label" + LTrim$(Str$(i)) + "_1" 'Chr$(Rnd(97,122)) + Chr$(Rnd(97,122)) + Chr$(Rnd(97,122)) + Chr$(Rnd(97,122)) + Chr$(Rnd(97,122)) + Chr$(Rnd(97,122)) + Chr$(Rnd(97,122)) + Chr$(Rnd(97,122))
      D(i).label(2) = "Label" + LTrim$(Str$(i)) + "_2" 'Chr$(Rnd(97,122)) + Chr$(Rnd(97,122)) + Chr$(Rnd(97,122)) + Chr$(Rnd(97,122)) + Chr$(Rnd(97,122)) + Chr$(Rnd(97,122)) + Chr$(Rnd(97,122)) + Chr$(Rnd(97,122))
      D(i).label(3) = "Label" + LTrim$(Str$(i)) + "_3" 'Chr$(Rnd(97,122)) + Chr$(Rnd(97,122)) + Chr$(Rnd(97,122)) + Chr$(Rnd(97,122)) + Chr$(Rnd(97,122)) + Chr$(Rnd(97,122)) + Chr$(Rnd(97,122)) + Chr$(Rnd(97,122))
   Next i
   For i = 1 To 60
      If D(i).v(1) < 0 Then D(i).v(1) = 0
      If D(i).v(2) < 0 Then D(i).v(2) = 0
      If D(i).v(3) < 0 Then D(i).v(3) = 0
   Next i
End Sub

Sub InitializeChart(hWnd As Dword, cID As Long)    'this a user function for assigning Chart settings
   B.hParent       = hWnd
   B.cID           = cID
   Control Handle B.hParent, B.cID To B.hGraphic
   Graphic Get DC To B.hGraphicDC
   B.LM            = 110
   B.RM            = 80
   B.TM            = 60
   B.BM            = 50
   B.Title         = "gbChartMaster"
   B.XTitle        = "X-Values"
   B.YTitle        = "Y-Values"
   B.MainTitleLoc  = %MainTitle_Center
   B.XTitleLoc     = %XTitle_LeftInline
   B.YTitleLoc     = %YTitle_Top
   B.DataSetTitle(1) = "Title 1"
   B.DataSetTitle(2) = "Title 2"
   B.DataSetTitle(3) = "Title 3"
   B.DivYCount     = 5
   B.Xmax          = UBound(D)
   B.XMin          = 1
   B.maxYValue     = 0
   B.usefixedYvalue= 0
   B.fixedYvalue   = 10000    '1=10 2=100 3=1000 ...
   B.coverage      = 0.6 '>0.1 and <=1.0
   B.Pivot         = UBound(D)
   B.FadeValue     = 0
   B.AllBars       = 1
   B.ShowHGrid     = 1
   B.ShowVGrid     = 0
   B.ShowMargins   = 0
   B.DotGrid       = 0
   B.ShowMainTitle   = 1
   B.ShowAxisTitles  = 1
   B.ShowAxisValues  = 1
   B.UseAntiAliasing = 0
   B.HoverTips       = 1
   B.GridOnTop       = 0
   B.SmoothLines     = 0
   B.LineStyle       = 0
   B.LabelType       = 1

   B.UserData(1)   = "60" + $CrLf    + "40" + $CrLf    + "90" + $CrLf    + "160" + $CrLf     + "120"
   B.altXText(1)    = "One" + $CrLf   + "Four" + $CrLf  + "Nine" + $CrLf  + "Twenty" + $CrLf  + "Twelve"
   B.labels(1)  = "Plum" + $CrLf  + "Peach" + $CrLf + "Pear" + $CrLf  + "Apple" + $CrLf   + "Orange"
   B.BarColors(1)  = "192 48 158" + $CrLf  + "102 222 45" + $CrLf + "142 220 15" + $CrLf  + "121 184 234" + $CrLf   + "226 88 130"

   B.UserData(2)   = "35" + $CrLf     + "32" + $CrLf    + "70" + $CrLf    + "85" + $CrLf     + "115"
   B.altXText(2)    = "Left" + $CrLf  + "Right" + $CrLf + "Top" + $CrLf   + "Bottom" + $CrLf  + "Center"
   B.labels(2)  = "Oak" + $CrLf   + "Elm" + $CrLf   + "Birch" + $CrLf + "Redwood" + $CrLf + "Magnolia"
   B.BarColors(2)  = "135 129 160" + $CrLf  + "199 201 147" + $CrLf + "73 156 143" + $CrLf  + "47 101 147" + $CrLf   + "192 165 108"

   B.UserData(3)   = "80" + $CrLf    + "43" + $CrLf    + "120" + $CrLf   + "95" + $CrLf     + "132"
   B.altXText(3)    = "North" + $CrLf + "South" + $CrLf + "East" + $CrLf  + "West" + $CrLf    + "None"
   B.labels(3)  = "Pigs" + $CrLf  + "Cows" + $CrLf  + "Sheep" + $CrLf + "Horses" + $CrLf  + "Goats"
   B.BarColors(3)  = "212 194 232" + $CrLf  + "125 213 176" + $CrLf + "52 207 47" + $CrLf  + "80 246 63" + $CrLf   + "88 117 160"

   B.GraphType     = 1        '1=2D 2=3D 3=Line 4=DOT
   B.BarGradientType  = 1        '1=flat
   B.ThreeDX       = 15
   B.ThreeDY       = 20

   B.BezierTension = 0.5
   B.BezierDT      = 0.01

   B.PieRadius     = 75    '% of client area
   B.PieCircle     = 1
   B.PieEject      = 1
   B.PieExplode    = 0
   B.PieExplodeDistance = 10
   B.PieRotate     = 0
   B.PieAngle      = 90
   B.PieLegend     = 1
   B.PiePerCent    = 1
   B.PieDonut      = 0
   B.PieDonutCaption(1) = "Center 1"
   B.PieDonutCaption(2) = "Center 2"
   B.PieDonutCaption(3) = "Center 3"
   B.PieBeveled     = 0
   B.Pie3D          = 0
   B.Pie3DThickness = 60
   B.PieGradient    = 0
   B.PieGradientValue = 155
   B.PieHideUnSelected = 0
   B.PieHighlightSelected = 1

   B.InstructFontName = "Tahoma"
   B.InstructFontSize = 10
   B.InstructFontBold = 0

   B.titleFontName = "Tahoma"
   B.titleFontSize = 14
   B.titleFontBold = 1

   B.axisTitleFontName = "Tahoma"
   B.axisTitleFontSize = 10
   B.axisTitleFontBold = 1

   B.LabelFontName = "Tahoma"
   B.LabelFontSize = 10
   B.LabelFontBold = 1

   B.DataSet           = 1

   B.axisValueFontName = "Tahoma"
   B.axisValueFontSize = 10
   B.axisValueFontBold = 0

   B.useAltColors   = 0
   B.usealtXText     = 0
   B.gradientBG     = 0
   B.fadeBG         = 0
   B.colorUnder     = 0

   B.cGrid         = %Black
   B.cBG           = %White
   B.cTitle        = %Black
   B.cAxisLines    = %Black
   B.cAxisValues   = %Black

   B.cPreBars(1)   = %Green
   B.cPreBars(2)   = %rgb_DarkGreen
   B.cPreBars(3)   = %rgb_LightGreen
   B.cPostBars(1)  = %Red
   B.cPostBars(2)  = %rgb_DarkRed
   B.cPostBars(3)  = %rgb_Salmon
   B.cSymbols(1)   = %rgb_DarkGray
   B.cSymbols(2)   = %Gray
   B.cSymbols(3)   = %rgb_LightGray

   B.BarBorder     = 2       '1=none 2=black 3=white
   B.ShowBarLabel  = 0
   B.VertBarLabels = 0
   B.Annotation    = 0
   B.LargeStamp    = 1
   B.RoundedBar    = 0
   B.RoundValue    = 100
   B.MinusYAxis    = 0
   B.VertYTitle    = 0
   B.AutoXCount    = 1
   B.ExportFormat  = 2       '1=bmp 2=jpg 3=gif 4=png
   B.Equation(1)   = "1:100:0:0.3:20+10 * sin(x)"
   B.Equation(2)   = "1:100:0:1:100*x + 70"
   B.Equation(3)   = "1:100:0:0.3:20+10 * ABS(sin(x))"
   B.EquationAnimate = 0

   B.StampList     = ""
   B.Stamp         = Exe.Path$ + "stamps\" + Dir$(Exe.Path$ + "stamps\_markerblue.png")
   If IsFalse IsFile(B.Stamp) Then B.Stamp = Exe.Path$ + "stamps\" + Dir$(Exe.Path$ + "stamps\*.*")

   B.ShowBGImage   = 0

   B.BGImage       = Exe.Path$ + "bgimages\eyes.jpg"
   If IsFalse IsFile(B.BGImage) Then B.BGImage = Exe.Path$ + "bgimages\" + Dir$(Exe.Path$ + "bgimages\*.*")
   LoadBGImage ((B.BGImage), B.hBGImage)  'Graphic Bitmap Load B.BGimage, 0, 0 To B.hBGImage

   B.BGImageFit    = 1       '0-no resize 1=resize to fit
   B.LineSymbol    = 2       '1-dot 1=circle 2=triangle 3=square 4=emptydot
   B.HiLoSymbol    = 1
   B.LineThickness = 1
   B.SymbolSize    = 1
   B.Interval      = 100     'milliseconds

   CreateFonts
End Sub

Sub CreateFonts
   'set Graphic to default font to free up other fonts for deletion
   Graphic Set Font 0
   'delete other fonts
   Font End B.TitleFont
   Font End B.axisTitleFont
   Font End B.axisTitleFontBold
   Font End B.axisTitleFontR

   Font End B.InstructFont

   Font End B.axisValueFont
   Font End B.axisValueFontBold
   Font End B.axisValueFontR

   Font End B.LabelFont
   Font End B.LabelFontR

   'rebuild fonts
   Font New B.InstructFontName,  B.InstructFontSize,  B.InstructFontBold  To B.InstructFont

   Font New B.TitleFontName,     B.TitleFontSize,     B.TitleFontBold     To B.TitleFont
   Font New B.axisTitleFontName, B.axisTitleFontSize, B.axisTitleFontBold To B.axisTitleFont
   Font New B.axisValueFontName, B.axisValueFontSize, B.axisValueFontBold To B.axisValueFont
   Font New B.LabelFontName,     B.LabelFontSize,     B.LabelFontBold     To B.LabelFont

   Font New B.axisTitleFontName, B.axisTitleFontSize, B.axisTitleFontBold,1,0, 900 To B.axisTitleFontR
   Font New B.axisValueFontName, B.axisValueFontSize, B.axisValueFontBold,1,0, 900 To B.axisValueFontR
   Font New B.LabelFontName,     B.LabelFontSize,     B.LabelFontBold,1,0, 900 To B.LabelFontR
End Sub

Function SelectColor(hWnd As Dword, startcolor&) As Long    'works on pControl
   Local ColorResult&
   Display Color hWnd, 200, 200, startcolor&, CustomColorList ,0 To ColorResult&
   If ColorResult& = -1 Then Function = startcolor& Else Function = ColorResult&
End Function

Sub SelectMainFont(FontName As StringZ * 100, FontSize As Long, FontBold As Long, hNewFont As Dword)
   Local fName As String, fPoints, fStyle, fColor, CharSet, Style As Long
   Style = %CF_ForceFontExist Or %CF_NoScriptSel Or %CF_NoSimulations Or %CF_ScreenFonts 'Or %CF_FixedPitchOnly 'OR %CF_ScreenFonts Or
   ghHook = SetWindowsHookEx(%WH_CBT, CodePtr(FontDialogProc), GetModuleHandle(""), GetCurrentThreadId)
   Display Font hSet, 100,100, FontName, FontSize, FontBold, Style To fName, fPoints, fStyle, fColor, CharSet
   UnhookWindowsHookEx ghHook
   If Len(fName) Then FontName = fName : FontSize = fPoints : FontBold = fStyle
End Sub

Function FontDialogProc(ByVal nCode As Long, ByVal WParam As Long, ByVal LParam As Long) As Long
    Local szTemp As WStringZ * %Max_Path, cw As CBT_CREATEWND Ptr, cst As CREATESTRUCT Ptr
    Function = CallNextHookEx(ByVal ghHook, ByVal nCode, ByVal WParam, ByVal LParam)
    If nCode < 0 Then Exit Function
    If nCode = %HCBT_ACTIVATE Then UnhookWindowsHookEx ghHook
    If nCode = %HCBT_CREATEWND Then
        cw = LParam         ' Get pointer to CBT_CREATEWND struct so we can...    TT: Nick Melnick
        cst = @cw.lpcs      ' get a pointer to the CREATESTRUCT struct
        GetClassName WParam, szTemp, %Max_Path      ' for each window / control as it is created
        If UCase$(szTemp) = "#32770" Then @cst.cy = @cst.cy - 165 : @cst.cx = @cst.cx - 10  'dialog
    End If
End Function

Sub ShowSettingsDialog
   Local i,w,h,x,y,iPos,iStyle As Long, temp$
   SettingsVisible = 1

   'make sure it is visible
   'Desktop Get Client to w,h
   'If SettingsX > w Then SettingsX = w - 100
   'IF SettingsY > h Then SettingsY = h - 100
   'IF SettingsX + 1220 < 0 Then SettingsX = 100
   'If SettingsY + 520  < 0 THen SettingsY = 100

   iStyle = %WS_Child Or %WS_Visible Or %ES_MultiLine Or %WS_VScroll Or %ES_AutoHScroll Or %WS_HScroll Or %ES_AutoVScroll Or %ES_WantReturn Or %ES_NoHideSel Or %WS_TabStop
   Dialog Font "Tahoma",10,0

   Desktop Get Size To w,h
   Dialog Get Loc hDlg To x,y
   If x+SettingsX < 0 Then SettingsX = 50 - x
   If y+SettingsY > h Then SettingsY = h - y - 200

   Dialog New Pixels, hDlg, "gbChartMaster Settings",SettingsX,SettingsY,1220,520, %WS_SysMenu To hSet
   Dialog Set Icon hSet, "xsettings"

   'optional display
   Control Add Frame, hSet, %IDC_Frame, "Elements",10,10,120,365
   Control Add ComboBox, hSet, %IDC_GraphType,,20,35,105,400,%CBS_DropDownList Or %WS_TabStop Or %WS_VScroll, %WS_Ex_ClientEdge
   ComboBox Add hSet, %IDC_GraphType, "2D Bars"
   ComboBox Add hSet, %IDC_GraphType, "3D Bars"
   ComboBox Add hSet, %IDC_GraphType, "Symbols"
   ComboBox Add hSet, %IDC_GraphType, "Line"
   ComboBox Add hSet, %IDC_GraphType, "2-Line"
   ComboBox Add hSet, %IDC_GraphType, "3-Line"
   ComboBox Add hSet, %IDC_GraphType, "2-Bar Stacked"
   ComboBox Add hSet, %IDC_GraphType, "3-Bar Stacked"
   ComboBox Add hSet, %IDC_GraphType, "Hi-Lo Bars"
   ComboBox Add hSet, %IDC_GraphType, "Pie Chart"
   ComboBox Add hSet, %IDC_GraphType, "2-Pie Chart"
   ComboBox Add hSet, %IDC_GraphType, "3-Pie Chart"
   ComboBox Select hSet, %IDC_GraphType, B.GraphType

   Control Add CheckBox, hSet, %IDC_AllBars,"All Bars",20,70,100,20
   Control Set Check hSet, %IDC_AllBars, B.AllBars
   Control Add CheckBox, hSet, %IDC_ShowMainTitle,"Title",20,90,100,20
   Control Set Check hSet, %IDC_ShowMainTitle, B.ShowMainTitle
   Control Add CheckBox, hSet, %IDC_ShowAxisTitles,"Axis Titles",20,110,100,20
   Control Set Check hSet, %IDC_ShowAxisTitles, B.ShowAxisTitles
   Control Add CheckBox, hSet, %IDC_ShowAxisValues,"X-Axis Values",20,130,100,20
   Control Set Check hSet, %IDC_ShowAxisValues, B.ShowAxisValues
   Control Add CheckBox, hSet, %IDC_ShowBarLabel,"Labels",20,150,100,20
   Control Set Check hSet, %IDC_ShowBarLabel, B.ShowBarLabel
   Control Add CheckBox, hSet, %IDC_UseAltColors,"Alt Colors",20,170,100,20
   Control Set Check hSet, %IDC_UseAltColors, B.UseAltColors
   Control Add CheckBox, hSet, %IDC_UsealtXText,"Alt XText",20,190,100,20
   Control Set Check hSet, %IDC_UsealtXText, B.UsealtXText
   Control Add CheckBox, hSet, %IDC_ShowBGImage,"BG Image",20,210,100,20
   Control Set Check hSet, %IDC_ShowBGImage, B.ShowBGImage
   Control Add CheckBox, hSet, %IDC_Annotation,"Annotation",20,230,100,20
   Control Set Check hSet, %IDC_Annotation, B.Annotation
   Control Add CheckBox, hSet, %IDC_ShowDataSetTitles,"DataSet Titles",20,250,100,20
   Control Set Check hSet, %IDC_ShowDataSetTitles, B.ShowDataSetTitles
   Control Add CheckBox, hSet, %IDC_ShowHGrid,"Horz Grid",20,270,100,20
   Control Set Check hSet, %IDC_ShowHGrid, B.ShowHGrid
   Control Add CheckBox, hSet, %IDC_ShowVGrid,"Vert Grid",20,290,100,20
   Control Set Check hSet, %IDC_ShowVGrid, B.ShowVGrid
   Control Add CheckBox, hSet, %IDC_ShowMargins,"Margins",20,310,100,20
   Control Set Check hSet, %IDC_ShowMargins, B.ShowMargins
   Control Add CheckBox, hSet, %IDC_SpeedTest,"Speed Test",20,330,100,20
   Control Set Check hSet, %IDC_SpeedTest, B.SpeedTest
   Control Add CheckBox, hSet, %IDC_Instructions,"Instructions",20,350,100,20
   Control Set Check hSet, %IDC_Instructions, B.Instructions

   'Titles
   Control Add Frame, hSet, %IDC_Frame, "Titles/Labels",140,10,160,365
   Control Add TextBox, hSet, %IDC_Title,  B.Title, 150,30,100,20
   Control Add TextBox, hSet, %IDC_XTitle, B.XTitle, 150,55,100,20
   Control Add TextBox, hSet, %IDC_YTitle, B.YTitle, 150,80,100,20
   Control Add Label, hSet, %IDC_Label, "Title",255,30,40,140
   Control Add Label, hSet, %IDC_Label, "XTitle",255,55,40,140
   Control Add Label, hSet, %IDC_Label, "YTitle",255,80,40,140
   'Font
   Control Add Button, hSet, %IDC_TitleFont,"Chart Title Font", 150,105,100,20
   Control Add Button, hSet, %IDC_axisTitleFont,"Axis Title Font", 150,130,100,20
   Control Add Button, hSet, %IDC_axisValueFont,"Axis Values Font", 150,155,100,20
   Control Add Button, hSet, %IDC_LabelFont,"Label Font", 150,180,100,20

   Control Add ComboBox, hSet, %IDC_MainTitleFontSize,,255,105,40,150,%CBS_DropDownList Or %WS_TabStop Or %WS_VScroll, %WS_Ex_ClientEdge
   ComboBox Add hSet, %IDC_MainTitleFontSize, "8"
   ComboBox Add hSet, %IDC_MainTitleFontSize, "10"
   ComboBox Add hSet, %IDC_MainTitleFontSize, "12"
   ComboBox Add hSet, %IDC_MainTitleFontSize, "14"
   ComboBox Add hSet, %IDC_MainTitleFontSize, "16"
   ComboBox Add hSet, %IDC_MainTitleFontSize, "18"
   ComboBox Add hSet, %IDC_MainTitleFontSize, "20"
   ComboBox Add hSet, %IDC_MainTitleFontSize, "22"
   ComboBox Add hSet, %IDC_MainTitleFontSize, "24"
   ComboBox Add hSet, %IDC_MainTitleFontSize, "26"
   ComboBox Add hSet, %IDC_MainTitleFontSize, "28"
   ComboBox Add hSet, %IDC_MainTitleFontSize, "36"
   ComboBox Add hSet, %IDC_MainTitleFontSize, "48"
   i = Switch(B.TitleFontSize=8,1,B.TitleFontSize=10,2,B.TitleFontSize=12,3,B.TitleFontSize=14,4,B.TitleFontSize=16,5,B.TitleFontSize=18,6,B.TitleFontSize=20,7,B.TitleFontSize=22,8, _
       B.TitleFontSize=24,9,B.TitleFontSize=26,10,B.TitleFontSize=28,11,B.TitleFontSize=36,12,B.TitleFontSize=48,13)
   ComboBox Select hSet, %IDC_MainTitleFontSize, i


   Control Add ComboBox, hSet, %IDC_AxisTitleFontSize,,255,130,40,150,%CBS_DropDownList Or %WS_TabStop Or %WS_VScroll, %WS_Ex_ClientEdge
   ComboBox Add hSet, %IDC_AxisTitleFontSize, "8"
   ComboBox Add hSet, %IDC_AxisTitleFontSize, "10"
   ComboBox Add hSet, %IDC_AxisTitleFontSize, "12"
   ComboBox Add hSet, %IDC_AxisTitleFontSize, "14"
   ComboBox Add hSet, %IDC_AxisTitleFontSize, "16"
   ComboBox Add hSet, %IDC_AxisTitleFontSize, "18"
   ComboBox Add hSet, %IDC_AxisTitleFontSize, "20"
   ComboBox Add hSet, %IDC_AxisTitleFontSize, "22"
   ComboBox Add hSet, %IDC_AxisTitleFontSize, "24"
   ComboBox Add hSet, %IDC_AxisTitleFontSize, "26"
   ComboBox Add hSet, %IDC_AxisTitleFontSize, "28"
   ComboBox Add hSet, %IDC_AxisTitleFontSize, "36"
   ComboBox Add hSet, %IDC_AxisTitleFontSize, "48"
   i = Switch(B.AxisTitleFontSize=8,1,B.AxisTitleFontSize=10,2,B.AxistitleFontSize=12,3,B.AxisTitleFontSize=14,4,B.AxisTitleFontSize=16,5,B.AxisTitleFontSize=18,6,B.AxisTitleFontSize=20,7,B.AxisTitleFontSize=22,8, _
       B.AxisTitleFontSize=24,9,B.AxisTitleFontSize=26,10,B.AxisTitleFontSize=28,11,B.AxisTitleFontSize=36,12,B.AxisTitleFontSize=48,13)
   ComboBox Select hSet, %IDC_AxisTitleFontSize, i

   Control Add ComboBox, hSet, %IDC_ValuesFontSize,,255,155,40,150,%CBS_DropDownList Or %WS_TabStop Or %WS_VScroll, %WS_Ex_ClientEdge
   ComboBox Add hSet, %IDC_ValuesFontSize, "8"
   ComboBox Add hSet, %IDC_ValuesFontSize, "10"
   ComboBox Add hSet, %IDC_ValuesFontSize, "12"
   ComboBox Add hSet, %IDC_ValuesFontSize, "14"
   ComboBox Add hSet, %IDC_ValuesFontSize, "16"
   ComboBox Add hSet, %IDC_ValuesFontSize, "18"
   ComboBox Add hSet, %IDC_ValuesFontSize, "20"
   ComboBox Add hSet, %IDC_ValuesFontSize, "22"
   ComboBox Add hSet, %IDC_ValuesFontSize, "24"
   ComboBox Add hSet, %IDC_ValuesFontSize, "26"
   ComboBox Add hSet, %IDC_ValuesFontSize, "28"
   ComboBox Add hSet, %IDC_ValuesFontSize, "36"
   ComboBox Add hSet, %IDC_ValuesFontSize, "48"
   i = Switch(B.AxisValueFontSize=8,1,B.AxisValueFontSize=10,2,B.AxisValueFontSize=12,3,B.AxisValueFontSize=14,4,B.AxisValueFontSize=16,5,B.AxisValueFontSize=18,6,B.AxisValueFontSize=20,7,B.AxisValueFontSize=22,8, _
       B.AxisValueFontSize=24,9,B.AxisValueFontSize=26,10,B.AxisValueFontSize=28,11,B.AxisValueFontSize=36,12,B.AxisValueFontSize=48,13)
   ComboBox Select hSet, %IDC_ValuesFontSize, i

   Control Add ComboBox, hSet, %IDC_LabelFontSize,,255,180,40,150,%CBS_DropDownList Or %WS_TabStop Or %WS_VScroll, %WS_Ex_ClientEdge
   ComboBox Add hSet, %IDC_LabelFontSize, "8"
   ComboBox Add hSet, %IDC_LabelFontSize, "10"
   ComboBox Add hSet, %IDC_LabelFontSize, "12"
   ComboBox Add hSet, %IDC_LabelFontSize, "14"
   ComboBox Add hSet, %IDC_LabelFontSize, "16"
   ComboBox Add hSet, %IDC_LabelFontSize, "18"
   ComboBox Add hSet, %IDC_LabelFontSize, "20"
   ComboBox Add hSet, %IDC_LabelFontSize, "22"
   ComboBox Add hSet, %IDC_LabelFontSize, "24"
   ComboBox Add hSet, %IDC_LabelFontSize, "26"
   ComboBox Add hSet, %IDC_LabelFontSize, "28"
   ComboBox Add hSet, %IDC_LabelFontSize, "36"
   ComboBox Add hSet, %IDC_LabelFontSize, "48"
   i = Switch(B.LabelFontSize=8,1,B.LabelFontSize=10,2,B.LabelFontSize=12,3,B.LabelFontSize=14,4,B.LabelFontSIze=16,5,B.LabelFontSize=18,6,B.LabelFontSize=20,7,B.LabelFontSize=22,8, _
       B.LabelFontSize=24,9,B.LabelFontSize=26,10,B.LabelFontSize=28,11,B.LabelFontSize=36,12,B.LabelFontSize=48,13)
   ComboBox Select hSet, %IDC_LabelFontSize, i

   'misc
   Control Add Label, hSet, %IDC_Label, "Main      XTitle     YTitle",255,210,40,100

   Control Add ComboBox, hSet, %IDC_MainTitleLoc,,150,205,100,150,%CBS_DropDownList Or %WS_TabStop Or %WS_VScroll, %WS_Ex_ClientEdge
   ComboBox Add hSet, %IDC_MainTitleLoc, "Left"
   ComboBox Add hSet, %IDC_MainTitleLoc, "Center"
   ComboBox Add hSet, %IDC_MainTitleLoc, "Right"
   ComboBox Select hSet, %IDC_MainTitleLoc, B.MainTitleLoc

   Control Add ComboBox, hSet, %IDC_XTitleLoc,,150,235,100,150,%CBS_DropDownList Or %WS_TabStop Or %WS_VScroll, %WS_Ex_ClientEdge
   ComboBox Add hSet, %IDC_XTitleLoc, "Left Inline"
   ComboBox Add hSet, %IDC_XTitleLoc, "Left"
   ComboBox Add hSet, %IDC_XTitleLoc, "Center"
   ComboBox Add hSet, %IDC_XTitleLoc, "Right"
   ComboBox Add hSet, %IDC_XTitleLoc, "RightInline"
   ComboBox Select hSet, %IDC_XTitleLoc, B.XTitleLoc

   Control Add ComboBox, hSet, %IDC_YTitleLoc,,150,265,100,150,%CBS_DropDownList Or %WS_TabStop Or %WS_VScroll, %WS_Ex_ClientEdge
   ComboBox Add hSet, %IDC_YTitleLoc, "Top"
   ComboBox Add hSet, %IDC_YTitleLoc, "Center"
   ComboBox Add hSet, %IDC_YTitleLoc, "Bottom"
   ComboBox Select hSet, %IDC_YTitleLoc, B.YTitleLoc

   Control Add CheckBox, hSet, %IDC_VertYTitle,"Vert Y Title",150,293,100,20
   Control Set Check hSet, %IDC_VertYTitle, B.VertYTitle

   Control Add CheckBox, hSet, %IDC_VertBarLabels,"Vert Bar Labels",150,313,110,20
   Control Set Check hSet, %IDC_VertBarLabels, B.VertBarLabels

   Control Add CheckBox, hSet, %IDC_AutoXCount, "Auto X Count",150,333,100,20
   Control Set Check hSet, %IDC_AutoXCount, B.AutoXCount

'   'Control Add CheckBox, hSet, %IDC_MinusYAxis,"-Y Axis",285,200,100,20
'   'Control Set Check hSet, %IDC_MinusYAxis, B.MinusYAxis

   'Colors
   Control Add Frame, hSet, %IDC_Frame, "Colors",310,10,150,365

   Control Add Label, hSet, %IDC_cBG, "", 320,30,12,12, %WS_Border Or %SS_Notify
   Control Set Color hSet, %IDC_cBG, %Black, B.cBG

   Control Add Label, hSet, %IDC_cTitle, "", 320,47,12,12, %WS_Border Or %SS_Notify
   Control Set Color hSet, %IDC_cTitle, %Black, B.cTitle

   Control Add Label, hSet, %IDC_cAxisLines, "", 320,64,12,12, %WS_Border Or %SS_Notify
   Control Set Color hSet, %IDC_cAxisLines, %Black, B.cAxisLines

   Control Add Label, hSet, %IDC_cAxisValues, "", 320,81,12,12, %WS_Border Or %SS_Notify
   Control Set Color hSet, %IDC_cAxisValues, %Black, B.cAxisValues

   Control Add Label, hSet, %IDC_cGrid, "", 320,98,12,12, %WS_Border Or %SS_Notify
   Control Set Color hSet, %IDC_cGrid, %Black, B.cGrid

   Control Add Label, hSet, %IDC_Label, "BkGnd    Title   AxisLines   AxisValues    Grid",340,30,70,120

   Control Add Label, hSet, %IDC_cPreBars1, "", 320,122,12,12, %WS_Border Or %SS_Notify
   Control Set Color hSet, %IDC_cPreBars1, %Black, B.cPreBars(1)
   Control Add Label, hSet, %IDC_cPreBars2, "", 340,122,12,12, %WS_Border Or %SS_Notify
   Control Set Color hSet, %IDC_cPreBars2, %Black, B.cPreBars(2)
   Control Add Label, hSet, %IDC_cPreBars3, "", 360,122,12,12, %WS_Border Or %SS_Notify
   Control Set Color hSet, %IDC_cPreBars3, %Black, B.cPreBars(3)

   Control Add Label, hSet, %IDC_cPostBars1, "", 320,139,12,12, %WS_Border Or %SS_Notify
   Control Set Color hSet, %IDC_cPostBars1, %Black, B.cPostBars(1)
   Control Add Label, hSet, %IDC_cPostBars2, "", 340,139,12,12, %WS_Border Or %SS_Notify
   Control Set Color hSet, %IDC_cPostBars2, %Black, B.cPostBars(2)
   Control Add Label, hSet, %IDC_cPostBars3, "", 360,139,12,12, %WS_Border Or %SS_Notify
   Control Set Color hSet, %IDC_cPostBars3, %Black, B.cPostBars(3)

   Control Add Label, hSet, %IDC_cSymbols1, "", 320,156,12,12, %WS_Border Or %SS_Notify
   Control Set Color hSet, %IDC_cSymbols1, %Black, B.cSymbols(1)
   Control Add Label, hSet, %IDC_cSymbols2, "", 340,156,12,12, %WS_Border Or %SS_Notify
   Control Set Color hSet, %IDC_cSymbols2, %Black, B.cSymbols(2)
   Control Add Label, hSet, %IDC_cSymbols3, "", 360,156,12,12, %WS_Border Or %SS_Notify
   Control Set Color hSet, %IDC_cSymbols3, %Black, B.cSymbols(3)
   Control Add Label, hSet, %IDC_Label, "PreBars PostBars Symbols",380,120,65,120


   Control Add ComboBox, hSet, %IDC_BarGradientType,,320,175,130,100,%CBS_DropDownList Or %WS_TabStop Or %WS_VScroll, %WS_Ex_ClientEdge
   ComboBox Add hSet, %IDC_BarGradientType, "No Bar Gradient"
   ComboBox Add hSet, %IDC_BarGradientType, "Dark to Color Vert"
   ComboBox Add hSet, %IDC_BarGradientType, "Light to Color Horz"
   ComboBox Add hSet, %IDC_BarGradientType, "Color to Black Horz"
   ComboBox Select hSet, %IDC_BarGradientType, B.BarGradientType

   Control Add ComboBox, hSet, %IDC_BarBorder,,320,205,65,150,%CBS_DropDownList Or %WS_TabStop Or %WS_VScroll, %WS_Ex_ClientEdge
   ComboBox Add hSet, %IDC_BarBorder, "None"
   ComboBox Add hSet, %IDC_BarBorder, "Black"
   ComboBox Add hSet, %IDC_BarBorder, "White"
   ComboBox Select hSet, %IDC_BarBorder, B.BarBorder
   Control Add Label, hSet, %IDC_Label, "Border                 Fade",390,205,50,60

   Control Add ComboBox, hSet, %IDC_Fade,,320,235,65,150,%CBS_DropDownList Or %WS_TabStop Or %WS_VScroll, %WS_Ex_ClientEdge
   For i = 0 To 255 Step 4 : ComboBox Add hSet, %IDC_Fade, Str$(i) : Next i
   ComboBox Select hSet, %IDC_Fade, B.FadeValue/4 + 1

   Control Add CheckBox, hSet, %IDC_GradientBG,"Gradient BG",320,265,100,20
   Control Set Check hSet, %IDC_GradientBG, B.GradientBG

   Control Add CheckBox, hSet, %IDC_FadeBG,"Gradient BG Fade ",320,282,120,20
   Control Set Check hSet, %IDC_FadeBG, B.FadeBG

'   Control Add CheckBox, hSet, %IDC_ColorUnder,"Color Under ",320,302,120,20
'   Control Set Check hSet, %IDC_ColorUnder, B.ColorUnder

   Control Add Button, hSet, %IDC_RandomColors, "Random Alt Colors", 320,302,130,20

   'Misc Settings
   Control Add Frame, hSet, %IDC_Frame, "Drawing Settings",470,10,150,500
   'Margins
   ReDim s(1 To 30) As String
   Array Assign s() = "10","20","30","40","50","60","70","80","90","100","110","120","130","140","150", _
                      "160","170","180","190","200","210","220","230","240","250","260","270","280","290","300"
   Control Add ComboBox, hSet, %IDC_LM, s(), 480,30,50,150,%CBS_DropDownList Or %WS_TabStop Or %WS_VScroll, %WS_Ex_ClientEdge
   ComboBox Select hSet, %IDC_LM, B.LM/10
   Control Add ComboBox, hSet, %IDC_TM, s(), 480,60,50,150,%CBS_DropDownList Or %WS_TabStop Or %WS_VScroll, %WS_Ex_ClientEdge
   ComboBox Select hSet, %IDC_TM, B.TM/10
   Control Add ComboBox, hSet, %IDC_RM, s(), 480,90,50,150,%CBS_DropDownList Or %WS_TabStop Or %WS_VScroll, %WS_Ex_ClientEdge
   ComboBox Select hSet, %IDC_RM, B.RM/10
   Control Add ComboBox, hSet, %IDC_BM, s(), 480,120,50,150,%CBS_DropDownList Or %WS_TabStop Or %WS_VScroll, %WS_Ex_ClientEdge
   ComboBox Select hSet, %IDC_BM, B.BM/10

   'All Else
   ReDim s(1 To 5)
   Array Assign s() = "1","2","4","5","10"
   Control Add ComboBox, hSet, %IDC_DivYCount, s(), 480,150,50,150,%CBS_DropDownList Or %WS_TabStop Or %WS_VScroll, %WS_Ex_ClientEdge
   ComboBox Select hSet, %IDC_DivYCount, Choose(B.DivYCount,1,2,2,3,4,4,4,4,4,5)

   ReDim s(1 To 10)
   Array Assign s() = "0.1","0.2","0.3","0.4","0.5","0.6","0.7","0.8","0.9","1.0"
   Control Add ComboBox, hSet, %IDC_Coverage, s(), 480,180,50,150,%CBS_DropDownList Or %WS_TabStop Or %WS_VScroll, %WS_Ex_ClientEdge
   ComboBox Select hSet, %IDC_Coverage, B.Coverage * 10

   Control Add ComboBox, hSet, %IDC_LineThickness,,480,210,50,150,%CBS_DropDownList Or %WS_TabStop Or %WS_VScroll, %WS_Ex_ClientEdge
   For i = 1 To 20 : ComboBox Add hSet, %IDC_LineThickness, Str$(i) : Next i
   ComboBox Select hSet, %IDC_LineThickness, B.LineThickness

   ReDim s(1 To 8) As String
   Array Assign s() = "5","10","15","20","25","30","35","40"
   Control Add ComboBox, hSet, %IDC_ThreeDX, s(), 480,240,50,150,%CBS_DropDownList Or %WS_TabStop Or %WS_VScroll, %WS_Ex_ClientEdge
   ComboBox Select hSet, %IDC_ThreeDX, B.ThreeDX/5
   Control Add ComboBox, hSet, %IDC_ThreeDY, s(), 480,270,50,150,%CBS_DropDownList Or %WS_TabStop Or %WS_VScroll, %WS_Ex_ClientEdge
   ComboBox Select hSet, %IDC_ThreeDY, B.ThreeDY/5

   Control Add ComboBox, hSet, %IDC_SymbolSize,,480,300,50,150,%CBS_DropDownList Or %WS_TabStop Or %WS_VScroll, %WS_Ex_ClientEdge
   For i = 1 To 20 : ComboBox Add hSet, %IDC_SymbolSize, Str$(i) : Next i
   ComboBox Select hSet, %IDC_SymbolSize, B.SymbolSize


   Control Add Label, hSet, %IDC_Label, "LM                         TM                         RM                         BM",535,30,65,240
   Control Add Label, hSet, %IDC_Label, "Y-Divisions        Coverage                  Line Thick                3D-X                      3D-Y                   Symbol Size",535,150,70,240

   Control Add ComboBox, hSet, %IDC_LineSymbol,,480,330,80,150,%CBS_DropDownList Or %WS_TabStop Or %WS_VScroll, %WS_Ex_ClientEdge
   ComboBox Add hSet, %IDC_LineSymbol, "Point"
   ComboBox Add hSet, %IDC_LineSymbol, "Circle"
   ComboBox Add hSet, %IDC_LineSymbol, "Triangle"
   ComboBox Add hSet, %IDC_LineSymbol, "Square"
   ComboBox Select hSet, %IDC_LineSymbol, B.LineSymbol
   Control Add Label, hSet, %IDC_Label, "Symbol",565,332,45,20

   Control Add CheckBox, hSet, %IDC_BGImageFit,"BG Image Fit",480,355,100,20
   Control Set Check hSet, %IDC_BGImageFit, B.BGImageFit

   Control Add CheckBox, hSet, %IDC_RoundedBar,"Rounded Bar",480,375,100,20
   Control Set Check hSet, %IDC_RoundedBar, B.RoundedBar

   Control Add ComboBox, hSet, %IDC_RoundValue,,480,395,60,150,%CBS_DropDownList Or %WS_TabStop Or %WS_VScroll, %WS_Ex_ClientEdge
   For i = 0 To 100 Step 10 : ComboBox Add hSet, %IDC_RoundValue, Str$(i) : Next i
   ComboBox Select hSet, %IDC_RoundValue, B.RoundValue\10+1
   Control Add Label, hSet, %IDC_RoundValue, "Rounding",550,400,65,20

   Control Add CheckBox, hSet, %IDC_LargeStamp,"Large Stamp",480,420,100,20
   Control Set Check hSet, %IDC_LargeStamp, B.LargeStamp

   Control Add CheckBox, hSet, %IDC_DotGrid,"Dotted Grid",480,440,100,20
   Control Set Check hSet, %IDC_DotGrid, B.DotGrid

   Control Add CheckBox, hSet, %IDC_UseAntiAliasing,"Anti-Aliasing",480,460,100,20
   Control Set Check hSet, %IDC_UseAntiAliasing, B.UseAntiAliasing

   Control Add ComboBox, hSet, %IDC_HiLoSymbol,,480,480,60,150,%CBS_DropDownList Or %WS_TabStop Or %WS_VScroll, %WS_Ex_ClientEdge
   ComboBox Add hSet, %IDC_HiLoSymbol, "Bar"
   ComboBox Add hSet, %IDC_HiLoSymbol, "Beam"
   ComboBox Add hSet, %IDC_HiLoSymbol, "Dot"
   ComboBox Select hSet, %IDC_HiLoSymbol, B.HiLoSymbol
   Control Add Label, hSet, %IDC_Label, "HiLo Symbol",542,480,75,20

   'Pie Settings
   Control Add Frame, hSet, %IDC_Frame, "Unique Pie Settings",630,10,150,325

   Control Add CheckBox, hSet, %IDC_PieCircle,"Circle",640,30,100,20
   Control Set Check hSet, %IDC_PieCircle, B.PieCircle

   Control Add CheckBox, hSet, %IDC_Pie3D,"3D",640,50,100,20
   Control Set Check hSet, %IDC_Pie3D, B.Pie3D

   Control Add CheckBox, hSet, %IDC_PieHideUnselected,"Hide Unselected",640,70,110,20
   Control Set Check hSet, %IDC_PieHideUnselected, B.PieHideUnselected

   Control Add CheckBox, hSet, %IDC_PiePerCent,"Inside%",640,90,100,20
   Control Set Check hSet, %IDC_PiePerCent, B.PiePerCent

   Control Add CheckBox, hSet, %IDC_PieLegend,"Legend",640,110,100,20
   Control Set Check hSet, %IDC_PieLegend, B.PieLegend

   Control Add ComboBox, hSet, %IDC_PieRotate,,640,130,60,150,%CBS_DropDownList Or %WS_TabStop Or %WS_VScroll, %WS_Ex_ClientEdge
   For i = 0 To 360 : ComboBox Add hSet, %IDC_PieRotate, Trim$(Str$(i)) : Next i
   ComboBox Select hSet, %IDC_PieRotate, B.PieRotate+1
   Control Add Label, hSet, %IDC_Label, "Rotate",705,130,65,20

   Control Add ComboBox, hSet, %IDC_PieRadius,,640,160,60,150,%CBS_DropDownList Or %WS_TabStop Or %WS_VScroll, %WS_Ex_ClientEdge
   For i = 25 To 100 : ComboBox Add hSet, %IDC_PieRadius, Trim$(Str$(i)) : Next i
   ComboBox Select hSet, %IDC_PieRadius, B.PieRadius - 24
   Control Add Label, hSet, %IDC_Label, "Pie Size",705,160,65,20

   Control Add CheckBox, hSet, %IDC_PieEject,"Explode Selected",640,190,120,20
   Control Set Check hSet, %IDC_PieEject, B.PieEject

   Control Add CheckBox, hSet, %IDC_PieHighlightSelected,"Highlight Selected",640,210,120,20
   Control Set Check hSet, %IDC_PieHighlightSelected, B.PieHighlightSelected

   Control Add CheckBox, hSet, %IDC_PieExplode,"Explode All",640,230,100,20
   Control Set Check hSet, %IDC_PieExplode, B.PieExplode

   Control Add ComboBox, hSet, %IDC_PieExplodeDistance,,640,255,50,150,%CBS_DropDownList Or %WS_TabStop Or %WS_VScroll, %WS_Ex_ClientEdge
   For i = 10 To 100 : ComboBox Add hSet, %IDC_PieExplodeDistance, Trim$(Str$(i)) : Next i
   ComboBox Select hSet, %IDC_PieExplodeDistance, B.PieExplodeDistance-9
   Control Add Label, hSet, %IDC_Label, "Explode Dist",695,255,75,20

   Control Add CheckBox, hSet, %IDC_PieGradient,"Gradient",700,285,65,20
   Control Set Check hSet, %IDC_PieGradient, B.PieGradient

   Control Add ComboBox, hSet, %IDC_PieGradientValue,,640,285,50,150,%CBS_DropDownList Or %WS_TabStop Or %WS_VScroll, %WS_Ex_ClientEdge
   For i = 0 To 255 Step 5 : ComboBox Add hSet, %IDC_PieGradientValue, Trim$(Str$(i)) : Next i
   ComboBox Select hSet, %IDC_PieGradientValue, B.PieGradientValue / 5 + 1

'   Control Add CheckBox, hSet, %IDC_PieDonut,"Donut",640,130,100,20
'   Control Set Check hSet, %IDC_PieDonut, B.PieDonut
'   Control Add TextBox, hSet, %IDC_PieDonutCaption, B.PieDonutCaption(1),640,150,75,20
'   Control Add Label, hSet, %IDC_Label, "Title",720,150,45,20
'   Control Add CheckBox, hSet, %IDC_PieGradient,"Gradient",640,270,100,20
'   Control Set Check hSet, %IDC_PieGradient, B.PieGradient

   'More Drawing
   Control Add Frame, hSet, %IDC_Frame, "More Drawing Settings",630,340,150,170

   Control Add CheckBox, hSet, %IDC_UseFixedYValue,"Fixed Max Y",640,360,100,20
   Control Set Check hSet, %IDC_UseFixedYValue, B.UseFixedYValue

   Control Add ComboBox, hSet, %IDC_FixedYValue,,640,380,85,150,%CBS_DropDownList Or %WS_TabStop Or %WS_VScroll, %WS_Ex_ClientEdge
   ComboBox Add hSet, %IDC_FixedYValue, "10"       : If B.FixedYValue = 10      Then i = 1
   ComboBox Add hSet, %IDC_FixedYValue, "25"       : If B.FixedYValue = 25      Then i = 2
   ComboBox Add hSet, %IDC_FixedYValue, "50"       : If B.FixedYValue = 50      Then i = 3
   ComboBox Add hSet, %IDC_FixedYValue, "75"       : If B.FixedYValue = 75      Then i = 4
   ComboBox Add hSet, %IDC_FixedYValue, "100"      : If B.FixedYValue = 100     Then i = 5
   ComboBox Add hSet, %IDC_FixedYValue, "250"      : If B.FixedYValue = 250     Then i = 6
   ComboBox Add hSet, %IDC_FixedYValue, "500"      : If B.FixedYValue = 500     Then i = 7
   ComboBox Add hSet, %IDC_FixedYValue, "750"      : If B.FixedYValue = 750     Then i = 8
   ComboBox Add hSet, %IDC_FixedYValue, "1000"     : If B.FixedYValue = 1000    Then i = 9
   ComboBox Add hSet, %IDC_FixedYValue, "2500"     : If B.FixedYValue = 2500    Then i = 10
   ComboBox Add hSet, %IDC_FixedYValue, "5000"     : If B.FixedYValue = 5000    Then i = 11
   ComboBox Add hSet, %IDC_FixedYValue, "7500"     : If B.FixedYValue = 7500    Then i = 12
   ComboBox Add hSet, %IDC_FixedYValue, "10000"    : If B.FixedYValue = 10000   Then i = 13
   ComboBox Add hSet, %IDC_FixedYValue, "25000"    : If B.FixedYValue = 25000   Then i = 14
   ComboBox Add hSet, %IDC_FixedYValue, "50000"    : If B.FixedYValue = 50000   Then i = 15
   ComboBox Add hSet, %IDC_FixedYValue, "75000"    : If B.FixedYValue = 75000   Then i = 16
   ComboBox Add hSet, %IDC_FixedYValue, "100000"   : If B.FixedYValue = 100000  Then i = 17
   ComboBox Add hSet, %IDC_FixedYValue, "250000"   : If B.FixedYValue = 250000  Then i = 18
   ComboBox Add hSet, %IDC_FixedYValue, "500000"   : If B.FixedYValue = 500000  Then i = 19
   ComboBox Add hSet, %IDC_FixedYValue, "750000"   : If B.FixedYValue = 750000  Then i = 20
   ComboBox Add hSet, %IDC_FixedYValue, "1000000"  : If B.FixedYValue = 1000000 Then i = 21
   ComboBox Select hSet, %IDC_FixedYValue, i
   Control Add Label, hSet, %IDC_Label, "Max Y",730,375,45,20

   Control Add ComboBox, hSet, %IDC_LabelType,,640,410,85,150,%CBS_DropDownList Or %WS_TabStop Or %WS_VScroll, %WS_Ex_ClientEdge
   ComboBox Add hSet, %IDC_LabelType, "Label"
   ComboBox Add hSet, %IDC_LabelType, "Value"
   ComboBox Add hSet, %IDC_LabelType, "%"
   ComboBox Add hSet, %IDC_LabelType, "Alt X Text"
   ComboBox Select hSet, %IDC_LabelType, B.LabelType
   Control Add Label, hSet, %IDC_Label, "Label",730,410,45,20

   Control Add CheckBox, hSet, %IDC_GridOntop,"Grid On Top",640,440,100,20
   Control Set Check hSet, %IDC_GridOntop, B.GridOnTop

   Control Add CheckBox, hSet, %IDC_SmoothLines,"Smooth Lines",640,460,100,20
   Control Set Check hSet, %IDC_SmoothLines, B.SmoothLines

   Control Add ComboBox, hSet, %IDC_LineStyle,,640,480,95,150,%CBS_DropDownList Or %WS_TabStop Or %WS_VScroll, %WS_Ex_ClientEdge
   ComboBox Add hSet, %IDC_LineStyle, "Solid"
   ComboBox Add hSet, %IDC_LineStyle, "Dash"
   ComboBox Add hSet, %IDC_LineStyle, "Dot"
   ComboBox Add hSet, %IDC_LineStyle, "DashDot"
   ComboBox Add hSet, %IDC_LineStyle, "DashDotDot"
   ComboBox Select hSet, %IDC_LineStyle, B.LineStyle + 1
   Control Add Label, hSet, %IDC_Label, "Style",740,480,30,20

   'Data
   Control Add Frame, hSet, %IDC_Frame, "Dataset Settings",790,10,420,390

   Control Add Option, hSet, %IDC_ShowV1,"DataSet 1",800,30,75,20
   Control Add TextBox, hSet, %IDC_DataSet1Title,B.DataSetTitle(1),800,55,75,20
   Control Add Option, hSet, %IDC_ShowV2,"DataSet 2",890,30,75,20
   Control Add TextBox, hSet, %IDC_DataSet2Title,B.DataSetTitle(2),890,55,75,20
   Control Add Option, hSet, %IDC_ShowV3,"DataSet 3",980,30,75,20
   Control Add TextBox, hSet, %IDC_DataSet3Title,B.DataSetTitle(3),980,55,75,20
   Control Set Option hSet, Choose(B.DataSet, %IDC_ShowV1, %IDC_ShowV2, %IDC_ShowV3), %IDC_ShowV1, %IDC_ShowV3
   Control Add Button, hSet, %IDC_TransferData, "Show Data",1100,55,100,20

   ReDim s(1 To UBound(D))
   For i = 1 To UBound(D) :  s(i) = Str$(i) : Next i
   Control Add ComboBox, hSet, %IDC_XMin, s(), 800,90,50,150,%CBS_DropDownList Or %WS_TabStop Or %WS_VScroll, %WS_Ex_ClientEdge
   Control Add Label, hSet, %IDC_Label, "From",855,90,30,240

   ComboBox Select hSet, %IDC_XMin, B.xMin
   Control Add ComboBox, hSet, %IDC_XMax, s(), 895,90,50,150,%CBS_DropDownList Or %WS_TabStop Or %WS_VScroll, %WS_Ex_ClientEdge
   ComboBox Select hSet, %IDC_XMax, B.xMax
   Control Add Label, hSet, %IDC_Label, "To",950,90,30,240

   Control Add ComboBox, hSet, %IDC_Pivot, s(), 980,90,50,150,%CBS_DropDownList Or %WS_TabStop Or %WS_VScroll, %WS_Ex_ClientEdge
   ComboBox Select hSet, %IDC_Pivot, B.Pivot
   Control Add Label, hSet, %IDC_Label, "Pivot",1035,90,30,240

   Control Add Button, hSet, %IDC_ApplyAll, "Apply All Data",1100,90,100,20

   Control Add Button, hSet, %IDC_ApplyDataFile, "Apply Data", 800,125,90,20
   Control Add TextBox, hSet, %IDC_UserData, B.UserData(B.DataSet), 800,150,90,205,iStyle, %WS_Ex_ClientEdge

   Control Add Button, hSet, %IDC_ApplyaltXText, "Apply Alt Text", 900,125,90,20
   Control Add TextBox, hSet, %IDC_altXText, B.altXText(B.DataSet), 900,150,90,205,iStyle, %WS_Ex_ClientEdge

   Control Add Button, hSet, %IDC_ApplyBarLabels, "Apply Labels", 1000,125,90,20
   Control Add TextBox, hSet, %IDC_BarLabels, B.labels(B.DataSet), 1000,150,90,205,iStyle, %WS_Ex_ClientEdge

   Control Add Button, hSet, %IDC_ApplyColors, "Apply Colors", 1100,125,100,20
   Control Add TextBox, hSet, %IDC_BarColors, B.BarColors(B.DataSet), 1100,150,100,205,iStyle, %WS_Ex_ClientEdge

   Control Add TextBox, hSet, %IDC_Equation, Trim$(B.Equation(B.DataSet)), 800,365,250,25
   Control Add Button, hSet, %IDC_EvalEquation, "Build Equation Data",1060,365,120,20

   'button actions
   Control Add Button, hSet, %IDC_Reset, "Reset", 800,410,60,20
   Control Add Button, hSet, %IDC_Resize, "Fit to BG", 800,435,60,20

   Control Add Button, hSet, %IDC_SaveAs, "Save As", 870,410,60,20
   Control Add Button, hSet, %IDC_Open, "Open", 870,435,60,20

   Control Add Button, hSet, %IDC_Copy, "Copy", 940,410,45,20
   Control Add Button, hSet, %IDC_Print, "Print", 940,435,45,20

   Control Add Button, hSet, %IDC_Export, "Export", 995,410,65,20
   Control Add ComboBox, hSet, %IDC_ExportFormat,,995,435,65,150,%CBS_DropDownList Or %WS_TabStop Or %WS_VScroll, %WS_Ex_ClientEdge
   ComboBox Add hSet, %IDC_ExportFormat, "bmp"
   ComboBox Add hSet, %IDC_ExportFormat, "jpg"
   ComboBox Add hSet, %IDC_ExportFormat, "gif"
   ComboBox Add hSet, %IDC_ExportFormat, "png"
   ComboBox Select hSet, %IDC_ExportFormat, B.ExportFormat

   Control Add Button, hSet, %IDC_SaveSettings, "Save Settings", 1070,410,90,20
   Control Add Button, hSet, %IDC_OpenSettings, "Open Settings", 1070,440,90,20

   Control Add ImgButton, hSet, %IDC_OnlineHelp, "xhelp", 1170,410,25,25

   'Images
   Control Add Frame, hSet, %IDC_Frame, "Images",10,380,450,130

   Control Add Graphic, hSet, %IDC_BGImagePreview,"",155,420,80,80, %WS_Border
   Control Add Graphic, hSet, %IDC_StampPreview,"",385,420,64,64, %WS_Border

   Control Add Label, hSet, %IDC_Label, "BG Images",20,400,80,20
   Control Add ListBox, hSet, %IDC_BGImage,, 20,420,130,85
   i = 0 : iPos = 1 : temp$ = Dir$(Exe.Path$ + "bgimages\*.*")
   While Len(temp$)
      ListBox Add hSet, %IDC_BGImage, temp$
      Incr i : If temp$ = PathName$(Namex,B.BGImage) Then iPos = i
      temp$ = Dir$(Next)
   Wend
   ListBox Select hSet, %IDC_BGImage, iPos

   Control Add Label, hSet, %IDC_Label, "Stamps",250,400,60,20
   Control Add Button, hSet, %IDC_EraseLastStamp, "Del Last",320,395,60,20
   Control Add Button, hSet, %IDC_EraseAllStamps, "Del All",390,395,60,20
   Control Add ListBox, hSet, %IDC_Stamp,, 250,420,130,85
   i = 0 : iPos = 1 : temp$ = Dir$(Exe.Path$ + "stamps\*.*")
   While Len(temp$)
      ListBox Add hSet, %IDC_Stamp, temp$
      Incr i : If temp$ = PathName$(Namex,B.Stamp) Then iPos = i
      temp$ = Dir$(Next)
   Wend
   ListBox Select hSet, %IDC_Stamp, iPos

   OldEditProc = SetWindowLong(GetDlgItem(hSet,%IDC_Title), %GWL_WndProc, CodePtr(NewEditProc))  'subclass
   OldEditProc = SetWindowLong(GetDlgItem(hSet,%IDC_XTitle), %GWL_WndProc, CodePtr(NewEditProc))  'subclass
   OldEditProc = SetWindowLong(GetDlgItem(hSet,%IDC_YTitle), %GWL_WndProc, CodePtr(NewEditProc))  'subclass
   OldEditProc = SetWindowLong(GetDlgItem(hSet,%IDC_UserData), %GWL_WndProc, CodePtr(NewEditProc))  'subclass
   OldEditProc = SetWindowLong(GetDlgItem(hSet,%IDC_altXText), %GWL_WndProc, CodePtr(NewEditProc))  'subclass
   OldEditProc = SetWindowLong(GetDlgItem(hSet,%IDC_BarLabels), %GWL_WndProc, CodePtr(NewEditProc))  'subclass
   OldEditProc = SetWindowLong(GetDlgItem(hSet,%IDC_Equation), %GWL_WndProc, CodePtr(NewEditProc))  'subclass

   SetFontButtonText

   Dialog Show Modeless hSet Call SetProc
End Sub

CallBack Function SetProc() As Long
   Local i,j,w,h As Long, s As String, x,result As Single, temp$, hDC As Dword, RR,GG,BB As Long
   Select Case Cb.Msg
      Case %WM_InitDialog
         Graphic Attach hSet, %IDC_StampPreview, ReDraw
         Graphic Get Canvas To w,h
         Graphic Get DC To hDC
         LoadStamp ((B.Stamp), 0,0,w,h,hDC, %False,-1)
         Graphic ReDraw

         Graphic Attach hSet, %IDC_BGImagePreview, ReDraw
         Graphic Get Canvas To w,h
         Graphic Get DC To hDC
         LoadStamp ((B.BGImage), 0,0,w,h,hDC, %False,-1)   '-1 = size to fit
         Graphic ReDraw
         Graphic Attach hDlg, %IDC_Graphic, ReDraw
      Case %WM_Destroy
         Dialog Get Loc hSet To SettingsX, SettingsY
         SettingsVisible = 0
      Case %WM_Command
         Select Case Cb.Ctl
            Case %IDC_OnlineHelp
               If Cb.CtlMsg = %BN_Clicked Then
                  i = ShellExecute(hDlg, "Open", ("http://www.garybeene.com/sw/gbchartmaster.htm"), $Nul, $Nul, %SW_ShowNormal)
               End If
            Case %IDC_OpenSettings : If Cb.CtlMsg = %BN_Clicked Then SelectSettingsToOpen
            Case %IDC_SaveSettings : If Cb.CtlMsg = %BN_Clicked Then SaveAsSettings

            Case %IDC_XMin         : If Cb.CtlMsg = %CBN_SelChange Then ComboBox Get Text hSet, %IDC_XMin To s         : B.XMin = Val(S)         : DrawChart D(), B, %True : DisplayStampList
            Case %IDC_XMax         : If Cb.CtlMsg = %CBN_SelChange Then ComboBox Get Text hSet, %IDC_XMax To s         : B.XMax = Val(S)         : DrawChart D(), B, %True : DisplayStampList
            Case %IDC_Pivot        : If Cb.CtlMsg = %CBN_SelChange Then ComboBox Get Text hSet, %IDC_Pivot To s        : B.Pivot = Val(S)        : DrawChart D(), B, %True : DisplayStampList
            Case %IDC_Fade         : If Cb.CtlMsg = %CBN_SelChange Then ComboBox Get Text hSet, %IDC_Fade To s         : B.FadeValue = Val(S)    : DrawChart D(), B, %True : DisplayStampList
            Case %IDC_DivYCount    : If Cb.CtlMsg = %CBN_SelChange Then ComboBox Get Text hSet, %IDC_DivYCount To s    : B.DivYCount = Val(S)    : DrawChart D(), B, %True : DisplayStampList
            Case %IDC_Coverage     : If Cb.CtlMsg = %CBN_SelChange Then ComboBox Get Text hSet, %IDC_Coverage To s     : B.Coverage = Val(S)     : DrawChart D(), B, %True : DisplayStampList

            Case %IDC_Title       : If Cb.CtlMsg = %EN_Change Then Control Get Text hSet, %IDC_Title To B.Title         : DrawChart D(), B, %True : DisplayStampList
            Case %IDC_XTitle      : If Cb.CtlMsg = %EN_Change Then Control Get Text hSet, %IDC_XTitle To B.XTitle       : DrawChart D(), B, %True : DisplayStampList
            Case %IDC_YTitle      : If Cb.CtlMsg = %EN_Change Then Control Get Text hSet, %IDC_YTitle To B.YTitle       : DrawChart D(), B, %True : DisplayStampList
            Case %IDC_AllBars     : If Cb.CtlMsg = %BN_Clicked Then Control Get Check hSet, %IDC_AllBars To B.AllBars   : DrawChart D(), B, %True : DisplayStampList

            Case %IDC_MainTitleLoc : If Cb.CtlMsg = %CBN_SelChange Then ComboBox Get Select hSet, %IDC_MainTitleLoc To B.MainTitleLoc : DrawChart D(), B, %True : DisplayStampList
            Case %IDC_XTitleLoc    : If Cb.CtlMsg = %CBN_SelChange Then ComboBox Get Select hSet, %IDC_XTitleLoc    To B.XTitleLoc    : DrawChart D(), B, %True : DisplayStampList
            Case %IDC_YTitleLoc    : If Cb.CtlMsg = %CBN_SelChange Then ComboBox Get Select hSet, %IDC_YTitleLoc    To B.YTitleLoc    : DrawChart D(), B, %True : DisplayStampList

            Case %IDC_DataSet1Title : If Cb.CtlMsg = %EN_Change Then Control Get Text hSet, %IDC_DataSet1Title To B.DataSetTitle(1)   : DrawChart D(), B, %True : DisplayStampList
            Case %IDC_DataSet2Title : If Cb.CtlMsg = %EN_Change Then Control Get Text hSet, %IDC_DataSet2Title To B.DataSetTitle(2)   : DrawChart D(), B, %True : DisplayStampList
            Case %IDC_DataSet3Title : If Cb.CtlMsg = %EN_Change Then Control Get Text hSet, %IDC_DataSet3Title To B.DataSetTitle(3)   : DrawChart D(), B, %True : DisplayStampList

            Case %IDC_ShowHGrid         : If Cb.CtlMsg = %BN_Clicked Then Control Get Check hSet, %IDC_ShowHGrid To B.ShowHGrid                 : DrawChart D(), B, %True : DisplayStampList
            Case %IDC_ShowVGrid         : If Cb.CtlMsg = %BN_Clicked Then Control Get Check hSet, %IDC_ShowVGrid To B.ShowVGrid                 : DrawChart D(), B, %True : DisplayStampList
            Case %IDC_ShowMargins       : If Cb.CtlMsg = %BN_Clicked Then Control Get Check hSet, %IDC_ShowMargins To B.ShowMargins             : DrawChart D(), B, %True : DisplayStampList

            Case %IDC_SpeedTest
               If Cb.CtlMsg = %BN_Clicked Then Control Get Check hSet, %IDC_SpeedTest To B.SpeedTest
               If B.SpeedTest = 0 Then Dialog Set Text hDlg, "gbChartMaster    v" + $Ver + "    " + CFN
               DrawChart D(), B, %True : DisplayStampList

            Case %IDC_Instructions      : If Cb.CtlMsg = %BN_Clicked Then Control Get Check hSet, %IDC_Instructions To B.Instructions           : DrawChart D(), B, %True : DisplayStampList
            Case %IDC_UseAntiAliasing   : If Cb.CtlMsg = %BN_Clicked Then Control Get Check hSet, %IDC_UseAntialiasing To B.UseAntiAliasing     : DrawChart D(), B, %True : DisplayStampList
            Case %IDC_ShowMainTitle     : If Cb.CtlMsg = %BN_Clicked Then Control Get Check hSet, %IDC_ShowMainTitle To B.ShowMainTitle         : DrawChart D(), B, %True : DisplayStampList
            Case %IDC_ShowAxisTitles    : If Cb.CtlMsg = %BN_Clicked Then Control Get Check hSet, %IDC_ShowAxisTitles To B.ShowAxisTitles       : DrawChart D(), B, %True : DisplayStampList
            Case %IDC_ShowAxisValues    : If Cb.CtlMsg = %BN_Clicked Then Control Get Check hSet, %IDC_ShowAxisValues To B.ShowAxisValues       : DrawChart D(), B, %True : DisplayStampList
            Case %IDC_ShowBarLabel      : If Cb.CtlMsg = %BN_Clicked Then Control Get Check hSet, %IDC_ShowBarLabel To B.ShowBarLabel           : DrawChart D(), B, %True : DisplayStampList
            Case %IDC_Annotation        : If Cb.CtlMsg = %BN_Clicked Then Control Get Check hSet, %IDC_Annotation To B.Annotation               : DrawChart D(), B, %True : DisplayStampList
            Case %IDC_ShowDataSetTitles : If Cb.CtlMsg = %BN_Clicked Then Control Get Check hSet, %IDC_ShowDataSetTitles To B.ShowDataSetTitles : DrawChart D(), B, %True : DisplayStampList

            Case %IDC_EraseAllStamps  : B.StampList = "" : DrawChart D(), B, %True : DisplayStampList
            Case %IDC_EraseLastStamp
               w = ParseCount(B.StampList,";;;")
               For i = 1 To w-1 : temp$ += ";;;" + Parse$(B.StampList,";;;",i) : Next i
               B.StampList = temp$
               DrawChart D(), B, %True : DisplayStampList

            Case %IDC_BGImage
               If Cb.CtlMsg = %LBN_SelChange Then
                  ListBox Get Text hSet, %IDC_BGImage To B.BGImage
                  B.BGImage = Exe.Path$ + "bgimages\" + B.BGImage
                  Graphic Attach hSet, %IDC_BGImagePreview, ReDraw
                  Graphic Get Canvas To w,h
                  Graphic Clear
                  Graphic Get DC To hDC
                  LoadStamp ((B.BGImage), 0,0,w,h,hDC, %False,-1)   '-1 = size to fit
                  Graphic ReDraw
                  Graphic Attach hDlg, %IDC_Graphic, ReDraw
                  LoadBGImage ((B.BGImage), B.hBGImage)  'Graphic Bitmap Load B.BGimage, 0, 0 To B.hBGImage
                  DrawChart D(), B, %True : DisplayStampList
               End If
            Case %IDC_Stamp
               If Cb.CtlMsg = %LBN_SelChange Then
                  ListBox Get Text hSet, %IDC_Stamp To B.Stamp
                  B.Stamp = Exe.Path$ + "stamps\" + B.Stamp
                  Graphic Attach hSet, %IDC_StampPreview, ReDraw
                  Graphic Get Canvas To w,h
                  Graphic Clear
                  Graphic Get DC To hDC
                  LoadStamp ((B.Stamp), 0,0,w,h,hDC, %False,-1)
                  Graphic ReDraw
                  Graphic Attach hDlg, %IDC_Graphic, ReDraw
               End If

            Case %IDC_VertYTitle    : If Cb.CtlMsg = %BN_Clicked Then Control Get Check hSet, %IDC_VertYTitle To B.VertYTitle           : DrawChart D(), B, %True : DisplayStampList
            Case %IDC_VertBarLabels : If Cb.CtlMsg = %BN_Clicked Then Control Get Check hSet, %IDC_VertBarLabels To B.VertBarLabels     : DrawChart D(), B, %True : DisplayStampList
            Case %IDC_RoundedBar    : If Cb.CtlMsg = %BN_Clicked Then Control Get Check hSet, %IDC_RoundedBar To B.RoundedBar           : DrawChart D(), B, %True : DisplayStampList
            Case %IDC_LargeStamp    : If Cb.CtlMsg = %BN_Clicked Then Control Get Check hSet, %IDC_LargeStamp To B.LargeStamp
            Case %IDC_DotGrid       : If Cb.CtlMsg = %BN_Clicked Then Control Get Check hSet, %IDC_DotGrid To B.DotGrid                 : DrawChart D(), B, %True : DisplayStampList
            Case %IDC_AutoXCount    : If Cb.CtlMsg = %BN_Clicked Then Control Get Check hSet, %IDC_AutoXCount To B.AutoXCount           : DrawChart D(), B, %True : DisplayStampList
            Case %IDC_ShowBGImage   : If Cb.CtlMsg = %BN_Clicked Then Control Get Check hSet, %IDC_ShowBGImage To B.ShowBGImage         : DrawChart D(), B, %True : DisplayStampList
            Case %IDC_BGImageFit    : If Cb.CtlMsg = %BN_Clicked Then Control Get Check hSet, %IDC_BGImageFit To B.BGImageFit           : DrawChart D(), B, %True : DisplayStampList
            Case %IDC_UseFixedYValue
               If Cb.CtlMsg = %BN_Clicked Then
                  Control Get Check hSet, %IDC_UseFixedYValue To B.UseFixedYValue
                  ComboBox Get Text hSet, %IDC_FixedYValue To temp$ : B.FixedYValue = Val(temp$)
                  DrawChart D(), B, %True : DisplayStampList
               End If

            Case %IDC_GraphType
               If Cb.CtlMsg = %CBN_SelChange Then
                  ComboBox Get Select hSet, %IDC_GraphType To B.GraphType         : DrawChart D(), B, %True : DisplayStampList : SetFontButtonText
                  Statusbar Set Text hDlg, %IDC_StatusBar, 4, 0, Choose$(B.GraphType," 2D Bar", " 3D Bar", " Symbols", " Line", " 2-Line", " 3-Line", " 2-Bar Stacked", " 3-Bar Stacked", " Bar Group", " Pie", " 2-Pie", " 3-Pie", " HiLo") + " Chart"
               End If
            Case %IDC_RoundValue      : If Cb.CtlMsg = %CBN_SelChange Then ComboBox Get Text hSet, %IDC_RoundValue To s : B.RoundValue = Val(s) : DrawChart D(), B, %True : DisplayStampList
            Case %IDC_HiLoSymbol      : If Cb.CtlMsg = %CBN_SelChange Then ComboBox Get Select hSet, %IDC_HiLoSymbol To B.HiLoSymbol       : DrawChart D(), B, %True : DisplayStampList
            Case %IDC_LineSymbol      : If Cb.CtlMsg = %CBN_SelChange Then ComboBox Get Select hSet, %IDC_LineSymbol To B.LineSymbol       : DrawChart D(), B, %True : DisplayStampList
            Case %IDC_LineThickness   : If Cb.CtlMsg = %CBN_SelChange Then ComboBox Get Select hSet, %IDC_LineThickness To B.LineThickness : DrawChart D(), B, %True : DisplayStampList
            Case %IDC_SymbolSize      : If Cb.CtlMsg = %CBN_SelChange Then ComboBox Get Select hSet, %IDC_SymbolSize To B.SymbolSize       : DrawChart D(), B, %True : DisplayStampList
            Case %IDC_FixedYValue     : If Cb.CtlMsg = %CBN_SelChange Then ComboBox Get Text hSet, %IDC_FixedYValue To s : B.FixedYValue = Val(S) : DrawChart D(), B, %True : DisplayStampList
            Case %IDC_ExportFormat    : If Cb.CtlMsg = %CBN_SelChange Then ComboBox Get Select hSet, %IDC_ExportFormat To B.ExportFormat          : DrawChart D(), B, %True : DisplayStampList
            Case %IDC_LineStyle       : If Cb.CtlMsg = %CBN_SelChange Then ComboBox Get Select hSet, %IDC_LineStyle To B.LineStyle : Decr B.LineStyle  : DrawChart D(), B, %True : DisplayStampList
            Case %IDC_LabelType       : If Cb.CtlMsg = %CBN_SelChange Then ComboBox Get Select hSet, %IDC_LabelType To B.LabelType                     : DrawChart D(), B, %True : DisplayStampList

            Case %IDC_GridOnTop       : If Cb.CtlMsg = %BN_Clicked Then Control Get Check hSet, %IDC_GridOnTop To B.GridOnTop     : DrawChart D(), B, %True : DisplayStampList
            Case %IDC_SmoothLines     : If Cb.CtlMsg = %BN_Clicked Then Control Get Check hSet, %IDC_SmoothLines To B.SmoothLines : DrawChart D(), B, %True : DisplayStampList

            Case %IDC_BarBorder       : If Cb.CtlMsg = %CBN_SelChange Then ComboBox Get Select hSet, %IDC_BarBorder To B.BarBorder         : DrawChart D(), B, %True : DisplayStampList
            Case %IDC_BarGradientType : If Cb.CtlMsg = %CBN_SelChange Then ComboBox Get Select hSet, %IDC_BarGradientType To B.BarGradientType : DrawChart D(), B, %True : DisplayStampList

            Case %IDC_ThreeDX     : If Cb.CtlMsg = %CBN_SelChange Then ComboBox Get Text hSet, %IDC_ThreeDX To s : B.ThreeDX = Val(S) : DrawChart D(), B, %True : DisplayStampList
            Case %IDC_ThreeDY     : If Cb.CtlMsg = %CBN_SelChange Then ComboBox Get Text hSet, %IDC_ThreeDY To s : B.ThreeDY = Val(S) : DrawChart D(), B, %True : DisplayStampList


            Case %IDC_PieCircle   : If Cb.CtlMsg = %BN_Clicked Then Control Get Check hSet, %IDC_PieCircle To B.PieCircle             : DrawChart D(), B, %True : DisplayStampList
            Case %IDC_PieExplode  : If Cb.CtlMsg = %BN_Clicked Then Control Get Check hSet, %IDC_PieExplode To B.PieExplode           : DrawChart D(), B, %True : DisplayStampList
            Case %IDC_PieEject    : If Cb.CtlMsg = %BN_Clicked Then Control Get Check hSet, %IDC_PieEject To B.PieEject               : DrawChart D(), B, %True : DisplayStampList
            Case %IDC_PiePerCent  : If Cb.CtlMsg = %BN_Clicked Then Control Get Check hSet, %IDC_PiePerCent To B.PiePercent           : DrawChart D(), B, %True : DisplayStampList
            Case %IDC_PieLegend   : If Cb.CtlMsg = %BN_Clicked Then Control Get Check hSet, %IDC_PieLegend To B.PieLegend             : DrawChart D(), B, %True : DisplayStampList
            Case %IDC_PieDonut    : If Cb.CtlMsg = %BN_Clicked Then Control Get Check hSet, %IDC_PieDonut To B.PieDonut               : DrawChart D(), B, %True : DisplayStampList
            Case %IDC_PieDonutCaption : If Cb.CtlMsg = %EN_Change Then Control Get Text hSet, %IDC_PieDonutCaption To B.PieDonutCaption(B.DataSet) : DrawChart D(), B, %True : DisplayStampList
            Case %IDC_PieRotate   : If Cb.CtlMsg = %CBN_SelChange Then ComboBox Get Text hSet, %IDC_PieRotate To s    : B.PieRotate = Val(S)       : DrawChart D(), B, %True : DisplayStampList
            Case %IDC_PieRadius   : If Cb.CtlMsg = %CBN_SelChange Then ComboBox Get Text hSet, %IDC_PieRadius To s    : B.PieRadius = Val(S)       : DrawChart D(), B, %True : DisplayStampList
            Case %IDC_PieExplodeDistance : If Cb.CtlMsg = %CBN_SelChange Then ComboBox Get Text hSet, %IDC_PieExplodeDistance To s : B.PieExplodeDistance = Val(S) : DrawChart D(), B, %True : DisplayStampList
            Case %IDC_Pie3D       : If Cb.CtlMsg = %BN_Clicked Then Control Get Check hSet, %IDC_Pie3D To B.Pie3D                                  : DrawChart D(), B, %True : DisplayStampList
            Case %IDC_PieGradient : If Cb.CtlMsg = %BN_Clicked Then Control Get Check hSet, %IDC_PieGradient To B.PieGradient                      : DrawChart D(), B, %True : DisplayStampList
            Case %IDC_PieGradientValue : If Cb.CtlMsg = %CBN_SelChange Then ComboBox Get Text hSet, %IDC_PieGradientValue To s    : B.PieGradientValue = Val(S)       : DrawChart D(), B, %True : DisplayStampList

            Case %IDC_PieHideUnSelected : If Cb.CtlMsg = %BN_Clicked Then Control Get Check hSet, %IDC_PieHideUnselected To B.PieHideUnselected    : DrawChart D(), B, %True : DisplayStampList
            Case %IDC_PieHighlightSelected : If Cb.CtlMsg = %BN_Clicked Then Control Get Check hSet, %IDC_PieHighlightSelected To B.PieHighlightSelected   : DrawChart D(), B, %True : DisplayStampList
            Case %IDC_PieGradient : If Cb.CtlMsg = %BN_Clicked Then Control Get Check hSet, %IDC_PieGradient To B.PieGradient    : DrawChart D(), B, %True : DisplayStampList

            Case %IDC_UseAltColors: If Cb.CtlMsg = %BN_Clicked Then Control Get Check hSet, %IDC_UseAltColors To B.UseAltColors : DrawChart D(), B, %True : DisplayStampList
            Case %IDC_UsealtXText  : If Cb.CtlMsg = %BN_Clicked Then Control Get Check hSet, %IDC_UsealtXText To B.UsealtXText     : DrawChart D(), B, %True : DisplayStampList
            Case %IDC_GradientBG  : If Cb.CtlMsg = %BN_Clicked Then Control Get Check hSet, %IDC_GradientBG To B.GradientBG     : DrawChart D(), B, %True : DisplayStampList
            Case %IDC_FadeBG      : If Cb.CtlMsg = %BN_Clicked Then Control Get Check hSet, %IDC_FadeBG To B.FadeBG             : DrawChart D(), B, %True : DisplayStampList
            Case %IDC_ColorUnder  : If Cb.CtlMsg = %BN_Clicked Then Control Get Check hSet, %IDC_ColorUnder To B.ColorUnder     : DrawChart D(), B, %True : DisplayStampList

            Case %IDC_cBG
               If Cb.CtlMsg = %STN_Clicked Then B.cBG = SelectColor(hDlg, B.cBG)                 : DrawChart D(), B, %True : DisplayStampList : Control Set Color hSet, %IDC_cBG, %Black, B.cBG : Control ReDraw hSet, %IDC_cBG
            Case %IDC_cTitle
               If Cb.CtlMsg = %STN_Clicked Then B.cTitle = SelectColor(hDlg, B.cTitle)           : DrawChart D(), B, %True : DisplayStampList : Control Set Color hSet, %IDC_cTitle, %Black, B.cTitle : Control ReDraw hSet, %IDC_cTitle
            Case %IDC_cAxisLines
               If Cb.CtlMsg = %STN_Clicked Then B.cAxisLines = SelectColor(hDlg, B.cAxisLines)   : DrawChart D(), B, %True : DisplayStampList : Control Set Color hSet, %IDC_cAxisLines, %Black, B.cAxisLines : Control ReDraw hSet, %IDC_cAxisLines
            Case %IDC_cAxisValues
               If Cb.CtlMsg = %STN_Clicked Then B.cAxisValues = SelectColor(hDlg, B.cAxisValues) : DrawChart D(), B, %True : DisplayStampList : Control Set Color hSet, %IDC_cAxisValues, %Black, B.cAxisValues : Control ReDraw hSet, %IDC_cAxisValues
            Case %IDC_cGrid
               If Cb.CtlMsg = %STN_Clicked Then B.cGrid = SelectColor(hDlg, B.cGrid)             : DrawChart D(), B, %True : DisplayStampList : Control Set Color hSet, %IDC_cAxisValues, %Black, B.cAxisValues : Control ReDraw hSet, %IDC_cGrid

            Case %IDC_cPreBars1
               If Cb.CtlMsg = %STN_Clicked Then B.cPreBars(1) = SelectColor(hDlg, B.cPreBars(1))       : DrawChart D(), B, %True : DisplayStampList : Control Set Color hSet, %IDC_cPreBars1, %Black, B.cPreBars(1) : Control ReDraw hSet, %IDC_cPreBars1
            Case %IDC_cPreBars2
               If Cb.CtlMsg = %STN_Clicked Then B.cPreBars(2) = SelectColor(hDlg, B.cPreBars(2))       : DrawChart D(), B, %True : DisplayStampList : Control Set Color hSet, %IDC_cPreBars2, %Black, B.cPreBars(2) : Control ReDraw hSet, %IDC_cPreBars2
            Case %IDC_cPreBars3
               If Cb.CtlMsg = %STN_Clicked Then B.cPreBars(3) = SelectColor(hDlg, B.cPreBars(3))       : DrawChart D(), B, %True : DisplayStampList : Control Set Color hSet, %IDC_cPreBars3, %Black, B.cPreBars(3) : Control ReDraw hSet, %IDC_cPreBars3

            Case %IDC_cPostBars1
               If Cb.CtlMsg = %STN_Clicked Then B.cPostBars(1) = SelectColor(hDlg, B.cPostBars(1))     : DrawChart D(), B, %True : DisplayStampList : Control Set Color hSet, %IDC_cPostBars1, %Black, B.cPostBars(1) : Control ReDraw hSet, %IDC_cPostBars1
            Case %IDC_cPostBars2
               If Cb.CtlMsg = %STN_Clicked Then B.cPostBars(2) = SelectColor(hDlg, B.cPostBars(2))     : DrawChart D(), B, %True : DisplayStampList : Control Set Color hSet, %IDC_cPostBars2, %Black, B.cPostBars(2) : Control ReDraw hSet, %IDC_cPostBars2
            Case %IDC_cPostBars3
               If Cb.CtlMsg = %STN_Clicked Then B.cPostBars(3) = SelectColor(hDlg, B.cPostBars(3))     : DrawChart D(), B, %True : DisplayStampList : Control Set Color hSet, %IDC_cPostBars3, %Black, B.cPostBars(3) : Control ReDraw hSet, %IDC_cPostBars3

            Case %IDC_cSymbols1
               If Cb.CtlMsg = %STN_Clicked Then B.cSymbols(1) = SelectColor(hDlg, B.cSymbols(1))       : DrawChart D(), B, %True : DisplayStampList : Control Set Color hSet, %IDC_cSymbols1, %Black, B.cSymbols(1) : Control ReDraw hSet, %IDC_cSymbols1
            Case %IDC_cSymbols2
               If Cb.CtlMsg = %STN_Clicked Then B.cSymbols(2) = SelectColor(hDlg, B.cSymbols(2))       : DrawChart D(), B, %True : DisplayStampList : Control Set Color hSet, %IDC_cSymbols2, %Black, B.cSymbols(2) : Control ReDraw hSet, %IDC_cSymbols2
            Case %IDC_cSymbols3
               If Cb.CtlMsg = %STN_Clicked Then B.cSymbols(3) = SelectColor(hDlg, B.cSymbols(3))       : DrawChart D(), B, %True : DisplayStampList : Control Set Color hSet, %IDC_cSymbols3, %Black, B.cSymbols(3) : Control ReDraw hSet, %IDC_cSymbols3

            Case %IDC_LM          : If Cb.CtlMsg = %CBN_SelChange Then ComboBox Get Text hSet, %IDC_LM To s : B.LM = Val(S) : DrawChart D(), B, %True : DisplayStampList
            Case %IDC_RM          : If Cb.CtlMsg = %CBN_SelChange Then ComboBox Get Text hSet, %IDC_RM To s : B.RM = Val(S) : DrawChart D(), B, %True : DisplayStampList
            Case %IDC_TM          : If Cb.CtlMsg = %CBN_SelChange Then ComboBox Get Text hSet, %IDC_TM To s : B.TM = Val(S) : DrawChart D(), B, %True : DisplayStampList
            Case %IDC_BM          : If Cb.CtlMsg = %CBN_SelChange Then ComboBox Get Text hSet, %IDC_BM To s : B.BM = Val(S) : DrawChart D(), B, %True : DisplayStampList

            Case %IDC_MainTitleFontSize : If Cb.CtlMsg = %CBN_SelChange Then ComboBox Get Text hSet, %IDC_MainTitleFontSize To s : B.titleFontSize = Val(S)     : CreateFonts : DrawChart D(), B, %True : DisplayStampList
            Case %IDC_AxisTitleFontSize : If Cb.CtlMsg = %CBN_SelChange Then ComboBox Get Text hSet, %IDC_AxisTitleFontSize To s : B.AxisTitleFontSize = Val(S) : CreateFonts : DrawChart D(), B, %True : DisplayStampList
            Case %IDC_ValuesFontSize    : If Cb.CtlMsg = %CBN_SelChange Then ComboBox Get Text hSet, %IDC_ValuesFontSize To s    : B.AxisValueFontSize = Val(S) : CreateFonts : DrawChart D(), B, %True : DisplayStampList
            Case %IDC_LabelFontSize     : If Cb.CtlMsg = %CBN_SelChange Then ComboBox Get Text hSet, %IDC_LabelFontSize To s     : B.LabelFontSize = Val(S)     : CreateFonts : DrawChart D(), B, %True : DisplayStampList

            Case %IDC_TitleFont
               If Cb.CtlMsg = %BN_Clicked Then
                  SelectMainFont(B.TitleFontName,B.TitleFontSize,B.TitleFontBold,B.TitleFont)
                  CreateFonts   'rebuild the set of fonts needed by the Graphic control
                  DrawChart D(), B, %True : DisplayStampList
               End If
            Case %IDC_AxisTitleFont
               If Cb.CtlMsg = %BN_Clicked Then
                  SelectMainFont(B.AxisTitleFontName,B.AxisTitleFontSize,B.AxisTitleFontBold,B.AxisTitleFont)
                  CreateFonts   'rebuild the set of fonts needed by the Graphic control
                  DrawChart D(), B, %True : DisplayStampList
               End If
            Case %IDC_AxisValueFont
               If Cb.CtlMsg = %BN_Clicked Then
                  SelectMainFont(B.AxisValueFontName,B.AxisValueFontSize,B.AxisValueFontBold,B.AxisValueFont)
                  CreateFonts   'rebuild the set of fonts needed by the Graphic control
                  DrawChart D(), B, %True : DisplayStampList
               End If
            Case %IDC_LabelFont
               If Cb.CtlMsg = %BN_Clicked Then
                  SelectMainFont(B.LabelFontName,B.LabelFontSize,B.LabelFontBold,B.LabelFont)
                  CreateFonts   'rebuild the set of fonts needed by the Graphic control
                  DrawChart D(), B, %True : DisplayStampList
               End If
            Case %IDC_SaveAs : SaveChartAs
            Case %IDC_Open   : SelectChartToOpen
            Case %IDC_Resize
               Graphic Get Canvas To w,h
               GetImageSize ((B.BGImage),i,j)
               Dialog Set Client hDlg, w, w*j/i+20   '20 is height of statusbar

            Case %IDC_Reset
               If Cb.CtlMsg = %BN_Clicked Then
                  CreateFakeData
                  InitializeChart hDlg, %IDC_Graphic
                  B.Xmax = 60 : B.Xmin = 10 : B.Pivot = 40
                  DrawChart D(), B, %True : DisplayStampList
                  Statusbar Set Text hDlg, %IDC_StatusBar, 2, 0, ""
                  Statusbar Set Text hDlg, %IDC_StatusBar, 3, 0, ""
                  Dialog End hSet
                  ShowSettingsDialog
               End If
            Case %IDC_Copy          : If Cb.CtlMsg = %BN_Clicked Then Clipboard Reset : Clipboard Set Bitmap B.hGraphic : sndPlaySound("xcamera", %SND_Async Or %SND_Resource)
            Case %IDC_Print         : If Cb.CtlMsg = %BN_Clicked Then PrintChart
            Case %IDC_Export
               If Cb.CtlMsg = %BN_Clicked Then
                  GDIPlus_SaveImage B.hGraphicDC, Choose$(B.ExportFormat,"bmp","jpg","gif","png"), Exe.Path$ + "tempfiles\gbchartmaster." + Choose$(B.ExportFormat,"bmp","jpg","gif","png")
                  temp$ = Exe.Path$ + "tempfiles"
                  i = ShellExecute(hDlg, "Open", (temp$), $Nul, $Nul, %SW_ShowNormal)
               End If

            Case %IDC_RandomColors
               If Cb.CtlMsg = %BN_Clicked Then
                 For w = 1 To UBound(D)
                    D(w).altColor(B.DataSet) = RGB(Rnd(0,255),Rnd(0,255),Rnd(0,255))
                 Next w
                 DrawChart D(), B, %True : DisplayStampList
               End If

            Case %IDC_ShowV1
               If Cb.CtlMsg = %BN_Clicked Then
                  B.DataSet = 1 : DrawChart D(), B, %True : DisplayStampList
                  Control Set Text hSet, %IDC_UserData, B.UserData(B.DataSet)
                  Control Set Text hSet, %IDC_altXText,  B.altXText(B.DataSet)
                  Control Set Text hSet, %IDC_BarLabels, B.labels(B.DataSet)
                  Control Set Text hSet, %IDC_Equation, B.Equation(B.DataSet)
                  Control Set Text hSet, %IDC_BarColors, B.BarColors(B.DataSet)
               End If
            Case %IDC_ShowV2
               If Cb.CtlMsg = %BN_Clicked Then
                  B.DataSet = 2 : DrawChart D(), B, %True : DisplayStampList
                  Control Set Text hSet, %IDC_UserData, B.UserData(B.DataSet)
                  Control Set Text hSet, %IDC_altXText,  B.altXText(B.DataSet)
                  Control Set Text hSet, %IDC_BarLabels, B.labels(B.DataSet)
                  Control Set Text hSet, %IDC_Equation, B.Equation(B.DataSet)
                  Control Set Text hSet, %IDC_BarColors, B.BarColors(B.DataSet)
               End If
            Case %IDC_ShowV3
               If Cb.CtlMsg = %BN_Clicked Then
                  B.DataSet = 3 : DrawChart D(), B, %True : DisplayStampList
                  Control Set Text hSet, %IDC_UserData, B.UserData(B.DataSet)
                  Control Set Text hSet, %IDC_altXText,  B.altXText(B.DataSet)
                  Control Set Text hSet, %IDC_BarLabels, B.labels(B.DataSet)
                  Control Set Text hSet, %IDC_Equation, B.Equation(B.DataSet)
                  Control Set Text hSet, %IDC_BarColors, B.BarColors(B.DataSet)
               End If

            Case %IDC_UserData      : If Cb.CtlMsg = %EN_Change Then Control Get Text hSet, %IDC_UserData  To B.UserData(B.DataSet)
            Case %IDC_altXText       : If Cb.CtlMsg = %EN_Change Then Control Get Text hSet, %IDC_altXText   To B.altXText(B.DataSet)
            Case %IDC_BarLabels     : If Cb.CtlMsg = %EN_Change Then Control Get Text hSet, %IDC_BarLabels To B.labels(B.DataSet)

            Case %IDC_ApplyDataFile
               If Cb.CtlMsg = %BN_Clicked Then
                  Control Get Text hSet, %IDC_UserData To B.UserData(B.DataSet)
                  w = ParseCount(B.UserData(B.DataSet),$CrLf)
                  ReDim Preserve D(1 To w)
                  For i = 1 To w : D(i).v(B.DataSet) = Val(Parse$(B.UserData(B.DataSet),$CrLf,i)) : Next i
                  B.XMin = 1          : ComboBox Select hSet, %IDC_XMin,  B.xMin
                  B.Xmax = UBound(D)  : ComboBox Select hSet, %IDC_XMax,  B.xMax
                  B.Pivot = UBound(D) : ComboBox Select hSet, %IDC_Pivot, B.Pivot
                  DrawChart D(), B, %True : DisplayStampList
                  Statusbar Set Text hDlg, %IDC_StatusBar, 2, 0, ""
                  Statusbar Set Text hDlg, %IDC_StatusBar, 3, 0, ""
               End If
               If SettingsVisible Then Dialog End hSet : ShowSettingsDialog

            Case %IDC_ApplyaltXText
               If Cb.CtlMsg = %BN_Clicked Then
                  Control Get Text hSet, %IDC_altXText To B.altXText(B.DataSet)
                  w = Min(ParseCount(B.altXText(B.DataSet),$CrLf), UBound(D))
                  For i = 1 To w : D(i).altXText(B.DataSet) = Parse$(B.altXText(B.DataSet),$CrLf,i) : Next i
                  DrawChart D(), B, %True : DisplayStampList
                  Statusbar Set Text hDlg, %IDC_StatusBar, 2, 0, ""
                  Statusbar Set Text hDlg, %IDC_StatusBar, 3, 0, ""
               End If

            Case %IDC_ApplyBarLabels
               If Cb.CtlMsg = %BN_Clicked Then
                  Control Get Text hSet, %IDC_BarLabels To B.labels(B.DataSet)
                  w = Min(ParseCount(B.labels(B.DataSet),$CrLf), UBound(D))
                  For i = 1 To w : D(i).label(B.DataSet) = Parse$(B.labels(B.DataSet),$CrLf,i) : Next i
                  DrawChart D(), B, %True : DisplayStampList
                  Statusbar Set Text hDlg, %IDC_StatusBar, 2, 0, ""
                  Statusbar Set Text hDlg, %IDC_StatusBar, 3, 0, ""
               End If

            Case %IDC_ApplyColors
               If Cb.CtlMsg = %BN_Clicked Then
                  Control Get Text hSet, %IDC_BarColors To B.BarColors(B.DataSet)
                  w = Min(ParseCount(B.BarColors(B.DataSet),$CrLf), UBound(D))
                  For i = 1 To w
                     temp$ = Parse$(B.BarColors(B.DataSet),$CrLf,i)
                     D(i).altColor(B.DataSet) = RGB(Val(Parse$(temp$,$Spc,1)),Val(Parse$(temp$,$Spc,2)),Val(Parse$(temp$,$Spc,3)))
                  Next i
                  DrawChart D(), B, %True : DisplayStampList
                  Statusbar Set Text hDlg, %IDC_StatusBar, 2, 0, ""
                  Statusbar Set Text hDlg, %IDC_StatusBar, 3, 0, ""
               End If

            Case %IDC_ApplyAll
               'data
               Control Get Text hSet, %IDC_UserData To B.UserData(B.Dataset)
               w = ParseCount(B.UserData(B.Dataset),$CrLf)
               ReDim Preserve D(1 To w)
               For i = 1 To w : D(i).v(B.Dataset) = Val(Parse$(B.UserData(B.Dataset),$CrLf,i)) : Next i
               B.XMin = 1          : ComboBox Select hSet, %IDC_XMin,  B.xMin
               B.Xmax = UBound(D)  : ComboBox Select hSet, %IDC_XMax,  B.xMax
               B.Pivot = UBound(D) : ComboBox Select hSet, %IDC_Pivot, B.Pivot
               'alt text
               Control Get Text hSet, %IDC_altXText To B.altXText(B.Dataset)
               w = Min(ParseCount(B.altXText(B.Dataset),$CrLf), UBound(D))
               For i = 1 To w : D(i).altXText(B.Dataset) = Parse$(B.altXText(B.Dataset),$CrLf,i) : Next i
               'bar labels
               Control Get Text hSet, %IDC_BarLabels To B.labels(B.Dataset)
               w = Min(ParseCount(B.labels(B.Dataset),$CrLf), UBound(D))
               For i = 1 To w : D(i).label(B.Dataset) = Parse$(B.labels(B.Dataset),$CrLf,i) : Next i
               'colors
               Control Get Text hSet, %IDC_BarColors To B.BarColors(B.Dataset)
               w = Min(ParseCount(B.BarColors(B.Dataset),$CrLf), UBound(D))
               For i = 1 To w
                  temp$ = Parse$(B.BarColors(B.Dataset),$CrLf,i)
                  D(i).altColor(B.Dataset) = RGB(Val(Parse$(temp$,$Spc,1)),Val(Parse$(temp$,$Spc,2)),Val(Parse$(temp$,$Spc,3)))
               Next i
               DrawChart D(), B, %True : DisplayStampList
               Statusbar Set Text hDlg, %IDC_StatusBar, 2, 0, ""
               Statusbar Set Text hDlg, %IDC_StatusBar, 3, 0, ""

            Case %IDC_TransferData
               temp$ = ""
               For i = 1 To UBound(D)
                  temp$ += Trim$(Str$(D(i).v(B.DataSet))) + $CrLf
               Next i
               Control Set Text hSet, %IDC_UserData, RTrim$(temp$,$CrLf)

               temp$ = ""
               For i = 1 To UBound(D)
                  temp$ += D(i).altXText(B.DataSet) + $CrLf
               Next i
               Control Set Text hSet, %IDC_altXText, RTrim$(temp$,$CrLf)

               temp$ = ""
               For i = 1 To UBound(D)
                  temp$ += D(i).label(B.DataSet) + $CrLf
               Next i
               Control Set Text hSet, %IDC_barLabels, RTrim$(temp$,$CrLf)

               temp$ = ""
               For i = 1 To UBound(D)
                  RR = GetRValue(D(i).altColor(B.DataSet))
                  GG = GetGValue(D(i).altColor(B.DataSet))
                  BB = GetBValue(D(i).altColor(B.DataSet))
                  temp$ += Trim$(Str$(RR)) + Str$(GG) + Str$(BB) + $CrLf
               Next i
               Control Set Text hSet, %IDC_barColors, RTrim$(temp$,$CrLf)



            Case %IDC_EvalEquation
               If Cb.CtlMsg = %BN_Clicked Then
                  B.UserData(B.DataSet) = ""
                  Control Get Text hSet, %IDC_Equation To s
                  For i = Val(Parse$(s,":",1)) To Val(Parse$(s,":",2))       'From To
                     x = Val(Parse$(s,":",3)) + (i-1) * Val(Parse$(s,":",4)) 'x starting value + x increment
                     temp$ = Parse$(s,":",5)                                 'temp$ = equation
                     Replace "x"     With "(" + Str$(x) + ")" In temp$
                     Replace "X"     With "(" + Str$(x) + ")" In temp$
                     result = EvaluateEquation(temp$)
                     B.UserData(B.DataSet) += Str$(result) + $CrLf
                  Next x
                  B.UserData(B.DataSet) = Trim$(B.UserData(B.DataSet), $CrLf)
                  Control Set Text hSet, %IDC_UserData, B.UserData(B.DataSet)
                  Statusbar Set Text hDlg, %IDC_StatusBar, 2, 0, ""
                  Statusbar Set Text hDlg, %IDC_StatusBar, 3, 0, ""
               End If
         End Select
   End Select
End Function

Sub Settings_INI(Task$)
   Local x,y As Long
   Local xResult, yResult, INIFileName, temp As WStringZ * %Max_Path
   'defines file name (any file name will work)
   INIFileName = Exe.Path$ + Exe.Name$ + ".ini"
   If Task$ = "get" Then
      'get dialog top/left from INI file and use to set Dialog location
      Getprivateprofilestring "All", "Left", "300", xResult, %Max_Path, INIFileName
      Getprivateprofilestring "All", "Top", "150", yResult, %Max_Path, INIFileName
      Dialog Set Loc hDlg, Val(xResult), Val(yResult)   'left/top
      'get dialog width/height from INI file and use to set Dialog size
      GetPrivateProfileString "All", "Width", "720", xResult, %Max_Path, INIFileName
      GetPrivateProfileString "All", "Height", "350", yResult, %Max_Path, INIFileName
      Dialog Set Size hDlg,Val(xResult), Val(yResult)   'width/height
      'get value for numeric variables
      Getprivateprofilestring "All", "SettingsX", "150", temp, %Max_Path, INIFileName  : SettingsX = Val(temp)
      Getprivateprofilestring "All", "SettingsY", "250", temp, %Max_Path, INIFileName  : SettingsY = Val(temp)
      Getprivateprofilestring "All", "SettingsVisible", "0", temp, %Max_Path, INIFileName : SettingsVisible = Val(temp)
      'get value for string variable
      Getprivateprofilestring "All", "CFN", "", CFN, %Max_Path, INIFileName
      'custom colors
      For x = 0 To 15
         Getprivateprofilestring "All", "CustomColorC" + Format$(x,"00"), "", temp, %Max_Path, INIFileName
         CustomColorList.c(x) = Val(temp)
      Next x
   End If
   If Task$ = "save" Then
      'save dialog size/location unless minimized or maximized
      If IsFalse(IsIconic(hDlg) Or IsZoomed(hDlg)) Then
         Dialog Get Loc hDlg To x,y
         WritePrivateProfileString "All", "Left", Str$(x), INIFileName
         WritePrivateProfileString "All", "Top", Str$(y), INIFileName
         Dialog Get Size hDlg To x,y
         WritePrivateProfileString "All", "Width", Str$(x), INIFileName
         WritePrivateProfileString "All", "Height", Str$(y), INIFileName
      End If
      'save string variables
      WritePrivateProfileString "All", "CFN", CFN, INIFileName
      'save numeric variable
      WritePrivateProfileString "All", "SettingsX", Str$(SettingsX), INIFileName
      WritePrivateProfileString "All", "SettingsY", Str$(SettingsY), INIFileName
      WritePrivateProfileString "All", "SettingsVisible", Str$(SettingsVisible), INIFileName
      'custom colors
      For x = 0 To 15
         temp = Str$(CustomColorList.c(x))
         WritePrivateProfileString "All", "CustomColorC" + Format$(x,"00"), temp, INIFileName
      Next x
   End If
End Sub

Sub PrintChart
   On Error GoTo CancelPrint
   Local w,h,x,y,wNew,hNew,wImg,hImg As Long
   XPrint Attach Choose
   XPrint Get Client To w,h
   Graphic Get Client To wImg,hImg
   wNew = wImg / Max(wImg / w, hImg / h)
   hNew = hImg / Max(wImg / w, hImg / h)
   x = (w-wNew)/2 : y = (h-hNew)/2               'upper/left position so resized image is centered
   XPrint Stretch hGraphic, 0, (0,0)-(wImg-1,hImg-1) To (x,y)-(x+wNew-1,y+hNew-1), %Mix_CopySrc, %HalfTone   'copy (resized) from memory bitmap to visible image
   XPrint Close
CancelPrint:
End Sub

Function NewGraphicProc(ByVal hWnd As Long, ByVal Msg As Long, ByVal wParam As Long, ByVal lParam As Long) As Long
   Local x,y As Long, pt As Point
   Select Case Msg
      Case %WM_LButtonDown
         If B.annotation Then SetCapture hWnd    'start capturing, so can detect LButtonUp when it occurs
      Case %WM_MouseMove
         If GetCapture() = hWnd Then
            GetCursorPos pt
            ScreenToClient hGraphic, pt
            If LastX = -1 Then LastX = pt.x : LastY = pt.y
            Graphic Width 4
            Graphic Line (LastX,LastY)-(pt.x,pt.y), %Red
            Graphic Width 1
            LastX = pt.x : LastY = pt.y
            Graphic ReDraw
         End If
      Case %WM_LButtonUp
         ReleaseCapture
         LastX = -1
   End Select
   Function = CallWindowProc(OldGraphicProc, hWnd, Msg, wParam, lParam)
End Function

Function EvaluateEquation(ByVal Equation$) As Single      'Extended
   Local    lOpenParentheseStart, lOpenParentheseCounter, lCloseParentheseCounter As Long
   Local    lCurrentPos, lI, lPosOperator, lLeftOperandStart As Long
   Local    lleftOperandEnd, lRightOperandStart, lRightOperandEnd As Long
   Local    lEval, lLeftOperand, lRightOperand As Single         'Extended

   Equation$ = UCase$(Trim$(Equation$))

   Replace "LOG10" With "LOGTEN"            In Equation$
   Replace "LOG2"  With "LOGTWO"            In Equation$
   Replace "EXP10" With "EXPTEN"            In Equation$
   Replace "EXP2"  With "EXPTWO"            In Equation$
   Replace "PI"    With "3.14159"           In Equation$
   Replace "-"     With "_"                 In Equation$  ' to avoid any confusion with a negative value

    Do
        lOpenParentheseCounter  = 0 : lCloseParentheseCounter = 0   'reset the parentheses counters
        lOpenParentheseStart = InStr(Equation$, "(")              'search for a open parenthese "(" in the expression
        If lOpenParentheseStart <> 0 Then                           'only if we find a open parenthese "(" in the expression
            lOpenParentheseCounter = 1                              'initialize the open parenthese counter to 1
            lCurrentPos = lOpenParentheseStart                      'we start at the open parenthese
            Do
                Incr lCurrentPos                                    'increment the current position
                If Mid$(Equation$, lCurrentPos, 1) = ")" Then Incr lCloseParentheseCounter    ' to count the number of parentheses
                If Mid$(Equation$, lCurrentPos, 1) = "(" Then Incr lOpenParentheseCounter
            Loop Until lOpenParentheseCounter = lCloseParentheseCounter

            Equation$ = Left$(Equation$,lOpenParentheseStart-1)+ _    'recursive call to EvalExpNum
                          Format$(EvaluateEquation(Mid$(Equation$,lOpenParentheseStart+1,lCurrentPos-lOpenParentheseStart-1)))+ _
                          Right$(Equation$,-lCurrentPos)
        Else
            Data "ATN", "COS", "SIN", "TAN", "LOGTEN", "LOGTWO", "LOG", "EXPTEN"
            Data "EXPTWO", "EXP", "SQR", "ABS", "^", "*", "/", "\", "MOD", "_", "+"
            For lI = 1 To DataCount                ' check all the Operators/Functions that could be used in the numerical expression
                 Do                                ' examines all the occurences of the operator/function
                     lPosOperator = InStr(Equation$,Read$(lI))
                     If lPosOperator <> 0 Then               ' only if we find the Operator/Function
                         lLeftOperandEnd = lPosOperator-1    ' search the start/end of the left operand
                         lCurrentPos     = lPosOperator
                         Do
                            Decr lCurrentPos                     ' decrement current pos
                            If   lCurrentPos < 1 Then Exit Loop  ' if we are out of the string
                        Loop Until InStr(" 0123456789.-",Mid$(Equation$, lCurrentPos, 1)) = 0
                        lLeftOperandStart = lCurrentPos+1

                        lRightOperandStart = lPosOperator+Len(Read$(lI))    ' search the start/end of the right operand
                        lCurrentPos          = lPosOperator+Len(Read$(lI))-1
                        Do
                            Incr lCurrentPos                                     ' decrement current pos
                            If   lCurrentPos > Len(Equation$) Then Exit Loop   ' if we are out of the string
                        Loop Until InStr(" 0123456789.-",Mid$(Equation$, lCurrentPos, 1)) = 0
                        lRightOperandEnd = lCurrentPos - 1

                        lLeftOperand  = Val(Trim$(Mid$(Equation$,lLeftOperandStart ,lLeftOperandEnd -lLeftOperandStart +1))) ' extract the operands removing spaces
                        lRightOperand = Val(Trim$(Mid$(Equation$,lRightOperandStart,lRightOperandEnd-lRightOperandStart+1))) ' extract the operands removing spaces

                        Select Case Read$(lI)                     ' depending of the Operator/Function
                            Case "ATN"     :  lEval = Atn(lRightOperand)
                            Case "COS"     :  lEval = Cos(lRightOperand)
                            Case "SIN"     :  lEval = Sin(lRightOperand)
                            Case "TAN"     :  lEval = Tan(lRightOperand)
                            Case "LOGTEN"  :  lEval = Log10(lRightOperand)
                            Case "LOGTWO"  :  lEval = Log2(lRightOperand)
                            Case "LOG"     :  lEval = Log(lRightOperand)
                            Case "EXPTEN"  :  lEval = Exp10(lRightOperand)
                            Case "EXPTWO"  :  lEval = Exp2(lRightOperand)
                            Case "EXP"     :  lEval = Exp(lRightOperand)
                            Case "SQR"     :  lEval = Sqr(lRightOperand)
                            Case "ABS"     :  lEval = Abs(lRightOperand)
                            Case "^"       :  lEval = lLeftOperand ^ lRightOperand
                            Case "*"       :  lEval = lLeftOperand * lRightOperand
                            Case "/"       :  lEval = lLeftOperand / lRightOperand
                            Case "\"       :  lEval = lLeftOperand \ lRightOperand
                            Case "MOD"     :  lEval = lLeftOperand Mod lRightOperand
                            Case "_"       :  lEval = lLeftOperand - lRightOperand
                            Case "+"       :  lEval = lLeftOperand + lRightOperand
                        End Select
                        lEval = Round(lEval, 2)  'round the evaluation to 6 decimal places to avoid scientific notation (E-)
                        Equation$ = Left$(Equation$,lLeftOperandStart-1)+Format$(lEval)+Right$(Equation$,-lRightOperandEnd) 'place the result of the evaluation in the string
                    End If
                 Loop Until lPosOperator = 0
             Next lI
            Function = Val(Equation$)  'to evaluate the final expression
        End If
    Loop Until lOpenParentheseStart = 0

End Function

Sub GDIPlus_SaveImage(hGraphicDC As Dword, imgFormat As String, fName As WStringZ)

   'initialize GDIPlus
   Local token As Dword, StartupInput As GdiplusStartupInput, sMimeType As String
   StartupInput.GdiplusVersion = 1
   GdiplusStartup(token, StartupInput, ByVal %NULL)

   'Select Mime Type
   Select Case imgFormat
      Case "bmp" :  sMimeType = "image/bmp"
      Case "jpg" :  sMimeType = "image/jpeg"
      Case "gif" :  sMimeType = "image/gif"
      Case "png" :  sMimeType = "image/png"
   End Select

   'save the image
   Local s As String, sEncoderClsid As Guid, pImage, hBitmap, pGraphics As Dword
   s = GDIPlusGetEncoderClsid((sMimeType))
   sEncoderClsid = Guid$(s)

   hBitmap = GetCurrentObject(hGraphicDC, %OBJ_Bitmap)              'from graphic target
   GDIpCreateBitmapFromHBITMAP( hBitmap, ByVal %Null, pImage)       'create GDI+ image (pImage)
   GdipCreateFromHDC hGraphicDC, pGraphics                          'create graphic object containing Graphic Control
   GdipDrawImageRect pGraphics, pImage, 0, 0, 140, 110              'use (0,0)-(140,110)
   GdipSaveImageToFile pImage,(fName), sEncoderClsid, ByVal %Null   'save to file

   If pImage Then GdipDisposeImage(pImage)                          'cleanup
   If pGraphics Then GdipDeleteGraphics(pGraphics)   'GDIP cleanup

   'shut down GDI+
    GdiplusShutdown token
End Sub

Sub LoadBGImage(wFileName As WStringZ * %Max_Path, hBMP As Dword)
   'load JPG/GIF/PNG image to memory bitmap from file
   Local pImage,pGraphics,token,hDC As Dword, StartupInput As GdiplusStartupInput, imgW, imgH As Long

   'initialize GDIPlus
   StartupInput.GdiplusVersion = 1
   GdiplusStartup(token, StartupInput, ByVal %NULL)

   'load image/get properties
   GdipLoadImageFromFile((wFileName), pImage)          'pImage - image object
   GdipGetImageWidth(pImage,imgW)                      'get width
   GdipGetImageHeight(pImage,imgH)                     'get height

   'put in Graphic Memory Bitmap
   Graphic Bitmap New imgW,imgH To B.hBGImage
   Graphic Attach B.hBGImage,0
   Graphic Get DC To hDC                               'hDC is for memory bitmap

   GdipCreateFromHDC(hDC, pGraphics)                   'create graphic object
   GdipDrawImageRect(pGraphics, pImage, 0,0,imgW,imgH) 'draw image at 0,0

   'cleanup
   If pImage Then GdipDisposeImage(pImage)             'GDIP cleanup
   If pGraphics Then GdipDeleteGraphics(pGraphics)     'GDIP cleanup
   GdiplusShutdown token                               'Shutdown GDI+
End Sub

Sub LoadStamp(wFileName As WStringZ * %Max_Path, x As Long, y As Long, wCont As Long, hCont As Long, hDC As Dword, Centered As Long, Zoom As Long)
   'load JPG/GIF/PNG image to DC from file. Zoom=-1 means fit to size
   Local pImage,pGraphics,token As Dword, StartupInput As GdiplusStartupInput, imgW, imgH, wNew, hNew As Long

   'initialize GDIPlus
   StartupInput.GdiplusVersion = 1                     'startup
   GdiplusStartup(token, StartupInput, ByVal %NULL)    'startup

   'load image/get properties
   GdipLoadImageFromFile((wFileName), pImage)          'pImage - image object
   GdipGetImageWidth(pImage,imgW)                      'get width
   GdipGetImageHeight(pImage,imgH)                     'get height

   GdipCreateFromHDC(hDC, pGraphics)                   'create graphic object
   If Zoom = -1 Then
      wNew = imgW / Max(imgW / wCont, imgH / hCont)
      hNew = imgH / Max(imgW / wCont, imgH / hCont)
      x = (wCont-wNew)/2 : y = (hCont-hNew)/2
   Else
      wNew = imgW/Zoom : hNew = imgH/Zoom
      If Centered Then x = x-wNew/2 : y = y-hNew/2
   End If
   GdipDrawImageRect(pGraphics, pImage, x,y,wNew,hNew) 'draw image at 0,0

   'cleanup
   If pImage Then GdipDisposeImage(pImage)             'GDIP cleanup
   If pGraphics Then GdipDeleteGraphics(pGraphics)     'GDIP cleanup
   GdiplusShutdown token                               'Shutdown GDI+
End Sub

Sub DisplayStampList
   Local i,iCount,x,y,iLargeStamp As Long, fName$, temp$
   iCount = ParseCount(B.StampList,";;;")
   For i = 1 To iCount
      temp$ = Parse$(B.StampList,";;;",i)
      If Len(Trim$(temp$)) = 0 Then Iterate For
      x      = Val(Parse$(temp$,",",1))
      y      = Val(Parse$(temp$,",",2))
      fName$ = Parse$(temp$,",",3)
      iLargeStamp  = Val(Parse$(temp$,",",4))
      LoadStamp ((fName$), x, y, 0, 0, B.hGraphicDC, %True,iLargeStamp)   '%True = centered at point
   Next i
   Graphic ReDraw
End Sub

Sub SaveChartFile(fName$)
   Local i As Long
   Open fName$ For Binary As #1
   Put #1,,B
   i = UBound(D)
   Put #1,,i
   Put #1,,D()
   Close #1
End Sub

Sub OpenChartFile(fName$)
   Local i As Long
   Open fName$ For Binary As #1
   Get #1,, B
   Get #1,, i
   ReDim D(1 To i)
   Get #1,, D()
   Close #1

   B.hParent       = hDlg
   B.cID           = %IDC_Graphic
   B.hGraphic      = hGraphic

   Graphic Attach hDlg, %IDC_Graphic, ReDraw
   Graphic Clear
   Graphic Get DC To B.hGraphicDC

   LoadBGImage ((B.BGImage), B.hBGImage)

   CreateFonts

   Statusbar Set Text hDlg, %IDC_StatusBar, 4, 0, Choose$(B.GraphType," 2D Bar", " 3D Bar", " Symbols", " Line", " 2-Line", " 3-Line", " 2-Bar Stacked", " 3-Bar Stacked", " Bar Group", " Pie", " 2-Pie", " 3-Pie", " HiLo") + " Chart"

End Sub

Function SaveChartAs() As Long
    Local title$, startfolder$, filter$, startfile$, defaultext$, flags&, filevar$, countvar&
    title$       = ""                                   'caption title. if "", then "Save As" is displayed
    startfolder$ = IIf$(IsFile(CFN), CFN, Exe.Path$ + "charts")           'initial folder to be displayed
    filter$      = "Chart Files" + $Nul + "*.gbc" + $Nul
    startfile$   = IIf$(IsFile(CFN), CFN, "")           'name of currently opened file
    defaultext$  = "gbc"                                'default extension to append to selection if user does not enter it
    flags& = %OFN_PathMustExist Or %OFN_Explorer Or %OFN_OverWritePrompt
    Display Savefile hDlg, 100, 100, title$, startfolder$, filter$, startfile$, defaultext$, flags& To filevar$, countvar&
    If Len(filevar$) Then
       CFN = filevar$
       Dialog Set Text hDlg, "gbChartMaster    v" + $Ver + "    " + CFN
       SaveChartFile((CFN))
       Function = 1
    End If
End Function

Sub SelectChartToOpen
    Local title$, startfolder$, filter$, startfile$, defaultext$, flags&, filevar$, countvar&
    title$       = ""                                                    'caption title. if "", then "Save As" is displayed
    startfolder$ = IIf$(IsFile(CFN), CFN, Exe.Path$ + "charts")       'initial folder to be displayed
    filter$      = "Chart Files" + $Nul + "*.gbc" + $Nul
    startfile$   = IIf$(IsFile(CFN), CFN, "")                            'name of currently opened file
    defaultext$  = "gbc"                                                 'default extension to append to selection if user does not enter it
    flags& = %OFN_PathMustExist Or %OFN_Explorer Or %OFN_OverWritePrompt
    Display Openfile hDlg, 100, 100, title$, startfolder$, filter$, startfile$, defaultext$, flags& To filevar$, countvar&
    If Len(filevar$) Then
       CFN = filevar$
       Dialog Set Text hDlg, "gbChartMaster    v" + $Ver + "    " + CFN
       OpenChartFile((CFN))
       DrawChart D(), B, %True : DisplayStampList
    End If
End Sub

Sub EraseLastStamp
   Local i,iCount As Long, temp$
   iCount = ParseCount(B.StampList,";;;")
   For i = 1 To iCount-1 : temp$ += ";;;" + Parse$(B.StampList,";;;",i) : Next i
   B.StampList = temp$
   DrawChart D(), B, %True : DisplayStampList
End Sub

Sub CreateContextMenu
  Menu New PopUp To hContext
  Menu Add String, hContext, "Cut",  %IDM_Cut,  %MF_Enabled
  Menu Add String, hContext, "Copy", %IDM_Copy, %MF_Enabled
  Menu Add String, hContext, "Paste",  %IDM_Paste,  %MF_Enabled
  Menu Add String, hContext, "Delete", %IDM_Delete,  %MF_Enabled
End Sub

Function NewEditProc(ByVal hWnd As Long, ByVal Msg As Long, ByVal wParam As Long, ByVal lParam As Long) As Long
   Local x As Long, y As Long
   Select Case Msg
      Case %WM_ContextMenu
         x = Lo(Word,lParam) : y = Hi(Word, lParam)    'WM_ContextMenu returns xy coordinates of mouse
         TrackPopupMenu hContext, %TPM_LeftAlign, x, y, 0, hDlg, ByVal 0   'put context menu where mouse is
         Function = 0 : Exit Function
   End Select
   Function = CallWindowProc(OldEditProc, hWnd, Msg, wParam, lParam)
End Function

Sub GetImageSize(wFileName As WStringZ * %Max_Path, w As Long, h As Long)
   'load JPG/GIF/PNG image to DC from file. Zoom=-1 means fit to size
   Local pImage,token As Dword, StartupInput As GdiplusStartupInput

   'initialize GDIPlus
   StartupInput.GdiplusVersion = 1                     'startup
   GdiplusStartup(token, StartupInput, ByVal %NULL)    'startup

   'load image/get properties
   GdipLoadImageFromFile((wFileName), pImage)          'pImage - image object
   GdipGetImageWidth(pImage,w)                         'get width
   GdipGetImageHeight(pImage,h)                        'get height

   'cleanup
   If pImage Then GdipDisposeImage(pImage)             'GDIP cleanup
   GdiplusShutdown token                               'Shutdown GDI+
End Sub

Function NextFile(CurrentFile$, Mask$) As String
   Local temp$, FilePath$
   Function = CurrentFile$
   If IsFalse IsFile(CurrentFile$) Then Exit Function
   FilePath$ = PathName$(Path,CurrentFile$)
   temp$ = Dir$(FilePath$ + Mask$)
   While Len(temp$)
      If LCase$(FilePath$ + temp$) = LCase$(CurrentFile$) Then
         temp$ = Dir$(Next)
         Function = FilePath$ + IIf$(Len(temp$), temp$, Dir$(FilePath$ + Mask$)) : Exit Function
      End If
      temp$ = Dir$(Next)
   Wend
End Function

Sub SetRC(rc As Rect, i As Long)
   Select Case B.GraphType
      Case %Chart_2D, %Chart_3D
         rc = D(i).rc(B.DataSet)
      Case %Chart_2Stack
         rc = D(i).rc(2)
         rc.nTop    += D(i).rc(1).Top - D(i).rc(1).Bottom
         rc.nBottom = D(i).rc(1).Bottom
      Case %Chart_3Stack
         rc = D(i).rc(3)
         rc.nTop    += D(i).rc(1).Top - D(i).rc(1).Bottom + D(i).rc(2).top - D(i).rc(2).bottom
         rc.nBottom = D(i).rc(1).Bottom
      Case %Chart_HiLo
         rc.left   = D(i).rc(3).left
         rc.top    = D(i).rc(3).Top
         rc.bottom = D(i).rc(2).Bottom
         rc.right  = D(i).rc(2).right
   End Select
End Sub

Function SaveAsSettings() As Long
    Local title$, startfolder$, filter$, startfile$, defaultext$, flags&, filevar$, countvar&
    title$       = ""                                   'caption title. if "", then "Save As" is displayed
    startfolder$ = IIf$(IsFile(CFNS), CFNS, Exe.Path$ + "settings")           'initial folder to be displayed
    filter$      = "Chart Settings" + $Nul + "*.gbt" + $Nul
    startfile$   = IIf$(IsFile(CFNS), CFNS, "")           'name of currently opened file
    defaultext$  = "gbt"                                  'default extension to append to selection if user does not enter it
    flags& = %OFN_PathMustExist Or %OFN_Explorer Or %OFN_OverWritePrompt
    Display Savefile hDlg, 100, 100, title$, startfolder$, filter$, startfile$, defaultext$, flags& To filevar$, countvar&
    If Len(filevar$) Then
       CFNS = filevar$
       Open CFNS For Binary As #1
       Put #1,,B
       Close #1
       Function = 1
    End If
End Function

Sub SelectSettingsToOpen
    Local title$, startfolder$, filter$, startfile$, defaultext$, flags&, filevar$, countvar&
    title$       = ""                                                    'caption title. if "", then "Save As" is displayed
    startfolder$ = IIf$(IsFile(CFNS), CFNS, Exe.Path$ + "settings")       'initial folder to be displayed
    filter$      = "Chart Settings" + $Nul + "*.gbt" + $Nul
    startfile$   = IIf$(IsFile(CFNS), CFNS, "")                            'name of currently opened file
    defaultext$  = "gbt"                                                 'default extension to append to selection if user does not enter it
    flags& = %OFN_PathMustExist Or %OFN_Explorer Or %OFN_OverWritePrompt
    Display Openfile hDlg, 100, 100, title$, startfolder$, filter$, startfile$, defaultext$, flags& To filevar$, countvar&
    If Len(filevar$) Then
       CFNS = filevar$
       OpenSettings((CFNS))
       DrawChart D(), B, %True : DisplayStampList
       If SettingsVisible Then Dialog End hSet : ShowSettingsDialog
    End If
End Sub

Sub OpenSettings(fName$)
   Open fName$ For Binary As #1
   Get #1,, B
   Close #1

   B.hParent       = hDlg
   B.cID           = %IDC_Graphic
   B.hGraphic      = hGraphic

   Graphic Attach hDlg, %IDC_Graphic, ReDraw
   Graphic Clear
   Graphic Get DC To B.hGraphicDC

   LoadBGImage ((B.BGImage), B.hBGImage)
   CreateFonts
   'Statusbar Set Text hDlg, %IDC_StatusBar, 4, 0, Choose$(B.GraphType," 2D Bar", " 3D Bar", " Symbols", " Line", " 2-Line", " 3-Line", " 2-Bar Stacked", " 3-Bar Stacked", " HiLo") + " Chart"
End Sub

Function PtInEllipse(rc As Rect, pt As Point, ArcStart As Single, ArcEnd As Single) As Long
   Local xCenter, yCenter, rx,ry As Long, r As Single
   rx = (rc.Right - rc.nLeft ) / 2    :    xCenter = rc.nLeft + rx
   ry = (rc.nBottom - rc.nTop ) / 2   :    yCenter = rc.nTop + ry
   Graphic Ellipse (xCenter-2,yCenter-2)-(xCenter+2,yCenter+2),%Red
   If ((pt.x - xCenter) ^ 2) / (rx^2) + ((pt.y - yCenter) ^2 ) / (ry^2) >= 1 Then Exit Function
   r = Atn( (pt.y-yCenter) / (pt.x-xCenter) )
   r = 6.28313 - r - Switch(pt.x < xCenter, 3.14159, pt.y < yCenter, 6.28318)
   If r >= ArcStart And r <= ArcEnd Then Function = 1
End Function

Sub SetFontButtonText
   Select Case B.GraphType
      Case %Chart_2D,%Chart_3D,%Chart_2Stack,%Chart_3Stack,%Chart_HiLo,%Chart_Horz2D,%Chart_Horz2Stack,%Chart_Horz3Stack,%Chart_VertBarGroup,%Chart_HorzBarGroup,%Chart_Symbols,%Chart_Line,%Chart_2Line,%Chart_3Line
         Control Set Text hSet, %IDC_TitleFont, "Chart Title Font"
         Control Set Text hSet, %IDC_axisTitleFont, "Axis Title Font"
         Control Set Text hSet, %IDC_axisValueFont, "Axis Values Font"
         Control Set Text hSet, %IDC_LabelFont, "Label Font"
      Case %Chart_Pie,%Chart_2Pie,%Chart_3Pie
         Control Set Text hSet, %IDC_TitleFont, "Chart Title Font"
         Control Set Text hSet, %IDC_axisTitleFont, "Legend Font"
         Control Set Text hSet, %IDC_axisValueFont, "Wedge% Font"
         Control Set Text hSet, %IDC_LabelFont, "Label Font"
   End Select
End Sub
And the include file code is here:
Code:
Enum ChartEquates Singular
   Chart_2D        = 1
   Chart_3D
   Chart_Symbols
   Chart_Line
   Chart_2Line
   Chart_3Line
   Chart_2Stack
   Chart_3Stack
   Chart_HiLo
   Chart_Pie
   Chart_2Pie
   Chart_3Pie
   Chart_Horz2D
   Chart_Horz2Stack
   Chart_Horz3Stack
   Chart_VertBarGroup
   Chart_HorzBarGroup

   Gradient_None                   = 1
   Gradient_DarkBottomToTop
   Gradient_LightCenterToDarkSide
   Gradient_ColorCentertoBlackSide
   Gradient_Background

   Symbol_Point = 1
   Symbol_Circle
   Symbol_Triangle
   Symbol_Square

   MainTitle_Left = 1
   MainTitle_Center
   MainTitle_Right

   YTitle_Top = 1
   YTitle_Center
   YTitle_Bottom

   XTitle_LeftInLine = 1
   XTitle_Left
   XTitle_Center
   XTitle_Right
   XTitle_RightInLine

   HiLo_Bar = 1
   HiLo_Beam
   HiLo_Dot

   Line_Solid = 0
   Line_Dash
   Line_Dot
   Line_DashDot
   Line_DashDotDot

   Label_Label = 1
   Label_Value
   Label_PerCent
   Label_AltXText
End Enum

Type ChartData
   v(3)        As Long
   rc(3)       As Rect
   pt(3)       As Point
   Visible(3)  As Long
   altColor(3) As Long

   RR          As Long  'temp values variables created for convenience
   GG          As Long
   BB          As Long
   FadedColor  As Long
   DarkFadedColor As Long
   BorderColor As Long

   selected(3) As Long
   altXText(3) As StringZ * 50
   Label(3)    As StringZ * 50
   arcEnd(3)   As Single
   arcStart(3) As Single
   unusedA(3)  As Long
   unusedB(3)  As Long
   unusedC(3)  As StringZ * 50
   unusedD(3)  As StringZ * 50

   unusedE As Long
   unusedF As Long
   unusedG As StringZ * 50
   unusedH As StringZ * 50
End Type

Type ChartPolyPoints
   Count As Long
   x1 As Single
   y1 As Single
   x2 As Single
   y2 As Single
   x3 As Single
   y3 As Single
   x4 As Single
   y4 As Single
   x5 As Single
   y5 As Single
   x6 As Single
   y6 As Single
End Type

Type ChartSettings
   hParent        As Dword
   cID            As Long
   hGraphic       As Dword
   hGraphicDC     As Dword
   hBGImage       As Dword
   LM             As Long
   RM             As Long
   TM             As Long
   BM             As Long
   Title          As StringZ * 100
   XTitle         As StringZ * 100
   YTitle         As StringZ * 100
   MainTitleLoc   As Long
   XTitleLoc      As Long
   YTitleLoc      As Long
   DivYCount      As Long
   XMax           As Long
   XMin           As Long
   maxYvalue      As Long
   usefixedYvalue As Long
   fixedYValue    As Long
   coverage       As Single
   Pivot          As Long
   FadeValue      As Long
   AllBars        As Long
   ShowHGrid      As Long
   ShowVGrid      As Long
   ShowMainTitle  As Long
   DotGrid        As Long
   ShowMargins    As Long
   SpeedTest      As Long
   Instructions   As Long
   ShowAxisTitles As Long
   ShowAxisValues As Long
   UseAntiAliasing  As Long
   HoverTips      As Long

   DataSetTitle(3) As StringZ * 100

   UserData(3)   As StringZ * 5000
   altXText(3)   As StringZ * 5000
   Labels(3)  As StringZ * 5000
   BarColors(3)  As StringZ * 5000

   StampList     As StringZ * 5000   'approximately 16 stamps  x,y,filename:::x,y,filename:::   filename must be in \stamps

   GraphType     As Long
   BarGradientType  As Long  '1=flat  2=dark color bottom to color on top 3=lightcolor center, fade to color on each side 4=color center, fade to black on each side

   ThreeDX       As Long
   ThreeDY       As Long

   BezierTension As Single
   BezierDT      As Single

   PieRadius     As Long   'size of Pie radius
   PieCircle     As Long
   PieEject      As Long   'explode only selected section
   PieExplode    As Long   'explode all sections
   PieExplodeDistance As Long
   PieRotate     As Long   'use PieAngle
   PieAngle      As Single 'rotation of pie
   PieLegend     As Long   ' color with label/value
   PiePerCent    As Long   'show % inside pie
   PieDonut      As Long   'open center = 33% of radius
   PieDonutCaption(3) As StringZ * 100
   Pie3D         As Long
   Pie3DThickness As Long
   PieBeveled    As Long
   PieGradient   As Long
   PieGradientValue  As Long
   PieHideUnSelected As Long
   PieHighlightSelected As Long

   InstructFont     As Dword
   InstructFontName As StringZ * 100
   InstructFontSize As Dword
   InstructFontBold As Dword

   titleFont     As Dword
   titleFontName As StringZ * 100
   titleFontSize As Long
   titleFontBold As Long

   axisTitleFont As Dword
   axisTitleFontR As Dword
   axisTitleFontName As StringZ * 100
   axisTitleFontSize As Long
   axisTitleFontBold As Long

   axisValueFont As Dword
   axisValueFontR As Dword
   axisValueFontName As StringZ * 100
   axisValueFontSize As Long
   axisValueFontBold As Long

   LabelFont     As Dword
   LabelFontR    As Dword
   LabelFontName As StringZ * 100
   LabelFontSize As Long
   LabelFontBold As Long

   useAltColors  As Long
   usealtXText    As Long
   gradientBG    As Long
   fadeBG        As Long
   colorUnder    As Long

   cGrid         As Long
   cBG           As Long
   cTitle        As Long
   cAxisLines    As Long
   cAxisValues   As Long
   cPreBars(3)   As Long
   cPostBars(3)  As Long
   cSymbols(3)   As Long

   BarBorder     As Long
   ShowBarLabel  As Long
   Annotation    As Long
   ShowDataSetTitles As Long
   VertBarLabels As Long
   RoundedBar    As Long
   RoundValue    As Long
   MinusYAxis    As Long
   VertYTitle    As Long
   AutoXCount    As Long
   ExportFormat  As Long
   Equation(3)   As StringZ * 100
   EquationAnimate As Long
   Stamp         As StringZ * 256
   LargeStamp    As Long
   ShowBGImage   As Long
   BGImage       As StringZ * 256
   BGImageFit    As Long
   LineSymbol    As Long
   HiLoSymbol    As Long
   LineThickness As Long
   SymbolSize    As Long
   Interval      As Long
   DataSet       As Long

   GridOnTop     As Long
   SmoothLines   As Long
   LineStyle     As Long
   LabelType     As Long

   unusedA As Long
   unusedB As Long
   unusedC As Long
   unusedD As Long
   unusedE As Long

   unusedF As StringZ * 100
   unusedG As StringZ * 100
   unusedH As StringZ * 256
   unusedI As StringZ * 256
   unusedJ As StringZ * 5000

End Type

Sub DrawChart(BCD() As ChartData, BC As ChartSettings, EraseChart As Long)       'DataSet = 1,2,3 which is v, v2, v3 from data TYPE
   Local i,j,iDataSet,x1,iSymbol,bgW,bgH,txtW, txtH, gW, gH, BarWidth, BarCount,MaxXTextWidth As Long, temp$, oldrc,oldrc2,oldrc3, rc As Rect
   Local tW, tH, iStep, iCount, DivYValue As Long, iColor As Long
   Local tempBCLM, tempBCTM, tempBCRM, tempBCBM As Long
   Local qFreq, qStart, qStop As Quad
   Dim DataTotal(3) As Long

   'Call
   Select Case BC.GraphType
      Case %Chart_Pie
         DrawPieChart(BCD(), BC,1,1,1,BC.DataSet,1) : Exit Sub
      Case %Chart_2Pie
         DrawPieChart(BCD(), BC,1,2,1,1,0)
         DrawPieChart(BCD(), BC,2,2,0,2,1) : Exit Sub
      Case %Chart_3Pie
         DrawPieChart(BCD(), BC,1,3,1,1,0)
         DrawPieChart(BCD(), BC,2,3,0,2,0)
         DrawPieChart(BCD(), BC,3,3,0,3,1) : Exit Sub
   End Select

   If BC.SpeedTest Then QueryPerformanceFrequency qFreq : QueryPerformanceCounter qStart

   'Clear the Graphic control
   Graphic Attach BC.hGraphic, 0, ReDraw
   If EraseChart Then Graphic Clear BC.cBG
   Graphic Get Client To gW,gH
   Graphic Width 1
   Graphic Set Overlap

   'Draw Background - gradient or image
   If BC.ShowBGImage Then
      If BC.BGImageFit Then
         Graphic Attach BC.hBGImage, 0
         Graphic Get Canvas To bgW, bgH
         Graphic Attach BC.hGraphic, 0, ReDraw
         Graphic Stretch BC.hBGImage, 0, (0,0)-(bgW-1,bgH-1) To (0,0)-(gW-1,gH-1), %Mix_CopySrc, %HalfTone
      Else
         Graphic Copy BC.hBGImage, 0
      End If
   ElseIf BC.GradientBG Then
      Graphic Get Canvas To rc.nRight,rc.nBottom
      i = BC.BarGradientType
      BC.BarGradientType = %Gradient_Background
      DrawOneBar BCD(), rc, BC, BC.cBG, 0, oldRC
      BC.BarGradientType = i
   End If

   'Determine maximum Y value in DataSet
   BC.maxYvalue = 0
   Select Case BC.GraphType
      Case %Chart_2D,%Chart_3D,%Chart_Symbols,%Chart_Line
         For i = BC.Xmin To BC.XMax
            BC.maxYvalue = Max(BC.maxYvalue,BCD(i).v(BC.DataSet))
         Next i
      Case %Chart_2Line
         For i = BC.Xmin To BC.XMax
            BC.maxYvalue = Max(BC.maxYvalue,BCD(i).v(1))
            BC.maxYvalue = Max(BC.maxYvalue,BCD(i).v(2))
         Next i
      Case %Chart_3Line, %Chart_HiLo
         For i = BC.Xmin To BC.XMax
            BC.maxYvalue = Max(BC.maxYvalue,BCD(i).v(1))
            BC.maxYvalue = Max(BC.maxYvalue,BCD(i).v(2))
            BC.maxYvalue = Max(BC.maxYvalue,BCD(i).v(3))
         Next i
      Case %Chart_2Stack
         For i = BC.Xmin To BC.XMax
            BC.maxYvalue = Max(BC.maxYvalue,BCD(i).v(1)+BCD(i).v(2))
         Next i
      Case %Chart_3Stack
         For i = BC.Xmin To BC.XMax
            BC.maxYvalue = Max(BC.maxYvalue,BCD(i).v(1)+BCD(i).v(2)+BCD(i).v(3))
         Next i
   End Select
   'Round up actual max value or use fixed setting
   If BC.UseFixedYValue Then
      BC.MaxYValue = BC.FixedYValue
   Else
      Select Case BC.MaxYValue
         Case <= 10       : BC.MaxYValue = 10
         Case <= 25       : BC.MaxYValue = 25
         Case <= 50       : BC.MaxYValue = 50
         Case <= 75       : BC.MaxYValue = 75
         Case <= 100      : BC.MaxYValue = 100
         Case <= 250      : BC.MaxYValue = 250
         Case <= 500      : BC.MaxYValue = 500
         Case <= 750      : BC.MaxYValue = 750
         Case <= 1000     : BC.MaxYValue = 1000
         Case <= 2500     : BC.MaxYValue = 2500
         Case <= 5000     : BC.MaxYValue = 5000
         Case <= 7500     : BC.MaxYValue = 7500
         Case <= 10000    : BC.MaxYValue = 10000
         Case <= 25000    : BC.MaxYValue = 25000
         Case <= 50000    : BC.MaxYValue = 50000
         Case <= 75000    : BC.MaxYValue = 75000
         Case <= 100000   : BC.MaxYValue = 100000
         Case <= 250000   : BC.MaxYValue = 250000
         Case <= 500000   : BC.MaxYValue = 500000
         Case <= 750000   : BC.MaxYValue = 750000
         Case <= 1000000  : BC.MaxYValue = 1000000
         Case <= 2500000  : BC.MaxYValue = 2500000
         Case <= 5000000  : BC.MaxYValue = 5000000
         Case <= 7500000  : BC.MaxYValue = 7500000
         Case <= 10000000 : BC.MaxYValue = 10000000
      End Select
   End If

   'Adjust Margins so the Titles will fit
   tempBCLM = BC.LM : tempBCRM = BC.RM : tempBCTM = BC.TM : tempBCBM = BC.BM
   If BC.ShowAxisTitles Then
      Select Case BC.XTitleLoc
         Case %XTitle_Left, %XTitle_Center, %XTitle_Right
            Graphic Set Font BC.axisValueFont
            Graphic Text Size "88" To i,j
            Graphic Set Font BC.axisTitleFont
            Graphic Text Size BC.XTitle To txtW, txtH
            BC.BM = Max(BC.BM, 10 + j + txtH)
         Case %XTitle_RightInline
            Graphic Set Font BC.axisTitleFont
            Graphic Text Size BC.XTitle To txtW, txtH
            BC.RM = Max(BC.RM, 40 + txtW)
         Case %XTitle_LeftInline
            Graphic Set Font BC.axisTitleFont
            Graphic Text Size BC.XTitle To txtW, txtH
            BC.LM = Max(BC.LM, 40 + txtW)
      End Select

      If BC.VertYTitle Then
         Graphic Set Font BC.axisTitleFontR
         Graphic Text Size BC.YTitle To txtW, txtH
         BC.LM = Max(BC.LM, 40 + txtH + Graphic(Text.Size.Y,Str$(BC.MaxYValue)))
      Else
         Graphic Set Font BC.axisTitleFont
         Graphic Text Size BC.YTitle To txtW, txtH
         BC.LM = Max(BC.LM, 40 + txtW + Graphic(Text.Size.X,Str$(BC.MaxYValue)))
      End If

      If BC.ShowDataSetTitles Then
            Graphic Set Font BC.axisTitleFont
            Graphic Text Size BC.DataSetTitle(1) To txtW, txtH
            BC.RM = Max(BC.RM, 40 + txtW)
            Graphic Text Size BC.DataSetTitle(2) To txtW, txtH
            BC.RM = Max(BC.RM, 40 + txtW)
            Graphic Text Size BC.DataSetTitle(3) To txtW, txtH
            BC.RM = Max(BC.RM, 40 + txtW)
      End If

   End If

   'Draw Axis Lines
   Graphic Color BC.cAxisLines, BC.cAxisLines
   If BC.MinusYAxis Then
      Graphic Line (BC.LM,BC.TM-5)-(BC.LM,gH-10), BC.cGrid    'both vertical axis
   Else
      Graphic Line (BC.LM,gH-BC.BM)-(BC.LM,BC.TM-5), BC.cGrid  'vertical axis
   End If
   Graphic Line (BC.LM,gH-BC.BM)-(gW-BC.RM,gH-BC.BM), BC.cGrid 'horizontal axis

   'Draw Instructions
   If BC.Instructions Then
      Graphic Set Font BC.InstructFont
      Graphic Width 1
      Graphic Style 2
      Graphic Color BC.cTitle, -2  'BC.cBG
      Graphic Box (0,0)-(20,20),,%Red, -2         'top left
      Graphic Box (gW-1,0)-(gW-21,20),,%Red, -2     'top right
      Graphic Box (0,gH-1)-(20,gH-21),,%Red, -2     'bottom left
      Graphic Box (gW-1,gH-1)-(gW-21,gH-21),,%Red, -2 'bottom right
      Graphic Style 0
      Graphic Width BC.LineThickness

      Graphic Set Font BC.axisValueFont
'      Graphic Color BC.cTitle, -2  'BC.cBG
      'upper left
      Graphic Set Pos (25,10) : Graphic Print "Clk - Erase last symbol, DblClk - Erase all"
      'upper right
      temp$ = "DblClk - Remove Selections"
      Graphic Set Pos (gW - 25 - Graphic(Text.Size.X,temp$),10) : Graphic Print temp$
      'lower left
      Graphic Set Pos (25, gH - 2*Graphic(Text.Size.X,"C")) : Graphic Print "DblClk - Settings Dialog Repositioned"
      'lower right
      Graphic Set Pos (gW - 25 - Graphic(Text.Size.X,"DblClk - Settings"), gH - 2*Graphic(Text.Size.X,"C")) : Graphic Print "DblClk - Settings"
      'midleft
      Graphic Set Pos (10, gH/2 - 30)                              : Graphic Print "DblClk - Stamp"
      Graphic Set Pos (10, gH/2 - 30 + Graphic(Text.Size.Y,"C"))   : Graphic Print "RClick Bar - Select"
      Graphic Set Pos (10, gH/2 - 30 + 2*Graphic(Text.Size.Y,"C")) : Graphic Print "RClick - Settings"
   End If

   'Draw Top Title
   If BC.ShowMainTitle Then
      Graphic Color BC.cTitle, -2  'BC.cBG
      Graphic Set Font BC.titleFont
      BC.TM = Graphic(Text.Size.Y,BC.Title) * 2
      Graphic Text Size BC.Title To txtW, txtH
      Select Case BC.MainTitleLoc
         Case %MainTitle_Left   : Graphic Set Pos (BC.LM,BC.TM-1.5*txtH)
         Case %MainTitle_Center : Graphic Set Pos (BC.LM + (gW-BC.LM-BC.RM-txtW)/2, BC.TM - 1.5*txtH)
         Case %MainTitle_Right  : Graphic Set Pos (gW - BC.RM - txtW, BC.TM - 1.5*txtH)
      End Select
      Graphic Print BC.Title
   End If

   'Show Margins
   If BC.ShowMargins Then
      Graphic Color %Red
      Graphic Style 2
      Graphic Line (BC.LM,0)-(BC.LM,gH)
      Graphic Line (0,BC.TM)-(gW,BC.TM)
      Graphic Line (gW-BC.RM,0)-(gW-BC.RM,gH)
      Graphic Line (0,gH-BC.BM)-(gW,gH-BC.BM)
      Graphic Style 0
   End If

   'Draw X Axis Title
   If BC.ShowAxisTitles Then
      Graphic Set Font BC.axisValueFont
      Graphic Text Size "99" To i,j
      Graphic Color BC.cTitle, -2  'BC.cBG
      Graphic Set Font BC.axisTitleFont
      Graphic Text Size BC.XTitle To txtW, txtH
      Select Case BC.XTitleLoc
         Case %XTitle_LeftInline   : Graphic Set Pos (BC.LM-txtW-20,                   gH-BC.BM+10)
         Case %XTitle_Left         : Graphic Set Pos (BC.LM,                           gH-BC.BM+10+j)
         Case %XTitle_Center       : Graphic Set Pos (BC.LM + (gW-BC.LM-BC.RM-txtW)/2, gH-BC.BM+10+j)
         Case %XTitle_Right        : Graphic Set Pos (gW-BC.RM-txtW,                   gH-BC.BM+10+j)
         Case %XTitle_RightInLine  : Graphic Set Pos (gW-BC.RM+10,                     gH-BC.BM+10)
      End Select
      Graphic Print BC.XTitle
   End If

   'Draw Horizontal Grid
   If BC.GridOnTop = 0 Then
      For i = 1 To BC.DivYCount
         If BC.ShowHGrid And BC.DotGrid Then Graphic Style 2
         Graphic Line (BC.LM-2 ,gH-BC.BM-i*(gH-BC.TM-BC.BM) / BC.DivYCount) -(IIf(BC.ShowHGrid,gW-BC.RM,BC.LM+2),gH-BC.BM-i*(gH-BC.TM-BC.BM) / BC.DivYCount), BC.cGrid
         Graphic Style 0
      Next i
   End If

   'Draw Y Axis Values
   Graphic Set Font BC.axisValueFont
   Graphic Color BC.cAxisValues, -2
   DivYValue = BC.maxYValue/BC.DivYCount
   For i = 1 To BC.DivYCount
      temp$ = Format$(i * DivYValue, "##,###,##0")
      Graphic Set Pos (BC.LM - Graphic(Text.Size.X, temp$) - 5,gH-BC.BM-i*(gH-BC.TM-BC.BM) / BC.DivYCount-Graphic(Text.Size.Y,temp$)/2)
      Graphic Print temp$
   Next i

   'Draw Y Axis Title
   If BC.ShowAxisTitles Then
      Graphic Color BC.cTitle, -2  'BC.cBG
      If BC.VertYTitle Then
         Graphic Set Font BC.axisTitleFontR
         Graphic Text Size BC.YTitle To txtW, txtH
         Select Case BC.YTitleLoc
            Case %YTitle_Top    : Graphic Set Pos  (BC.LM-txtH-Graphic(Text.Size.X,Str$(BC.MaxYValue)), BC.TM + txtW)
            Case %YTitle_Center : Graphic Set Pos  (BC.LM-txtH-Graphic(Text.Size.X,Str$(BC.MaxYValue)), BC.TM + (gH-BC.TM-BC.BM+txtW)/2)
            Case %YTitle_Bottom : Graphic Set Pos  (BC.LM-txtH-Graphic(Text.Size.X,Str$(BC.MaxYValue)), gH - BC.BM)
         End Select
      Else
         Graphic Set Font BC.axisTitleFont
         Graphic Text Size BC.YTitle To txtW, txtH
         Select Case BC.YTitleLoc
            Case %YTitle_Top    : Graphic Set Pos  (BC.LM-20-txtW-Graphic(Text.Size.X,Trim$(Str$(BC.MaxYValue))), BC.TM - txtH/2)
            Case %YTitle_Center : Graphic Set Pos  (BC.LM-20-txtW-Graphic(Text.Size.X,Trim$(Str$(BC.MaxYValue))), BC.TM + (gH-BC.TM-BC.BM-txtH)/2)
            Case %YTitle_Bottom : Graphic Set Pos  (BC.LM-20-txtW-Graphic(Text.Size.X,Trim$(Str$(BC.MaxYValue))), gH - BC.BM - txtH)
         End Select
      End If
      Graphic Print BC.YTitle
   End If

   'Initialize Bar Settings
   For i = 1 To UBound(BCD)
      Reset BCD(i).rc(1)      , BCD(i).rc(2)      , BCD(i).rc(3)
      Reset BCD(i).visible(1) , BCD(i).visible(2) , BCD(i).visible(3)
      DataTotal(1) += BCD(i).v(1)
      DataTotal(2) += BCD(i).v(2)
      DataTotal(3) += BCD(i).v(3)
   Next i   'reset all of the previous bar rectangles
   iStep = 1

   'get maximum width of X-data - take into account largest value and alt-Text)
   If BC.UsealtXText Then
      For i = BC.Xmin To BC.XMax
         MaxXTextWidth = Max(MaxXTextWidth, Graphic(Text.Size.X,BCD(i).altXText(BC.DataSet)))
         If BC.GraphType = %Chart_2D Or BC.GraphType = %Chart_2Line Then
            MaxXTextWidth = Max(MaxXTextWidth, Graphic(Text.Size.X,BCD(i).altXText(1)))
            MaxXTextWidth = Max(MaxXTextWidth, Graphic(Text.Size.X,BCD(i).altXText(2)))
         ElseIf BC.GraphType = %Chart_3D Or BC.GraphType = %Chart_3Line Or BC.GraphType = %Chart_HiLo Then
            MaxXTextWidth = Max(MaxXTextWidth, Graphic(Text.Size.X,BCD(i).altXText(1)))
            MaxXTextWidth = Max(MaxXTextWidth, Graphic(Text.Size.X,BCD(i).altXText(2)))
            MaxXTextWidth = Max(MaxXTextWidth, Graphic(Text.Size.X,BCD(i).altXText(3)))
         End If
      Next i
   Else
      MaxXTextWidth = Graphic(Text.Size.X,LTrim$(Str$(BC.XMax)))
   End If
   'take into account width of BarLabel
   If BC.ShowBarLabel Then
      For i = BC.Xmin To BC.XMax
         Select Case BC.LabelType
            Case %Label_Value    : temp$ = Format$(BCD(i).v(BC.DataSet), "###,###,##0")
            Case %Label_Label    : temp$ = BCD(i).label(BC.DataSet)
            Case %Label_PerCent  : temp$ = Format$(BCD(i).v(BC.DataSet) / DataTotal(BC.DataSet) * 100, "#0.0") + "%"
            Case %Label_AltXText : temp$ = BCD(i).altXText(BC.DataSet)
         End Select
         MaxXTextWidth = Max(MaxXTextWidth, Graphic(Text.Size.X,temp$))
         If BC.GraphType = %Chart_2D Or BC.GraphType = %Chart_2Line Then
            MaxXTextWidth = Max(MaxXTextWidth, Graphic(Text.Size.X,BCD(i).label(1)))
            MaxXTextWidth = Max(MaxXTextWidth, Graphic(Text.Size.X,BCD(i).label(2)))
         ElseIf BC.GraphType = %Chart_3D Or BC.GraphType = %Chart_3Line Or BC.GraphType = %Chart_HiLo Then
            MaxXTextWidth = Max(MaxXTextWidth, Graphic(Text.Size.X,BCD(i).label(1)))
            MaxXTextWidth = Max(MaxXTextWidth, Graphic(Text.Size.X,BCD(i).label(2)))
            MaxXTextWidth = Max(MaxXTextWidth, Graphic(Text.Size.X,BCD(i).label(3)))
         End If
      Next i
   End If

   'Set BarWidth so that largest X text will fit in it
   If BC.AutoXCount Then
      If BC.AllBars Then
         BarWidth = (gW-BC.LM-BC.RM)/(BC.Xmax-BC.Xmin+1)
         If iStep*BarWidth < 1.1* MaxXTextWidth Then iStep = 2
         If iStep*BarWidth < 1.1* MaxXTextWidth Then iStep = 3
         If iStep*BarWidth < 1.1* MaxXTextWidth Then iStep = 4
         If iStep*BarWidth < 1.1* MaxXTextWidth Then iStep = 5
         If iStep*BarWidth < 1.1* MaxXTextWidth Then iStep = 6
         If iStep*BarWidth < 1.1* MaxXTextWidth Then iStep = 7
      Else
         BarWidth = (gW-BC.LM-BC.RM)/(BC.Xmax-BC.Xmin+1)
         If BarWidth < 1.1* MaxXTextWidth Then iStep = 2 : BarWidth = 2 * (gW-BC.LM-BC.RM)/(BC.Xmax-BC.Xmin+1)
         If BarWidth < 1.1* MaxXTextWidth Then iStep = 3 : BarWidth = 3 * (gW-BC.LM-BC.RM)/(BC.Xmax-BC.Xmin+1)
         If BarWidth < 1.1* MaxXTextWidth Then iStep = 4 : BarWidth = 4 * (gW-BC.LM-BC.RM)/(BC.Xmax-BC.Xmin+1)
         If BarWidth < 1.1* MaxXTextWidth Then iStep = 5 : BarWidth = 5 * (gW-BC.LM-BC.RM)/(BC.Xmax-BC.Xmin+1)
         If BarWidth < 1.1* MaxXTextWidth Then iStep = 6 : BarWidth = 6 * (gW-BC.LM-BC.RM)/(BC.Xmax-BC.Xmin+1)
         If BarWidth < 1.1* MaxXTextWidth Then iStep = 7 : BarWidth = 7 * (gW-BC.LM-BC.RM)/(BC.Xmax-BC.Xmin+1)
      End If
   End If

   For i = BC.Xmin To BC.Xmax
      If BC.AllBars Or (BC.AllBars = 0 And i Mod iStep = 0) Then Incr BarCount : BCD(i).visible(BC.DataSet) = 1 Else BCD(i).Visible(BC.DataSet) = 0
   Next i
   BarWidth = BC.coverage * (gW-BC.LM-BC.RM) / BarCount

   'Set Bar dimensions and Draw the Bars
   iCount = 0 : Reset oldRC, oldRC2, oldRC3
   For i = BC.Xmin To BC.Xmax
      If BCD(i).visible(BC.DataSet) = 0 Then Iterate For
      BCD(i).rc(1).left    = BC.LM + iCount * (gW-BC.LM-BC.RM)/BarCount
      BCD(i).rc(1).bottom  = gH-BC.BM
      BCD(i).rc(1).right   = BCD(i).rc(1).left + BarWidth
      BCD(i).rc(1).top     = BCD(i).rc(1).bottom - (BCD(i).v(1) * (gH-BC.TM-BC.BM) / DivYValue) / BC.DivYCount
      BCD(i).pt(1).x       = (BCD(i).rc(1).Right + BCD(i).rc(1).Left)/2
      BCD(i).pt(1).y       = BCD(i).rc(1).Top

      BCD(i).rc(2).left    = BCD(i).rc(1).left
      BCD(i).rc(2).bottom  = BCD(i).rc(1).bottom
      BCD(i).rc(2).right   = BCD(i).rc(1).right
      BCD(i).rc(2).top     = BCD(i).rc(2).bottom - (BCD(i).v(2) * (gH-BC.TM-BC.BM) / DivYValue) / BC.DivYCount
      BCD(i).pt(2).x       = (BCD(i).rc(2).Right + BCD(i).rc(2).Left)/2
      BCD(i).pt(2).y       = BCD(i).rc(2).Top

      BCD(i).rc(3).left    = BCD(i).rc(1).left
      BCD(i).rc(3).bottom  = BCD(i).rc(1).bottom
      BCD(i).rc(3).right   = BCD(i).rc(1).right
      BCD(i).rc(3).top     = BCD(i).rc(3).bottom - (BCD(i).v(3) * (gH-BC.TM-BC.BM) / DivYValue) / BC.DivYCount
      BCD(i).pt(3).x       = (BCD(i).rc(3).Right + BCD(i).rc(3).Left)/2
      BCD(i).pt(3).y       = BCD(i).rc(3).Top

      'now draw the Vert Grid lines
      If BC.GridOnTop = 0 Then
         If BC.ShowVGrid And i Mod iStep = 0 Then
            If BC.ShowHGrid And BC.DotGrid Then Graphic Style 2
            x1 = (BCD(i).rc(BC.DataSet).left + BCD(i).rc(BC.DataSet).right ) / 2
            Graphic Line (x1, gH-BC.BM+2)-(x1,BC.TM-2), BC.cGrid
            Graphic Style 0
         End If
      End If
      'now Draw the bars
      If BC.GraphType = %Chart_2Stack Then      '2 stacked bars  v1 and v2
         iColor = IIf(i > BC.Pivot,BC.cPostBars(1), BC.cPreBars(1))
         iColor = IIf(BC.UseAltColors,BCD(i).altColor(1),iColor)
         rc = BCD(i).rc(1)
         DrawOneBar BCD(), rc, BC, iColor, BCD(i).selected(1), oldRC, %False
         oldRC = RC

         iColor = IIf(i > BC.Pivot,BC.cPostBars(2), BC.cPreBars(2))
         iColor = IIf(BC.UseAltColors,BCD(i).altColor(2),iColor)
         rc = BCD(i).rc(2)
         rc.nTop    += oldRC.Top - oldRC.Bottom
         rc.nBottom += oldRC.Top - oldRC.Bottom
         DrawOneBar BCD(), rc, BC, iColor, BCD(i).selected(2), oldRC2, %True
         oldRC2 = RC

      ElseIf BC.GraphType = %Chart_3Stack Then  '3 stacked bars  v1 and v2 and v2
         iColor = IIf(i > BC.Pivot,BC.cPostBars(1), BC.cPreBars(1))
         iColor = IIf(BC.UseAltColors,BCD(i).altColor(1),iColor)
         rc = BCD(i).rc(1)
         DrawOneBar BCD(), rc, BC, iColor, BCD(i).selected(1), oldRC, %False
         oldRC = RC

         iColor = IIf(i > BC.Pivot,BC.cPostBars(2), BC.cPreBars(2))
         iColor = IIf(BC.UseAltColors,BCD(i).altColor(2),iColor)
         rc = BCD(i).rc(2)
         rc.nTop    += oldRC.Top - oldRC.Bottom
         rc.nBottom += oldRC.Top - oldRC.Bottom
         DrawOneBar BCD(), rc, BC, iColor, BCD(i).selected(2), oldRC2, %False
         oldRC2 = RC

         iColor = IIf(i > BC.Pivot,BC.cPostBars(3), BC.cPreBars(3))
         iColor = IIf(BC.UseAltColors,BCD(i).altColor(3),iColor)
         rc = BCD(i).rc(3)
         rc.nTop    += oldRC.Top - oldRC.Bottom + oldRC2.top - oldRC2.bottom
         rc.nBottom += oldRC.Top - oldRC.Bottom + oldRC2.top - oldRC2.bottom
         DrawOneBar BCD(), rc, BC, iColor, BCD(i).selected(3), oldRC2, %True
         oldRC2 = RC

      ElseIf BC.GraphType = %Chart_2Line Then   '2 lines v1 and v2
         iDataSet = BC.DataSet : iSymbol = BC.LineSymbol
         BC.DataSet = 1 : BC.LineSymbol = %Symbol_Circle
         iColor = IIf(i > BC.Pivot,BC.cPostBars(1), BC.cPreBars(1))
         rc = BCD(i).rc(1)  : DrawOneBar BCD(), rc, BC, iColor, BCD(i).selected(1), oldRC  : oldRC  = RC
         BC.DataSet = 2 : BC.LineSymbol = %Symbol_Square
         iColor = IIf(i > BC.Pivot,BC.cPostBars(2), BC.cPreBars(2))
         rc = BCD(i).rc(2) : DrawOneBar BCD(), rc, BC, iColor, BCD(i).selected(2), oldRC2 : oldRC2 = RC
         BC.DataSet = iDataSet : BC.LineSymbol = iSymBol

      ElseIf BC.GraphType = %Chart_3Line Then   '3 lines v1 and v2 and v3
         iDataSet = BC.DataSet : iSymbol = BC.LineSymbol
         BC.DataSet = 1 : BC.LineSymbol = %Symbol_Circle
         iColor = IIf(i > BC.Pivot,BC.cPostBars(1), BC.cPreBars(1))
         rc = BCD(i).rc(1)  : DrawOneBar BCD(), rc, BC, iColor, BCD(i).selected(1), oldRC  : oldRC  = RC
         BC.DataSet = 2 : BC.LineSymbol = %Symbol_Square
         iColor = IIf(i > BC.Pivot,BC.cPostBars(2), BC.cPreBars(2))
         rc = BCD(i).rc(2) : DrawOneBar BCD(), rc, BC, iColor, BCD(i).selected(2), oldRC2 : oldRC2 = RC
         BC.DataSet = 3 : BC.LineSymbol = %Symbol_Triangle
         iColor = IIf(i > BC.Pivot,BC.cPostBars(3), BC.cPreBars(3))
         rc = BCD(i).rc(3) : DrawOneBar BCD(), rc, BC, iColor, BCD(i).selected(3), oldRC3 : oldRC3 = RC
         BC.DataSet = iDataSet : iSymbol = BC.LineSymbol

      ElseIf BC.GraphType = %Chart_HiLo Then
         iColor = IIf(i > BC.Pivot,BC.cPostBars(BC.DataSet), BC.cPreBars(BC.DataSet))
         iColor = IIf(BC.UseAltColors,BCD(i).altColor(3),iColor)
         rc.nTop  = BCD(i).rc(3).nTop  : rc.nBottom = BCD(i).rc(2).nTop
         rc.nLeft = BCD(i).rc(3).nLeft : rc.nRight  = BCD(i).rc(2).nRight
         DrawOneBar BCD(), rc, BC, iColor, BCD(i).selected(1), oldRC
         oldRC = RC

      Else
         iColor = IIf(i > BC.Pivot,BC.cPostBars(BC.DataSet), BC.cPreBars(BC.DataSet))
         iColor = IIf(BC.UseAltColors,BCD(i).altColor(BC.DataSet),iColor)
         rc = BCD(i).rc(BC.DataSet)
         'If BC.SmoothLines = 0 And BC.GraphType <> %Chart_Line Then DrawOneBar BCD(), rc, BC, iColor, BCD(i).selected(1), oldRC
         DrawOneBar BCD(), rc, BC, iColor, BCD(i).selected(1), oldRC
         oldRC = RC
      End If
      iCount += 1
   Next i

   'Ensure that smooth lines are behind the symbols
   If BC.SmoothLines And (BC.GraphType=%Chart_Line Or BC.GraphType=%Chart_2Line Or BC.GraphType=%Chart_3Line) Then
      Select Case BC.GraphType
         Case %Chart_Line
            DrawCurves BCD(), BC, BC.BezierDT, BC.BezierTension, BC.DataSet,BC.cPreBars(BC.DataSet)
         Case %Chart_2Line
            DrawCurves BCD(), BC, BC.BezierDT, BC.BezierTension, 1, BC.cPreBars(1)
            DrawCurves BCD(), BC, BC.BezierDT, BC.BezierTension, 2, BC.cPreBars(2)
         Case %Chart_3Line
            DrawCurves BCD(), BC, BC.BezierDT, BC.BezierTension, 1, BC.cPreBars(1)
            DrawCurves BCD(), BC, BC.BezierDT, BC.BezierTension, 2, BC.cPreBars(2)
            DrawCurves BCD(), BC, BC.BezierDT, BC.BezierTension, 3, BC.cPreBars(3)
      End Select
      For i = BC.XMin To BC.XMax
         iDataSet = BC.DataSet : iSymbol = BC.LineSymbol
         Select Case BC.GraphType
            Case %Chart_Line
               iColor = IIf(i > BC.Pivot,BC.cPostBars(BC.DataSet), BC.cPreBars(BC.DataSet))
               rc = BCD(i).rc(BC.DataSet) : oldRC = RC
               DrawOneBar BCD(), rc, BC, iColor, BCD(i).selected(1), oldRC
            Case %Chart_2Line
               iDataSet = BC.DataSet : iSymbol = BC.LineSymbol
               BC.DataSet = 1 : BC.LineSymbol = %Symbol_Circle
               iColor = IIf(i > BC.Pivot,BC.cPostBars(1), BC.cPreBars(1))
               rc = BCD(i).rc(1)  : DrawOneBar BCD(), rc, BC, iColor, BCD(i).selected(1), oldRC  : oldRC  = RC
               BC.DataSet = 2 : BC.LineSymbol = %Symbol_Square
               iColor = IIf(i > BC.Pivot,BC.cPostBars(2), BC.cPreBars(2))
               rc = BCD(i).rc(2) : DrawOneBar BCD(), rc, BC, iColor, BCD(i).selected(2), oldRC2 : oldRC2 = RC
               BC.DataSet = iDataSet : BC.LineSymbol = iSymBol
            Case %Chart_3Line
               BC.DataSet = 1 : BC.LineSymbol = %Symbol_Circle
               iColor = IIf(i > BC.Pivot,BC.cPostBars(1), BC.cPreBars(1))
               rc = BCD(i).rc(1)  : DrawOneBar BCD(), rc, BC, iColor, BCD(i).selected(1), oldRC  : oldRC  = RC
               BC.DataSet = 2 : BC.LineSymbol = %Symbol_Square
               iColor = IIf(i > BC.Pivot,BC.cPostBars(2), BC.cPreBars(2))
               rc = BCD(i).rc(2) : DrawOneBar BCD(), rc, BC, iColor, BCD(i).selected(2), oldRC2 : oldRC2 = RC
               BC.DataSet = 3 : BC.LineSymbol = %Symbol_Triangle
               iColor = IIf(i > BC.Pivot,BC.cPostBars(3), BC.cPreBars(3))
               rc = BCD(i).rc(3) : DrawOneBar BCD(), rc, BC, iColor, BCD(i).selected(3), oldRC3 : oldRC3 = RC
               BC.DataSet = iDataSet : iSymbol = BC.LineSymbol
         End Select
      Next i
   End If

   'Draw Horizontal Grid
   If BC.GridOnTop Then
      For i = 1 To BC.DivYCount
         If BC.ShowHGrid And BC.DotGrid Then Graphic Style 2
         Graphic Line (BC.LM-2 ,gH-BC.BM-i*(gH-BC.TM-BC.BM) / BC.DivYCount) -(IIf(BC.ShowHGrid,gW-BC.RM,BC.LM+2),gH-BC.BM-i*(gH-BC.TM-BC.BM) / BC.DivYCount), BC.cGrid
         Graphic Style 0
      Next i
   End If

   'Draw Vertical Grid
   If BC.GridOnTop Then
      For i = BC.Xmin To BC.XMax
         If BC.ShowVGrid And i Mod iStep = 0 Then
            If BC.ShowHGrid And BC.DotGrid Then Graphic Style 2
            x1 = (BCD(i).rc(BC.DataSet).left + BCD(i).rc(BC.DataSet).right ) / 2
            Graphic Line (x1, gH-BC.BM+2)-(x1,BC.TM-2), BC.cGrid
         End If
      Next i
   End If
   Graphic Style 0

   'Draw X Axis Values (values or alt-text) and Vertical Lines
   If BC.ShowAxisValues Then
      Graphic Color BC.cAxisValues, -2
      Graphic Set Font BC.axisValueFont
      Graphic Text Size LTrim$(Str$(BC.XMax)) To tW, tH
      For i = BC.Xmin To BC.Xmax
         If i Mod iStep Then Iterate For
         If BC.usealtXText Then
            Graphic Set Pos (BCD(i).rc(BC.DataSet).left+(BarWidth-Graphic(Text.Size.X,BCD(i).altXText(BC.DataSet)))/2,BCD(i).rc(BC.DataSet).bottom+10)
            Graphic Print BCD(i).altXText(BC.DataSet)
         Else
            Graphic Set Pos (BCD(i).rc(1).left+(BarWidth-Graphic(Text.Size.X,Trim$(Str$(i))))/2,BCD(i).rc(1).bottom+10)
            Graphic Print Format$(i,"#0")
         End If
      Next i
   End If

   'Draw Bar Labels
   If BC.ShowBarLabel Then
      Graphic Color BC.cAxisValues, -2
      Graphic Set Font IIf(BC.VertBarLabels, BC.LabelFontR, BC.LabelFont)
      For i = BC.XMin To BC.XMax
         If i Mod iStep Then Iterate For
         Select Case BC.GraphType
            Case %Chart_2Line
               temp$ = ThisLabel(BCD(), BC, i, 1, DataTotal(1))   'iPos  ThisDataSet
               Graphic Set Pos (BCD(i).rc(1).nLeft + (BarWidth-Graphic(Text.Size.X,temp$))/2, BCD(i).rc(1).Top - BC.SymbolSize - 1.5 * Graphic(Text.Size.Y,temp$))
               Graphic Print temp$
               temp$ = ThisLabel(BCD(), BC, i, 2, DataTotal(2))   'iPos  ThisDataSet
               Graphic Set Pos (BCD(i).rc(2).nLeft + (BarWidth-Graphic(Text.Size.X,temp$))/2, BCD(i).rc(2).Top - BC.SymbolSize - 1.5 * Graphic(Text.Size.Y,temp$))
               Graphic Print temp$
            Case %Chart_3Line
               temp$ = ThisLabel(BCD(), BC, i, 1, DataTotal(1))
               Graphic Set Pos (BCD(i).rc(1).nLeft + (BarWidth-Graphic(Text.Size.X,temp$))/2, BCD(i).rc(1).Top - BC.SymbolSize - 1.5 * Graphic(Text.Size.Y,temp$))
               Graphic Print temp$
               temp$ = ThisLabel(BCD(), BC, i, 2, DataTotal(2))
               Graphic Set Pos (BCD(i).rc(1).nLeft + (BarWidth-Graphic(Text.Size.X,temp$))/2, BCD(i).rc(2).Top - BC.SymbolSize - 1.5 * Graphic(Text.Size.Y,temp$))
               Graphic Print temp$
               temp$ = ThisLabel(BCD(), BC, i, 3, DataTotal(3))
               Graphic Set Pos (BCD(i).rc(1).nLeft + (BarWidth-Graphic(Text.Size.X,temp$))/2, BCD(i).rc(3).Top - BC.SymbolSize - 1.5 * Graphic(Text.Size.Y,temp$))
               Graphic Print temp$
            Case %Chart_2Stack
               temp$ = ThisLabel(BCD(), BC, i, 2, DataTotal(2))
               Graphic Set Pos (BCD(i).rc(1).nLeft + (BarWidth-Graphic(Text.Size.X,temp$))/2, BCD(i).rc(1).Top + BCD(i).rc(2).Top - BCD(i).rc(2).Bottom - 1.5 * Graphic(Text.Size.Y,temp$))
               Graphic Print temp$
            Case %Chart_3Stack
               temp$ = ThisLabel(BCD(), BC, i, 3, DataTotal(3))
               Graphic Set Pos (BCD(i).rc(1).nLeft+(BarWidth-Graphic(Text.Size.X,temp$))/2,  BCD(i).rc(1).Top+BCD(i).rc(2).Top-BCD(i).rc(2).Bottom+BCD(i).rc(3).Top-BCD(i).rc(3).Bottom-1.5 * Graphic(Text.Size.Y,temp$))
               Graphic Print temp$
            Case %Chart_HiLo
               'top value
               temp$ = ThisLabel(BCD(), BC, i, 3, DataTotal(3))
               Graphic Set Pos (BCD(i).rc(1).nLeft+(BarWidth-Graphic(Text.Size.X,temp$))/2, BCD(i).rc(3).Top - 1.5 * Graphic(Text.Size.Y,temp$))
               Graphic Print temp$
               temp$ = ThisLabel(BCD(), BC, i, 2, DataTotal(2))
               Graphic Set Pos (BCD(i).rc(1).nLeft+(BarWidth-Graphic(Text.Size.X,temp$))/2, BCD(i).rc(2).Top + 0.5 * Graphic(Text.Size.Y,temp$))
               Graphic Print temp$
            Case %Chart_3D
               temp$ = ThisLabel(BCD(), BC, i, BC.DataSet, DataTotal(BC.DataSet))
               Graphic Set Pos (BCD(i).rc(1).nLeft + (BarWidth-Graphic(Text.Size.X,temp$))/2, BCD(i).rc(BC.DataSet).Top - BC.ThreeDY - 1.5 * Graphic(Text.Size.Y,temp$))
               Graphic Print temp$
            Case %Chart_Symbols, %Chart_Line
               temp$ = ThisLabel(BCD(), BC, i, BC.DataSet, DataTotal(BC.DataSet))
               Graphic Set Pos (BCD(i).rc(1).nLeft + (BarWidth-Graphic(Text.Size.X,temp$))/2, BCD(i).rc(BC.DataSet).Top - BC.SymbolSize - 1.5 * Graphic(Text.Size.Y,temp$))
               Graphic Print temp$
            Case %Chart_2D
               temp$ = ThisLabel(BCD(), BC, i, BC.DataSet, DataTotal(BC.DataSet))
               Graphic Set Pos (BCD(i).rc(1).nLeft + (BarWidth-Graphic(Text.Size.X,temp$))/2, BCD(i).rc(BC.DataSet).Top - 1.5 * Graphic(Text.Size.Y,temp$))
               Graphic Print temp$
         End Select
      Next i
   End If

   'DrawDataSetTitles
   If BC.ShowDataSetTitles Then
      Graphic Color BC.cAxisValues, -2
      Graphic Set Font BC.axisTitleFont
      Select Case BC.GraphType
         Case %Chart_2D, %Chart_3D, %Chart_Line, %Chart_Symbols
            Graphic Set Pos (gW-BC.RM+20,gH-BC.BM - 3 * Graphic(Text.Size.Y,BC.DataSetTitle(BC.DataSet)))
            Graphic Print BC.DataSetTitle(BC.DataSet)
         Case %Chart_2Line
            Graphic Ellipse (-12+gW-BC.RM+20,2+gH-BC.BM - 3 * Graphic(Text.Size.Y,BC.DataSetTitle(1))) - (-4+gW-BC.RM+20,10+gH-BC.BM - 3 * Graphic(Text.Size.Y,BC.DataSetTitle(1))),%Black, BC.cSymbols(1)
            Graphic Set Pos (gW-BC.RM+20,gH-BC.BM - 3 * Graphic(Text.Size.Y,BC.DataSetTitle(1)))
            Graphic Print BC.DataSetTitle(1)
            Graphic Box (-12+gW-BC.RM+20,2+gH-BC.BM - 2 * Graphic(Text.Size.Y,BC.DataSetTitle(2))) - (-4+gW-BC.RM+20,10+gH-BC.BM - 2 * Graphic(Text.Size.Y,BC.DataSetTitle(2))),,%Black, BC.cSymbols(2)
            Graphic Set Pos (gW-BC.RM+20,gH-BC.BM - 2 * Graphic(Text.Size.Y,BC.DataSetTitle(2)))
            Graphic Print BC.DataSetTitle(2)
         Case %Chart_2Stack
            Graphic Set Pos (gW-BC.RM+20,gH-BC.BM - 3 * Graphic(Text.Size.Y,BC.DataSetTitle(2)))
            Graphic Print BC.DataSetTitle(2)
            Graphic Set Pos (gW-BC.RM+20,gH-BC.BM - 2 * Graphic(Text.Size.Y,BC.DataSetTitle(1)))
            Graphic Print BC.DataSetTitle(1)
         Case %Chart_3Line
            Graphic Ellipse (-12+gW-BC.RM+20,2+gH-BC.BM - 3 * Graphic(Text.Size.Y,BC.DataSetTitle(1))) - (-4+gW-BC.RM+20,10+gH-BC.BM - 3 * Graphic(Text.Size.Y,BC.DataSetTitle(1))),%Black, BC.cSymbols(1)
            Graphic Set Pos (gW-BC.RM+20,gH-BC.BM - 3 * Graphic(Text.Size.Y,BC.DataSetTitle(1)))
            Graphic Print BC.DataSetTitle(1)
            Graphic Box (-12+gW-BC.RM+20,2+gH-BC.BM - 2 * Graphic(Text.Size.Y,BC.DataSetTitle(2))) - (-4+gW-BC.RM+20,10+gH-BC.BM - 2 * Graphic(Text.Size.Y,BC.DataSetTitle(2))),, %Black, BC.cSymbols(2)
            Graphic Set Pos (gW-BC.RM+20,gH-BC.BM - 2 * Graphic(Text.Size.Y,BC.DataSetTitle(2)))
            Graphic Print BC.DataSetTitle(2)
            Graphic Line (-8+gW-BC.RM+20,2+gH-BC.BM - 1 * Graphic(Text.Size.Y,BC.DataSetTitle(3))) - (-12+gW-BC.RM+20,10+gH-BC.BM - 1 * Graphic(Text.Size.Y,BC.DataSetTitle(3))), %Black
            Graphic Line (-8+gW-BC.RM+20,2+gH-BC.BM - 1 * Graphic(Text.Size.Y,BC.DataSetTitle(3))) - (-4+gW-BC.RM+20,10+gH-BC.BM - 1 * Graphic(Text.Size.Y,BC.DataSetTitle(3))), %Black
            Graphic Line (-12+gW-BC.RM+20,10+gH-BC.BM - 1 * Graphic(Text.Size.Y,BC.DataSetTitle(3))) - (-4+gW-BC.RM+20,10+gH-BC.BM - 1 * Graphic(Text.Size.Y,BC.DataSetTitle(3))), %Black
            Graphic Paint (-10+gW-BC.RM+20,8+gH-BC.BM - 1 * Graphic(Text.Size.Y,BC.DataSetTitle(3))), BC.cSymbols(3), %Black
            Graphic Set Pos (gW-BC.RM+20,gH-BC.BM - 1 * Graphic(Text.Size.Y,BC.DataSetTitle(3)))
            Graphic Print BC.DataSetTitle(3)
         Case %Chart_3Stack
            Graphic Set Pos (gW-BC.RM+20,gH-BC.BM - 3 * Graphic(Text.Size.Y,BC.DataSetTitle(3)))
            Graphic Print BC.DataSetTitle(3)
            Graphic Set Pos (gW-BC.RM+20,gH-BC.BM - 2 * Graphic(Text.Size.Y,BC.DataSetTitle(2)))
            Graphic Print BC.DataSetTitle(2)
            Graphic Set Pos (gW-BC.RM+20,gH-BC.BM - 1 * Graphic(Text.Size.Y,BC.DataSetTitle(1)))
            Graphic Print BC.DataSetTitle(1)
         Case %Chart_HiLo
            Graphic Set Pos (gW-BC.RM+20,gH-BC.BM - 3 * Graphic(Text.Size.Y,BC.DataSetTitle(3)))
            Graphic Print BC.DataSetTitle(3)
            Graphic Set Pos (gW-BC.RM+20,gH-BC.BM - 2 * Graphic(Text.Size.Y,BC.DataSetTitle(2)))
            Graphic Print BC.DataSetTitle(2)
      End Select
   End If
   Graphic ReDraw
   BC.LM = tempBCLM : BC.TM = tempBCTM : BC.RM = tempBCRM : BC.BM = tempBCBM

   If BC.SpeedTest Then
      QueryPerformanceCounter qStop
      Dialog Set Text BC.hParent, Format$((qStop-qStart)/qFreq,"###.000") & " seconds"
   End If

End Sub

Sub DrawOneBar(BCD() As ChartData, rc As Rect,BC As ChartSettings, ByVal TheColor As Long, iSelected As Long, oldRC As Rect, Optional RoundFlag As Long)
   Local p As ChartPolyPoints, x,y,w,h,RR,GG,BB,iCount,BorderColor,FadedColor,DarkFadedColor, gH,gW As Long

   Graphic Get Client To gW,gH
   RR = GetRValue(TheColor)
   GG = GetGValue(TheColor)
   BB = GetBValue(TheColor)

   FadedColor     = RGB(Min(255,BC.FadeValue+RR),Min(255,BC.FadeValue+GG),Min(255,BC.FadeValue+BB))
   DarkFadedColor = RGB(Min(255,BC.FadeValue+0.8*RR),Min(255,BC.FadeValue+0.8*GG),Min(255,BC.FadeValue+0.8*BB))

   Select Case BC.BarBorder
      Case 1 : BorderColor = FadedColor
      Case 2 : BorderColor = %Black
      Case 3 : BorderColor = %White
   End Select

   If iSelected Then Graphic Width 3
   Select Case BC.GraphType
      Case %Chart_2D
         If BC.RoundedBar And BC.RoundValue Then
            DrawTombstone rc, BC, BorderColor, FadedColor
         Else
            Graphic Box (rc.nLeft,rc.nTop)-(rc.nRight,rc.nBottom),,BorderColor, FadedColor
         End If
      Case %Chart_2Stack
         If BC.RoundedBar And BC.RoundValue And (RoundFlag = %True) Then
            DrawTombstone rc, BC, BorderColor, FadedColor
         Else
            Graphic Box (rc.nLeft,rc.nTop)-(rc.nRight,rc.nBottom),,BorderColor, FadedColor
         End If
      Case %Chart_3Stack
         If BC.RoundedBar And BC.RoundValue And (RoundFlag = %True) Then
            DrawTombstone rc, BC, BorderColor, FadedColor
         Else
            Graphic Box (rc.nLeft,rc.nTop)-(rc.nRight,rc.nBottom),,BorderColor, FadedColor
         End If
      Case %Chart_HiLo
         Select Case BC.HiLoSymbol
            Case %HiLo_Bar
               Graphic Box (rc.nLeft,rc.nTop)-(rc.nRight,rc.nBottom),IIf(BC.RoundedBar, BC.RoundValue, 0),BorderColor, FadedColor
            Case %HiLo_Beam
               Graphic Width BC.Linethickness
               x = rc.nLeft+(rc.nRight-rc.nLeft)/2
               Graphic Line (x-BC.LineThickness-2,rc.nTop)   - (x+BC.LineThickness+2,rc.nTop),BorderColor
               Graphic Line (x-BC.LineThickness-2,rc.nBottom)- (x+BC.LineThickness+2,rc.nBottom), BorderColor
               Graphic Line (x,rc.nTop)-(x,rc.nBottom),BorderColor
               Graphic Width 1
            Case %HiLo_Dot
               Graphic Width BC.Linethickness
               x = rc.nLeft+(rc.nRight-rc.nLeft)/2
               Graphic Line (x-BC.LineThickness-2,rc.nTop)   - (x+BC.LineThickness+2,rc.nTop),BorderColor
               Graphic Line (x-BC.LineThickness-2,rc.nBottom)- (x+BC.LineThickness+2,rc.nBottom), BorderColor
               Graphic Line (x,rc.nTop)-(x,rc.nBottom),BorderColor
               Graphic Width 1
               Graphic Ellipse (x-BC.SymbolSize, rc.nTop + (rc.nBottom-rc.nTop)/2-BC.SymbolSize) - (x+BC.SymbolSize,rc.nTop + (rc.nBottom-rc.nTop)/2+BC.SymbolSize),BorderColor,BC.cSymbols(BC.DataSet)
         End Select

      Case %Chart_3D
         Graphic Box (rc.nLeft,rc.nTop)-(rc.nRight,rc.nBottom),,BorderColor, FadedColor
         p.count = 6
         p.x1 = rc.nLeft             : p.y1 = rc.nTop
         p.x2 = rc.nLeft+BC.ThreeDX  : p.y2 = rc.nTop-BC.ThreeDY
         p.x3 = rc.nRight+BC.ThreeDX : p.y3 = rc.nTop-BC.ThreeDY
         p.x4 = rc.nRight+BC.ThreeDX : p.y4 = rc.nBottom-BC.ThreeDY
         p.x5 = rc.nRight            : p.y5 = rc.nBottom
         p.x6 = rc.nRight            : p.y6 = rc.nTop
         Graphic Polygon p, BorderColor, DarkFadedColor
         Graphic Line (rc.nRight,rc.nTop)-(rc.nRight+BC.ThreeDX,rc.nTop-BC.ThreeDY),BorderColor

      Case %Chart_Line, %Chart_Symbols, %Chart_2Line, %Chart_3Line
         If BC.GraphType <> %Chart_Symbols Then Graphic Style BC.LineStyle
         Graphic Width BC.LineThickNess
         If BC.SmoothLines Then
            'Bezier curves
            'DrawCurves BCD(), BC, 0.01, 0.5
         ElseIf BC.UseAntiAliasing Then
            If BC.ColorUnder Then
               If (BC.GraphType=%Chart_Line Or BC.GraphType=%Chart_2Line Or BC.GraphType = %Chart_3Line) And oldrc.nTop Then Graphic Box ((oldrc.nLeft + oldrc.nRight)/2,oldrc.nTop) - ((rc.nLeft + rc.nRight)/2,gH-BC.BM-1),, TheColor, TheColor
            Else
               If (BC.GraphType=%Chart_Line Or BC.GraphType=%Chart_2Line Or BC.GraphType = %Chart_3Line) And oldrc.nTop Then GraphicLineAA BC.hGraphicDC, (oldrc.nLeft + oldrc.nRight)/2,oldrc.nTop, (rc.nLeft + rc.nRight)/2,rc.nTop , TheColor
            End If
         Else
            If BC.ColorUnder Then
               If (BC.GraphType=%Chart_Line Or BC.GraphType=%Chart_2Line Or BC.GraphType = %Chart_3Line) And oldrc.nTop Then Graphic Box ((oldrc.nLeft + oldrc.nRight)/2,oldrc.nTop)-((rc.nLeft + rc.nRight)/2,gH-BC.BM-1),, TheColor, TheColor
            Else
               If (BC.GraphType=%Chart_Line Or BC.GraphType=%Chart_2Line Or BC.GraphType = %Chart_3Line) And oldrc.nTop Then Graphic Line ((oldrc.nLeft + oldrc.nRight)/2,oldrc.nTop)-((rc.nLeft + rc.nRight)/2,rc.nTop), TheColor
            End If
         End If
         Graphic Style 0
         Graphic Width BC.SymbolSize
         x = (rc.nLeft + rc.nRight)/2 : y = rc.nTop
         Select Case BC.linesymbol
            Case %Symbol_Point
               Graphic Set Pixel (x,y), TheColor
            Case %Symbol_Circle 'circle (dot)
               Graphic Ellipse (x-BC.SymbolSize-2,y-BC.SymbolSize-2)-(x+BC.SymbolSize+2,y+BC.SymbolSize+2),BorderColor,BC.cSymbols(BC.DataSet)
               If oldRC.nTop Then
                  x = (oldrc.nLeft + oldrc.nRight)/2 : y = oldrc.nTop
                  Graphic Ellipse (x-BC.SymbolSize-2,y-BC.SymbolSize-2)-(x+BC.SymbolSize+2,y+BC.SymbolSize+2),BorderColor,BC.cSymbols(BC.DataSet)
               End If
            Case %Symbol_Triangle
               p.count = 6
               p.x1 = x                    : p.y1 = rc.nTop-BC.SymbolSize-4
               p.x2 = x+BC.SymbolSize+4    : p.y2 = rc.nTop+BC.SymbolSize+4
               p.x3 = x-BC.SymbolSize-4    : p.y3 = rc.nTop+BC.SymbolSize+4
               p.x4 = p.x3 : p.x5 = p.x3 : p.x6 = p.x3 : p.y4 = p.y3 : p.y5 = p.y3 : p.y6 = p.y3
               Graphic Polygon p, BorderColor, BC.cSymbols(BC.DataSet)
               If oldRc.nTop Then
                  x = (oldrc.nLeft + oldrc.nRight)/2 : y = oldrc.nTop
                  p.x1 = x                   : p.y1 = oldrc.nTop-BC.SymbolSize-4
                  p.x2 = x+BC.SymbolSize+4   : p.y2 = oldrc.nTop+BC.SymbolSize+4
                  p.x3 = x-BC.SymbolSize-4   : p.y3 = oldrc.nTop+BC.SymbolSize+4
                  p.x4 = p.x3 : p.x5 = p.x3 : p.x6 = p.x3 : p.y4 = p.y3 : p.y5 = p.y3 : p.y6 = p.y3
                  Graphic Polygon p, BorderColor, BC.cSymbols(BC.DataSet)
               End If
            Case %Symbol_Square
               Graphic Box (x-BC.SymbolSize-2,y-BC.SymbolSize-2)-(x+BC.SymbolSize+2,y+BC.SymbolSize+2),,BorderColor, BC.cSymbols(BC.DataSet)
               If oldrc.nTop Then
                  x = (oldrc.nLeft + oldrc.nRight)/2 : y = oldrc.nTop
                  Graphic Box (x-BC.SymbolSize-2,y-BC.SymbolSize-2)-(x+BC.SymbolSize+2,y+BC.SymbolSize+2),,BorderColor, BC.cSymbols(BC.DataSet)
               End If
         End Select
         Graphic Width 1
   End Select
   If iSelected Then Graphic Width 1

   If BC.GraphType = %Chart_2D Or BC.GraphType = %Chart_3D Or BC.GraphType = %Chart_2Stack Or BC.GraphType = %Chart_3D Or BC.GraphType = %Chart_HiLo Then
      Select Case BC.BarGradientType
         Case %Gradient_DarkBottomToTop  'darkcolor bottom to color on top
            h = rc.nBottom - rc.nTop - 2
            For y = rc.nBottom-1 To rc.nTop+1 Step -1
               Graphic Line (rc.nLeft+1,y)-(rc.nRight-1,y), RGB(Min(255,BC.FadeValue+RR*iCount/h), Min(255,BC.FadeValue+GG*iCount/h), Min(255,BC.FadeValue+ BB*iCount/h))
               Incr iCount
            Next y
         Case %Gradient_LightCenterToDarkSide  'lightcolor center, fade to color on each side
            w = (rc.nRight - rc.nLeft - 2)/2
            For x = rc.nLeft+1 To (rc.nLeft+rc.nRight+2)/2
               Graphic Line (x,rc.nTop+1)-(x,rc.nBottom-1), RGB(Min(255,BC.FadeValue+RR+(240-RR)*iCount/w),Min(255,BC.FadeValue+GG+(240-GG)*iCount/w),Min(255,BC.FadeValue+BB+(240-BB)*iCount/w))
               Incr iCount
            Next x
            iCount = 0
            For x = rc.nRight-1 To (rc.nLeft+rc.nRight+2)/2 Step -1
               Graphic Line (x,rc.nTop+1)-(x,rc.nBottom-1), RGB(Min(255,BC.FadeValue+RR+(240-RR)*iCount/w),Min(255,BC.FadeValue+GG+(240-GG)*iCount/w),Min(255,BC.FadeValue+BB+(240-BB)*iCount/w))
               Incr iCount
            Next x
            iCount = 0
         Case %Gradient_ColorCenterToBlackSide
            w = (rc.nRight - rc.nLeft - 2)/2
            For x = rc.nLeft+1 To (rc.nLeft+rc.nRight+2)/2
               Graphic Line (x,rc.nTop+1)-(x,rc.nBottom-1), RGB(Min(255,BC.FadeValue+RR*iCount/w),Min(255,BC.FadeValue+GG*iCount/w),Min(255,BC.FadeValue+BB*iCount/w))
               Incr iCount
            Next x
            iCount = 0
            For x = rc.nRight-1 To (rc.nLeft+rc.nRight+2)/2 Step -1
               Graphic Line (x,rc.nTop+1)-(x,rc.nBottom-1), RGB(Min(255,BC.FadeValue+RR*iCount/w),Min(255,BC.FadeValue+GG*iCount/w),Min(255,BC.FadeValue+BB*iCount/w))
               Incr iCount
            Next x
            iCount = 0
      End Select
   End If

   If BC.BarGradientType = %Gradient_Background Then 'color bottom to white on top (used for gradient background
      h = rc.nBottom - 2
      For y = rc.nBottom To rc.nTop Step -1
         If BC.FadeBG Then
            Graphic Line (rc.nLeft,y)-(rc.nRight,y), RGB(Min(255,BC.FadeValue+RR+(240-RR)*iCount/h),Min(255,BC.FadeValue+GG+(240-GG)*iCount/h),Min(255,BC.FadeValue+BB+(240-BB)*iCount/h))
         Else
            Graphic Line (rc.nLeft,y)-(rc.nRight,y), RGB(RR+(240-RR)*iCount/h,GG+(240-GG)*iCount/h,BB+(240-BB)*iCount/h)
         End If
         Incr iCount
      Next y
   End If

   oldrc = rc


End Sub

Sub DrawTombStone(ByVal rc As Rect, BC As ChartSettings, BorderColor As Long, FadedColor As Long)
   Local gW,gH,w,r,h As Long
   If IsRectEmpty(rc) Then Exit Sub
   Graphic Get Client To gW,gH
   w = rc.nRight - rc.nLeft + 1
   h = rc.nBottom - rc.nTop + 1
   R =  w * BC.RoundValue / 200
   If R > h Then R = h
   Graphic Pie (rc.nLeft,rc.nTop)-(rc.nRight+1,rc.nTop+2*(R-1)+1),0.001!,3.14059,BorderColor, FadedColor
   If (rc.nTop + R < rc.nBottom) Then
      Graphic Box (rc.nLeft,rc.nTop+R)-(rc.nRight,rc.nBottom),,BorderColor, Fadedcolor
      Graphic Line (rc.nLeft+1,rc.nTop+R)-(rc.nRight-1,rc.nTop+R), FadedColor
      Graphic Line (rc.nLeft+1,rc.nTop+R-1)-(rc.nRight-1,rc.nTop+R-1), FadedColor
   End If
End Sub

Sub GraphicLineAA(hdc As Long, x1 As Long, y1 As Long, x2 As Long, y2 As Long, AColor As Long)
    Dim deltax As Integer, deltay As Integer, loopc As Integer
    Dim start As Integer, finish As Integer
    Dim dx As Single, dy As Single, dydx As Single
    Dim LR As Byte, LG As Byte, LB As Byte

    deltax = Abs(x2 - x1) ' Calculate deltax and deltay for initialisation
    deltay = Abs(y2 - y1)
    If (deltax <> 0) And (deltay <> 0) Then  ' it is not a horizontal or a vertical line
        LR = (AColor And &HFF&)
        LG = (AColor And &HFF00&) / &H100&
        LB = (AColor And &HFF0000) / &H10000
        If deltax > deltay Then  ' horizontal or vertical
            If y2 > y1 Then ' determine rise and run
                dydx = -(deltay / deltax)
            Else
                dydx = deltay / deltax
            End If
            If x2 < x1 Then
                start = x2 ' right to left
                finish = x1
                dy = y2
            Else
                start = x1 ' left to right
                finish = x2
                dy = y1
                dydx = -dydx ' inverse slope
            End If
            For loopc = start To finish
                AlphaBlendPixel hdc, loopc, CInt(dy - 0.5), LR, LG, LB, _
                1 - FracPart(dy)
                AlphaBlendPixel hdc, loopc, CInt(dy - 0.5) + 1, LR, LG, _
                LB, FracPart(dy)
                dy = dy + dydx ' next point
            Next loopc
        Else
            If x2 > x1 Then ' determine rise and run
                dydx = -(deltax / deltay)
            Else
                dydx = deltax / deltay
            End If
            If y2 < y1 Then
                start = y2 ' right to left
                finish = y1
                dx = x2
            Else
                start = y1 ' left to right
                finish = y2
                dx = x1
                dydx = -dydx ' inverse slope
            End If
            For loopc = start To finish
                AlphaBlendPixel hdc, CInt(dx - 0.5), loopc, LR, LG, LB, _
                1 - FracPart(dx)
                AlphaBlendPixel hdc, CInt(dx - 0.5) + 1, loopc, LR, LG, _
                LB, FracPart(dx)
                dx = dx + dydx ' next point
            Next loopc
        End If
    Else
       Graphic Set Pos (x1,y1)
       Graphic Line (x1,y1)-(x2,y2), AColor
    End If
End Sub

' blend a pixel with the current colour and a specified colour
Sub AlphaBlendPixel(ByVal hdc As Long, ByVal x As Integer, _
                    ByVal y As Integer, ByVal R As Byte, ByVal g As Byte, ByVal b As Byte, _
                    ByVal ARatio As Double)
    Dim LMinusRatio As Double
    Dim nr As Byte, ng As Byte, nb As Byte
    Dim dstc As Long, dr As Byte, dg As Byte, Ddb As Byte

    LMinusRatio = 1 - ARatio
    dstc = GetPixel(hdc, x, y)
    dr = (dstc And &HFF&)
    dg = (dstc And &HFF00&) / &H100&
    Ddb = (dstc And &HFF0000) / &H10000

    nb = Round(b * ARatio + Ddb * LMinusRatio, 0)
    ng = Round(g * ARatio + dg * LMinusRatio, 0)
    nr = Round(R * ARatio + dr * LMinusRatio, 0)

    Graphic Set Pixel (x, y), RGB(nr, ng, nb)
End Sub

' Returns the fractional part of a double
Function FracPart(ByVal a As Double) As Double
    Dim b As Double
    b = CLng(a - 0.5)
    FracPart = a - b
End Function

Sub DrawPieChart(BCD() As ChartData, BC As ChartSettings, PieChartPos As Long, PieChartCount As Long, EraseChart As Long, ThisDataSet As Long, PieRedraw As Long)
   Local j,x,y,x0,y0,distance As Long, temp$, RC As Rect, BMP$
   Local r,w,h,tW,tH,iCount,PieTotal,rHorz,rVert As Long, tn,theta, ArcRotate, ArcStart, ArcEnd, ThisArc,ca As Single

   Local i As Long
   Local gW,gH,bgW,bgH As Long
   Local qFreq, qStart, qStop As Quad

   If BC.SpeedTest Then QueryPerformanceFrequency qFreq : QueryPerformanceCounter qStart

   'Clear the Graphic control
   Graphic Attach BC.hGraphic, 0, ReDraw
   If EraseChart Then Graphic Clear BC.cBG
   Graphic Get Client To gW,gH
   Graphic Width 1
   Graphic Set Overlap

   'Get various reusable values
   For i = BC.XMin To BC.XMax
      BCD(i).ArcStart(ThisDataSet) = 0
      BCD(i).ArcEnd(ThisDataSet)   = 0
      PieTotal += BCD(i).v(ThisDataSet)
      BCD(i).RR = GetRValue(BCD(i).altColor(ThisDataSet))
      BCD(i).GG = GetGValue(BCD(i).altColor(ThisDataSet))
      BCD(i).BB = GetBValue(BCD(i).altColor(ThisDataSet))
      BCD(i).FadedColor     = RGB(Min(255,BC.FadeValue+BCD(i).RR),Min(255,BC.FadeValue+BCD(i).GG),Min(255,BC.FadeValue+BCD(i).BB))
      BCD(i).DarkFadedColor = RGB(Min(255,BC.FadeValue+0.8*BCD(i).RR),Min(255,BC.FadeValue+0.8*BCD(i).GG),Min(255,BC.FadeValue+0.8*BCD(i).BB))
      BCD(i).BorderColor    = Choose(BC.BarBorder, BCD(i).FadedColor, %Black, %White)
   Next i

   'Set pie enclosing rectangle
   w = (gW-BC.LM-BC.RM)/PieChartCount        'width of area available for pie
   h = (gH-BC.TM-BC.BM)                      'height of area available for pie
   x = BC.LM + (PieChartPos - 1) * w  + w/2  'center of available area   PieChartPos is 1,2,3
   y = BC.TM + h/2                           'center of available area
   If BC.PieCircle Then w = Min(w,h) * 0.9 : h = w   'use smallest w or h as circle diameter
   RC.nLeft   = x - w/2 * BC.PieRadius / 100  'Resize pie according to the PieRadis (% of available space
   RC.nRight  = x + w/2 * BC.PieRadius / 100  'Resize pie according to the PieRadis (% of available space
   RC.nTop    = y - h/2 * BC.PieRadius / 100  'Resize pie according to the PieRadis (% of available space
   RC.nBottom = y + h/2 * BC.PieRadius / 100  'Resize pie according to the PieRadis (% of available space
   For i = BC.XMin To BC.XMax : BCD(i).rc(ThisDataSet) = RC : Next i

   'Set pie radii  ra/rb
   rHorz = (rc.nRight  - rc.nLeft)/2   'ra = x-radius
   rVert = (rc.nBottom - rc.nTop)/2    'rb = y-radius
   x0 = (rc.nRight  + rc.nLeft)/2   'center of radius x-value
   y0 = (rc.nTop    + rc.nBottom)/2 'center of radius y-value

   'Draw Background - gradient or image
   If BC.ShowBGImage And (BC.GraphType = %Chart_Pie Or (BC.GraphType = %Chart_2Pie And ThisDataSet=1) Or (BC.GraphType = %Chart_3Pie And ThisDataSet=1)) Then
       If BC.BGImageFit Then
         Graphic Attach BC.hBGImage, 0
         Graphic Get Canvas To bgW, bgH
         Graphic Attach BC.hGraphic, 0, ReDraw
         Graphic Stretch BC.hBGImage, 0, (0,0)-(bgW-1,bgH-1) To (0,0)-(gW-1,gH-1), %Mix_CopySrc, %HalfTone
      Else
         Graphic Copy BC.hBGImage, 0
      End If
   ElseIf BC.GradientBG Then
      If EraseChart Then
         h = RC.nBottom - 2
         For y = gH-1 To 0 Step -1
            If BC.FadeBG Then
               Graphic Line (0,y)-(gW-1,y), _
               RGB(Min(255,BC.FadeValue+GetRValue(BC.cBG)+(240-GetRValue(BC.cBG))*iCount/h),Min(255,BC.FadeValue+GetGValue(BC.cBG)+(240-GetGValue(BC.cBG))*iCount/h),Min(255,BC.FadeValue+GetBValue(BC.cBG)+(240-GetBValue(BC.cBG))*iCount/h))
            Else
               Graphic Line (0,y)-(gW-1,y), RGB(GetRValue(BC.cBG)+(240-GetRValue(BC.cBG))*iCount/h,GetGValue(BC.cBG)+(240-GetGValue(BC.cBG))*iCount/h,GetBValue(BC.cBG)+(240-GetBValue(BC.cBG))*iCount/h)
            End If
            Incr iCount
         Next y
      End If
   End If

   'Draw Instructions
   If BC.Instructions Then
      Graphic Set Font BC.InstructFont
      Graphic Width 1
      Graphic Style 2
      Graphic Box (0,0)-(20,20),,%Red, -2         'top left
      Graphic Box (gW-1,0)-(gW-21,20),,%Red, -2     'top right
      Graphic Box (0,gH-1)-(20,gH-21),,%Red, -2     'bottom left
      Graphic Box (gW-1,gH-1)-(gW-21,gH-21),,%Red, -2 'bottom right
      Graphic Style 0
      Graphic Width BC.LineThickness

      Graphic Set Font BC.axisValueFont
      Graphic Color BC.cTitle, -2  'BC.cBG
      'upper left
      Graphic Set Pos (25,10) : Graphic Print "Clk - Erase last symbol, DblClk - Erase all"
      'upper right
      temp$ = "DblClk - Remove Selections"
      Graphic Set Pos (gW - 25 - Graphic(Text.Size.X,temp$),10) : Graphic Print temp$
      'lower left
      Graphic Set Pos (25, gH - 2*Graphic(Text.Size.X,"C")) : Graphic Print "DblClk - Settings Dialog Repositioned"
      'lower right
      Graphic Set Pos (gW - 25 - Graphic(Text.Size.X,"DblClk - Settings"), gH - 2*Graphic(Text.Size.X,"C")) : Graphic Print "DblClk - Settings"
      'midleft
      Graphic Set Pos (10, gH/2 - 30)                              : Graphic Print "DblClk - Stamp"
      Graphic Set Pos (10, gH/2 - 30 + Graphic(Text.Size.Y,"C"))   : Graphic Print "RClick Bar - Select"
      Graphic Set Pos (10, gH/2 - 30 + 2*Graphic(Text.Size.Y,"C")) : Graphic Print "RClick - Settings"
   End If

   'Draw Top Title
   Graphic Color BC.cTitle, -2  'BC.cBG
   If BC.ShowMainTitle Then
      Graphic Set Font BC.TitleFont
      BC.TM = Graphic(Text.Size.Y,BC.Title) * 2
      Select Case BC.MainTitleLoc
         Case %MainTitle_Left   : Graphic Set Pos (BC.LM,BC.TM-1.5*Graphic(Text.Size.Y,BC.Title))
         Case %MainTitle_Center : Graphic Set Pos (BC.LM + (gW-BC.LM-BC.RM-Graphic(Text.Size.X,BC.Title))/2, BC.TM - 1.5*Graphic(Text.Size.Y,BC.Title))
         Case %MainTitle_Right  : Graphic Set Pos (gW - BC.RM - Graphic(Text.Size.X,BC.Title), BC.TM - 1.5*Graphic(Text.Size.Y,BC.Title))
      End Select
      Graphic Print BC.Title
   End If

   'Show Margins
   If BC.ShowMargins Then
      Graphic Color %Red
      Graphic Style 2
      Graphic Line (BC.LM,0)-(BC.LM,gH)
      Graphic Line (0,BC.TM)-(gW,BC.TM)
      Graphic Line (gW-BC.RM,0)-(gW-BC.RM,gH)
      Graphic Line (0,gH-BC.BM)-(gW,gH-BC.BM)
      Graphic Box (RC.nLeft,RC.nTop)-(RC.nRight,RC.nBottom),,%Red
      Graphic Style 0
   End If

   'Draw Pie Sections
   ArcRotate = BC.PieRotate * 0.017453   'BC.PieRotate is in degrees.  ArcXXX values are in radians
   Graphic Width BC.LineThickness
   If BC.Pie3D And (BC.PieCircle = 0) And rVert/rHorz < 0.9 Then
      'draw the 3D bottom parts of the pie - also calculates the .arcStart and .artEnd values
      BC.Pie3DThickness = 0.1 * (RC.nBottom - RC.nTop)
      For j = BC.Pie3DThickness-1 To 1 Step -1
         'Pies in 3D stack
         ArcStart = 0 : ArcEnd = 0
         For i = BC.XMin To BC.XMax
            'If BCD(i).Selected(ThisDataSet) Then Graphic Width BC.LineThickness + BC.PieHighLightSelected * 3 Else Graphic Width BC.LineThickness
            ArcEnd += BCD(i).v(ThisDataSet)/PieTotal * 6.28318
            Graphic Pie (RC.nLeft,RC.nTop+j)-(RC.nRight,RC.nBottom+j), ArcRotate + ArcStart, ArcRotate + ArcEnd, BCD(i).FadedColor, BCD(i).FadedColor
            BCD(i).ArcStart(ThisDataSet) = ArcStart + ArcRotate
            BCD(i).ArcEnd(ThisDataSet) = ArcEnd + ArcRotate
            ArcStart = ArcEnd
         Next i
      Next j
      'draw the vertical lines in the 3D edge
      Graphic Width BC.LineThickness
      For i = BC.XMin To BC.XMax
         'If BCD(i).Selected(ThisDataSet) Then Graphic Width BC.LineThickness + BC.PieHighLightSelected * 3
         tn = Tan(-BCD(i).ArcStart(ThisDataSet))
         x = rVert * rHorz      / ((rVert*rVert + rHorz*rHorz*tn*tn)^0.5)
         y = rVert * rHorz * tn / ((rVert*rVert + rHorz*rHorz*tn*tn)^0.5)
         If BCD(i).ArcStart(ThisDataSet) Mod 6.28318 > 3.14159/2 And BCD(i).ArcStart(ThisDataSet) Mod 6.28318 < 1.5*3.14159 Then x = -1 * x : y = -1 * y
         x = x0 + x
         y = y0 + y
         Graphic Line (x,y)-(x,y+BC.Pie3DThickness-1), BCD(i).BorderColor
      Next i
      'Graphic Width BC.LineThickness
      Graphic Line (x0+rHorz,y0)-(x0+rHorz,y0+BC.Pie3DThickness), BCD(1).BorderColor
      Graphic Line (x0-rHorz,y0)-(x0-rHorz,y0+BC.Pie3DThickness), BCD(1).BorderColor
      Graphic Arc  (RC.nLeft,RC.nTop+BC.Pie3DThickness)-(RC.nRight,RC.nBottom+BC.Pie3DThickness), 3.14159, 6.28318, BCD(1).BorderColor

      'draw the 3D top of the pie
      For i = BC.XMin To BC.XMax
         If BCD(i).Selected(ThisDataSet) Then Graphic Width BC.LineThickness + BC.PieHighLightSelected * 3  Else Graphic Width BC.LineThickness
         Graphic Pie (RC.nLeft,RC.nTop)-(RC.nRight,RC.nBottom), BCD(i).ArcStart(ThisDataSet), BCD(i).ArcEnd(ThisDataSet), BCD(i).BorderColor, BCD(i).FadedColor
      Next i

   Else
      For i = BC.XMin To BC.XMax
         If BCD(i).Selected(ThisDataSet) Then Graphic Width BC.LineThickness + BC.PieHighLightSelected * 3
         ArcEnd += BCD(i).v(ThisDataSet)/PieTotal * 6.28318
         BCD(i).ArcStart(ThisDataSet) = ArcStart + ArcRotate
         BCD(i).ArcEnd(ThisDataSet) = ArcEnd + ArcRotate
         If BC.PieExplode Then
            ca = (BCD(i).ArcStart(ThisDataSet)+BCD(i).ArcEnd(ThisDataSet))/2 + ArcRotate
            x = BC.PieExplodeDistance * Sin(ca+1.57075)
            y = BC.PieExplodeDistance * Cos(ca+1.57075)
            Graphic Pie (RC.nLeft+x,RC.nTop+y)-(RC.nRight+x,RC.nBottom+y), ArcRotate + BCD(i).ArcStart(ThisDataSet), ArcRotate + BCD(i).ArcEnd(ThisDataSet), BCD(i).BorderColor, BCD(i).FadedColor
         ElseIf BCD(i).Selected(ThisDataSet) And BC.PieEject Then
            Graphic Width BC.LineThickness + BC.PieHighlightSelected * 3
            ca = (BCD(i).ArcStart(ThisDataSet)+BCD(i).ArcEnd(ThisDataSet))/2 '+ ArcRotate
            x = BC.PieExplodeDistance * Sin(ca+1.57075)
            y = BC.PieExplodeDistance * Cos(ca+1.57075)
            Graphic Pie (RC.nLeft+x,RC.nTop+y)-(RC.nRight+x,RC.nBottom+y), BCD(i).ArcStart(ThisDataSet), BCD(i).ArcEnd(ThisDataSet), BCD(i).BorderColor, BCD(i).FadedColor
         ElseIf BCD(i).Selected(ThisDataSet) = 0 And BC.PieHideUnselected Then
            'do not show
         Else
            Graphic Pie (RC.nLeft,RC.nTop)-(RC.nRight,RC.nBottom), BCD(i).ArcStart(ThisDataSet), BCD(i).ArcEnd(ThisDataSet), BCD(i).BorderColor, BCD(i).FadedColor
         End If
         ArcStart = ArcEnd
         Graphic Width BC.LineThickness
      Next i
   End If

'temp$ = ""
'For i = BC.XMin to BC.XMax
'   temp$ += str$(BCD(i).v(ThisDataSet)/PieTotal * 6.28318) + $Tab + Str$(BCD(i).ArcStart(ThisDataSet)) + $TAB + Str$(BCD(i).ArcEnd(ThisDataSet)) + $crlf
'next i
'? Temp$

   'Draw Gradient on top of PIE
   If BC.PieGradient Then
      Graphic Get Bits To bmp$
      ReDim MyColors(0 To gW-1, 0 To gH-1) As Long At StrPtr(bmp$) + 8
      For i = RC.nLeft To RC.nRight
         For j = RC.nTop To RC.nBottom
            theta = Atn((j-y0)/(i-x0))
            r = (rHorz*rVert) / (rHorz*rHorz*Sin(theta)*Sin(theta) + rVert*rVert*Cos(theta)*Cos(theta))^0.5
            distance = ((i-x0)*(i-x0) + (j-y0)*(j-y0)) ^ 0.5
            If distance > r Then Iterate For
            MyColors(i,j) = RGB( Min(255,(r-distance)/r*BC.PieGradientValue+GetRValue(MyColors(i,j))), _
                                 Min(255,(r-distance)/r*BC.PieGradientValue+GetGValue(MyColors(i,j))), _
                                 Min(255,(r-distance)/r*BC.PieGradientValue+GetBValue(MyColors(i,j))) )
         Next j
      Next i
      Graphic Set Bits bmp$
   End If

   'Draw Pie %'s
   If BC.PiePerCent Then
      Graphic Color BC.cAxisValues
      Graphic Set Font BC.AxisValueFont
      For i = BC.Xmin To BC.Xmax
         If BC.PieHideUnselected And BCD(i).Selected(ThisDataSet)=0 Then Iterate For
         temp$ = Format$(BCD(i).v(ThisDataSet) / PieTotal * 100, "#0.0") + "%"
         Graphic Text Size temp$ To tw, th
         theta = (BCD(i).arcEnd(ThisDataSet) + BCD(i).arcStart(ThisDataSet))/2
         r = (rHorz*rVert) / (rHorz*rHorz*Sin(theta)*Sin(theta) + rVert*rVert*Cos(theta)*Cos(theta))^0.5
         x = x0 - tw/2 +  0.65 * r * Cos((BCD(i).arcEnd(ThisDataSet) + BCD(i).arcStart(ThisDataSet))/2)
         y = y0 - th/2 -  0.65 * r * Sin((BCD(i).arcEnd(ThisDataSet) + BCD(i).arcStart(ThisDataSet))/2)
         Graphic Set Pos(x, y)
         Graphic Print temp$
      Next i
   End If

   'Draw Pie Labels
   temp$ = ""
   If BC.ShowBarLabel Then
      Graphic Color BC.cTitle
      Graphic Set Font BC.LabelFont
      For i = BC.Xmin To BC.Xmax
         If BC.PieHideUnselected And BCD(i).Selected(ThisDataSet)=0 Then Iterate For
         Select Case BC.LabelType
            Case %Label_Value    : temp$ = Format$(BCD(i).v(ThisDataSet), "###,###,##0")
            Case %Label_Label    : temp$ = BCD(i).label(ThisDataSet)
            Case %Label_PerCent  : temp$ = Format$(BCD(i).v(ThisDataSet) / PieTotal * 100, "#0.0") + "%"
            Case %Label_AltXText : temp$ = BCD(i).altXText(ThisDataSet)
         End Select
         Graphic Text Size temp$ To tw, th
         theta = (BCD(i).arcEnd(ThisDataSet) + BCD(i).arcStart(ThisDataSet))/2

         If BC.PieExplode Then
            j = BC.PieExplodeDistance
         ElseIf BC.PieEject And BCD(i).Selected(ThisDataSet) Then
            j = BC.PieExplodeDistance
         Else
            j = 0
         End If
         If BC.PieCircle=0 And BC.Pie3D And (BCD(i).ArcStart(ThisDataSet) > 3.14159) Then j += BC.Pie3DThickness

         r = (rHorz*rVert) / (rHorz*rHorz*Sin(theta)*Sin(theta) + rVert*rVert*Cos(theta)*Cos(theta))^0.5 + j
         Select Case theta
            Case < 3.14159/2
               x = x0 +  1.1 * r * Cos(Theta)
               y = y0 - th/2 -  1.1 * r * Sin(Theta)
            Case < 3.14159
               x = x0 - tw +  1.1 * r * Cos(Theta)
               y = y0 - th/2 -  1.1 * r * Sin(Theta)
            Case < 3 * 3.14159/2
               x = x0 - tw +  1.1 * r * Cos(Theta)
               y = y0 -  1.1 * r * Sin(Theta)
            Case Else
               x = x0 +  1.1 * r * Cos(Theta)
               y = y0 -  1.1 * r * Sin(Theta)
         End Select
         Graphic Set Pos(x, y)
         Graphic Print temp$
      Next i
   End If

   'Show Legend
   Graphic Width 2
   If BC.PieLegend Then
      iCount = 0 : x = 0
      Graphic Color BC.cAxisValues, -2
      Graphic Set Font BC.axisTitleFont
      Graphic Text Size "8" To w,h

      y = ((RC.nBottom-RC.nTop) - (BC.XMax-BC.XMin+1)*h)/2
      For i = BC.Xmin To BC.XMax
         x0 = RC.nRight + 40
         y0 = RC.nTop + iCount * h + y
         Graphic Box (x0,y0)-(x0+w,y0+w),,BCD(i).FadedColor, BCD(i).FadedColor
         Graphic Set Pos (x0+2*w,y0-w/2)
         Graphic Print BCD(i).label(ThisDataSet)
         Incr iCount
      Next i
   End If

   'DrawDataSetTitles
   If BC.ShowDataSetTitles Then
      Graphic Color BC.cAxisValues, -2
      Graphic Set Font BC.axisTitleFont
      Graphic Set Pos (RC.nLeft + (Rc.nRight - Rc.nLeft)/2 - Graphic(Text.Size.X,BC.DataSetTitle(ThisDataSet))/2, gH - BC.BM)
      Graphic Print BC.DataSetTitle(ThisDataSet)
   End If

   If PieRedraw Then Graphic ReDraw

   If BC.SpeedTest Then
      QueryPerformanceCounter qStop
      Dialog Set Text BC.hParent, Format$((qStop-qStart)/qFreq,"###.000") & " seconds"
   End If

End Sub

Sub DrawBezier(ByVal dt As Single, pt0 As Point, pt1 As Point, pt2 As Point, pt3 As Point, iColor As Long)
    Local t,x0,y0,x1,y1 As Single
    t = 0
    x1 = pt0.x * (1 - t) ^ 3  + pt1.x * 3 * t * (1 - t) ^ 2 + pt2.x * 3 * t ^ 2 * (1 - t) + pt3.x * t ^ 3
    y1 = pt0.y * (1 - t) ^ 3  + pt1.y * 3 * t * (1 - t) ^ 2 + pt2.y * 3 * t ^ 2 * (1 - t) + pt3.y * t ^ 3
    t = t + dt
    Do While t < 1
        x0 = x1 : y0 = y1
        x1 = pt0.x * (1 - t) ^ 3  + pt1.x * 3 * t * (1 - t) ^ 2 + pt2.x * 3 * t ^ 2 * (1 - t) + pt3.x * t ^ 3
        y1 = pt0.y * (1 - t) ^ 3  + pt1.y * 3 * t * (1 - t) ^ 2 + pt2.y * 3 * t ^ 2 * (1 - t) + pt3.y * t ^ 3
        Graphic Line  (x0, y0)-(x1, y1), iColor
        t = t + dt
    Loop
    ' Connect to the final point.
    t = 1
    x0 = x1 : y0 = y1 : x1 = pt3.x : y1 = pt3.y
    Graphic Line (x0, y0)-(x1, y1), %Blue
End Sub

Sub DrawCurves(BCD() As ChartData, BC As ChartSettings, ByVal dt As Single, ByVal tension As Single, ThisDataSet As Long, iColor As Long)
   Local control_scale As Single, i As Integer
   Local pt,pt_before, pt_after, pt_after2, Di, DiPlus1, p1, p2, p3, p4 As Point

   'Graphic Clear
    control_scale = CSng(tension / 0.5 * 0.175)
    For i = BC.Xmin To BC.XMax - 1
        If BC.XMin = BC.XMin Then
           pt_before = BCD(i).pt(ThisDataSet)
        Else
           pt_before = BCD(i-1).pt(ThisDataSet)
        End If
        pt = BCD(i).pt(ThisDataSet)
        pt_after = BCD(i+1).pt(ThisDataSet)
        pt_after2 = BCD(Min(i + 2, BC.XMax)).pt(ThisDataSet)
        p1 = BCD(i).pt(ThisDataSet)
        p4 = BCD(i+1).pt(ThisDataSet)

        Di.X = pt_after.X - pt_before.X
        Di.Y = pt_after.Y - pt_before.Y
        p2.X = pt.X + control_scale * Di.X
        p2.Y = pt.Y + control_scale * Di.Y

        DiPlus1.X = pt_after2.X - BCD(i).pt(ThisDataSet).x
        DiPlus1.Y = pt_after2.Y - BCD(i).pt(ThisDataSet).y
        p3.X = pt_after.X - control_scale * DiPlus1.X
        p3.Y = pt_after.Y - control_scale * DiPlus1.Y

        DrawBezier dt, p1, p2, p3, p4, iColor
    Next i
End Sub

Function ThisLabel(BCD() As ChartData, BC As ChartSettings, iPos As Long, ThisDataSet As Long, DataTotal As Long) As String
   Select Case BC.LabelType
      Case %Label_Label    : Function = BCD(iPos).Label(ThisDataSet)
      Case %Label_Value    : Function = Format$(BCD(iPos).v(ThisDataSet),"###,###,##0")
      Case %Label_PerCent  : Function = Format$(BCD(iPos).v(ThisDataSet)/DataTotal*100,"##0.0") + "%"
      Case %Label_AltXText : Function = BCD(iPos).AltXText(ThisDataSet)
   End Select
End Function

Function ArcLength(rc As Rect,theta1 As Single, theta2 As Single, Steps As Long) As Single
   Local Result,x,y,L,theta,tn,div,x0,y0,rVert,rHorz,xOld,yOld As Single, i As Long
   'useful values
   div = (theta2 - theta1) / Steps
   rVert = (rc.nBottom - rc.nTop) / 2 : rHorz = (rc.nRight - rc.nLeft) / 2
   x0 = (rc.nRight + rc.nLeft) / 2    : y0 = (rc.nTop + rc.nBottom) / 2
   'approximate arc length by adding chords
   For i = 0 To Steps
      theta = theta1 + i * div
      tn = Tan(-theta)
      x = rVert * rHorz      / ((rVert*rVert + rHorz*rHorz*tn*tn)^0.5)
      y = rVert * rHorz * tn / ((rVert*rVert + rHorz*rHorz*tn*tn)^0.5)
      If theta > 3.14159/2 And theta < 1.5*3.14159 Then x = -1 * x : y = -1 * y
      x = x0 + x : y = y0 + y
      If i Then
         L = ((x-xOld)*(x-xOld) + (y-yOld)*(y-yOld)) ^0.5
         Result += L
      End If
      xOld = x : yOld = y
      Function = Result
   Next i
End Function