If there were a tool to convert from Visual Basic to PowerBASIC, how much would you be willing to pay for it?
Dacorbi Pattern Search
is designed to perform all kinds of conversions. I envision that it should also be able to convert from one language to another. The download includes a sample module that converts a limited subset of Delphi code to BASIC, with the idea that you can add more and more conversion rules to make it capable of converting a wider variety of code. I was hoping that others could take the idea and maybe try a VB to PB converter with it. This hasn't happened yet. I may have to start this myself. It would be challenging and take some time, so I want to know if there is sufficient interest first. There are certain kinds of things, which perhaps might not be directly translatable, but I think overall it can be done.
Below are before/after screenshots of a sample conversion from Delphi to BASIC:
Before (Delphi source code):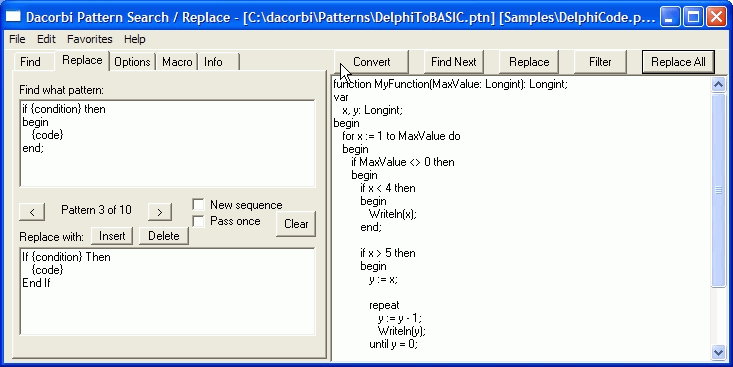 After (code converted to BASIC)
Dacorbi Pattern Search can be downloaded from
www.ucalc.com/dacorbi.html